No Welsh coaches could fill Warren Gatland's shoes - Martyn Phillips
Last updated on .From the section Welsh Rugby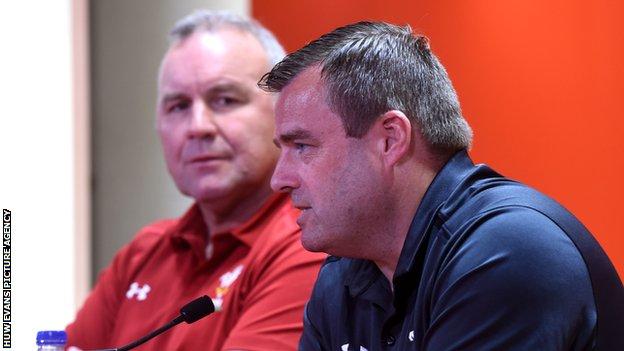 There were no Welsh coaches suitable to replace Warren Gatland after the next World Cup, says Welsh Rugby Union chief executive Martyn Phillips.
Pivac will be the fourth New Zealander to be head coach of Wales since 1998, after Graham Henry, Steve Hansen and Gatland.
"We would like to have had more choice [of Welsh coaches]," admitted Phillips.
"First and foremost we had to pick the best coach but in an ideal world that person would be Welsh as well, but there was not anyone we felt was ready to step into those shoes.
"We will be working hard on that behind the scenes, it's not an easy fix, and you can't appoint someone because they are Welsh."
However, Phillips said the WRU would be working closely with the regional sides to help Welsh coaches in the future.
"We have a lot of experienced Welsh coaches in the set-up now and we will try to keep them in Welsh rugby and make the most of them, as well as giving others a chance," added Phillips.
"We will look at that as Wales and regional rugby together, and if we can make a Welsh appointment we will take that opportunity."
Pivac the pick of the bunch
Despite regretting the lack of Welsh coaches available, Phillips insisted the WRU had got its man in Pivac, who will start working for Welsh rugby's governing body in July 2019.
"It's been a long process," said Phillips. "We started with a criterion, working with Warren for what makes the ultimate Wales coach.
"We were clear what we wanted at the start and as we had time on our hands we have been able to meet any candidate we wanted.
"We probably interviewed nine to 10 coaches to get down to a shortlist and from there on in it has been about being critical about the selection, things that will make the real difference.
"We were lucky Warren had given us plenty of notice so we could go a little bit early, hopefully we have been able to get the pick of the coaches we wanted and in Wayne that's what we believe we've done."