Sam Warburton: New Cardiff Blues coach aims to help Wales flanker improve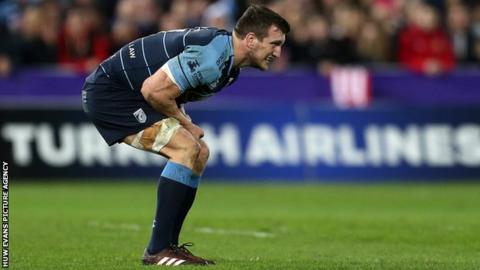 New Cardiff Blues coach John Mulvihill says he aims to make Sam Warburton a better player when he returns to rugby.
Mulvihill has taken over at the Arms Park this week following his appointment to succeed Danny Wilson.
As well as targeting new signings, the Australian is looking forward to having British and Irish Lions captain Warburton back after a year's absence.
"He's got a lot to do to get his spot back, but I assured him we'll try to make him a better player," he said.
Flanker Warburton led the Lions in the drawn series against New Zealand in 2017, but has not played since the third Test in Auckland on 8 July after having knee surgery and sustaining a neck injury.
In his absence, Blues team-mates Ellis Jenkins and Josh Navidi have excelled for club and country, while Justin Tipuric and James Davies have both worn the number seven jersey for Wales.
However, Warburton is back in full training ahead of a return for the start of next season.
"He would say his condition isn't fantastic. He told me when he starts running there's black smoke coming out the other end!" said Mulvihill.
"We're going to work with him to make him even better but the rest is up to him. All the players wants to improve whether they're world-class or not.
"They have identified areas they need to work on, including Sam, and we're going to help him get there."
'World is our oyster'
Mulvihill has yet to appoint a captain, though Warburton will be among a core of senior players the 51-year-old coach intends to "tap-into" as he takes the reins at the Arms Park, including Lions Gethin Jenkins and Matthew Rees as well as former All Black Nick Williams.
"There's an enormous amount of intellectual rugby property from those guys, so it's really important that I listen to them and that they listen to me," said Mulvihill.
"We bring all our experience and knowledge to work out the best way forward for everyone."
Now in his 21st season of coaching, former fly-half Mulvihill has coached in Ireland, with the Barbarians and in Australia with Queensland Reds and Western Force, before spending the last nine years in Japan.
"I haven't been challenged for the last few years in Japan but this [move] reminds me of Super Rugby where every day you have to make better strides," he said.
"The work ethic and the talent is here and there's no language barrier, so the world is our oyster. Though my Welsh is terrible!"
Mulvihill, a protégé of compatriot Alex Evans who guided Cardiff to a Welsh league title and led Wales in the 1995 World Cup, has another tough act to follow.
Wilson led the Blues to the European Challenge Cup title in May and ended a four-year absence from the top tier Heineken Champions Cup, but has joined Scotland as an assistant coach.
"There's massive expectation for the group. Some coaches can make the mistake of coming in and changing everything... though we can't do everything the same," said Mulvihill.
"For me there are just three things: It's important we keep doing the things that are really good, stop doing what's slowing us down and start doing what will make us better on and off the field."
Shuffling the pack
Part of that process will also involve recruitment and Mulvihill has been assured funds are available to strengthen his squad. Former Ospreys prop Dmitri Arhip is among those strongly linked with the Blues.
"I've inherited quite a strong and settled squad. Probably our players from one to five need some back-up and reinforcements, but from six to 15 we've got some world-class international players," Mulvihill said.
"We're going to look at different ways to win games and I'm sure we'll have success with the squad we have but with a few more players to come and help us."
In Australia, Mulvihill was responsible for unearthing young talent such as David Pocock and James O'Connor.
He says he was thrilled to see Blues youngsters such as Tomos Williams, Seb Davies and Dillon Lewis given a chance to shine by Wales coach Warren Gatland during the series win over Argentina this month.
"Those players have progressed. My hope is that when they come back to us they don't start at the Pro14 level," said Mulvihill.
"I'm looking for those guys not to rest on their laurels. Having as many international players as possible raises the level of the other guys."
As well as developing talent on the field the experienced Australian also has a remit to work with promising Welsh coaches, having declined the chance to bring in overseas coaches and appoint the likes of Jason Strange, Tom Smith and Duane Goodfield.
"I had the opportunity to bring in whoever I wanted [as assistant coaches] but I was also thinking about how we develop coaches as well as players," said Mulvihill.
"So I asked the Welsh Rugby Union to identify a number of young coaches who had the ability. Now in three, four or five years time, I can step aside and one of those guys could come through."