USA 30-29 Scotland: 'Huge downer' as Gregor Townsend gamble backfires

By Tom English
BBC Scotland in Houston, USA
Last updated on .From the section Scottish Rugby
Gregor Townsend called Scotland's loss to the USA a "huge downer" and, if anything, that was putting it mildly.
In squandering an early 21-6 lead in Houston, the rot setting in when the visitors conceded 17 unanswered points in 22 minutes either side of half-time, Scotland became America's biggest international scalp since they beat France in the Olympic final of 1924.
The scenes at the end were nervous and then joyous for the home fans. Dougie Fife's late, late try made it a one-point game with Blair Kinghorn's conversion to come. The wing was wide on the left-hand side of the pitch and, truth be told, if he'd nailed it then Scotland would not have deserved their victory. Many of them freely admitted it afterwards, Townsend included.
As it was, Kinghorn missed and the USA prevailed and they deserved to. They celebrated like you would expect a team to celebrate after ending a 94-year wait to beat a Tier One nation in an official Test match.
The fact that Townsend had fielded an experimental team with 10 of the starting 15 in single digits for caps didn't matter to them. This was a huge night for American rugby and another reminder, on the flip side, of Scotland's on-going travails on the road, a failure they said at the outset of the tour was something they desperately wanted to put right.
"As a team, we didn't play to our potential" said Townsend. "I take it on my shoulders. It was a selection with a lot of young players, a lot of guys wining their first caps and a team that does not have that much cohesion in terms of having played before.
"There are risks. Not everyone is going to play their best in their first start. We didn't achieve what we wanted to achieve.
"We wanted to learn about players on this tour. We certainly wanted to give players opportunities to play. We know more about the players and how they handle adversity away from home against a team that were fired up, especially in the second half."
Summer tours of this nature are supposed to be about the drive to deepen your pool of players. Had Scotland been in Australia, South Africa or New Zealand, then all the available A-listers would be here.
A trip to North America might not be as sexy a tour but it gives Townsend a chance to experiment and with experimentation comes risk. There's no doubt that the coach gambled in going for so many callow players in his line-up. Seven of the team that began the match had never started for Scotland before.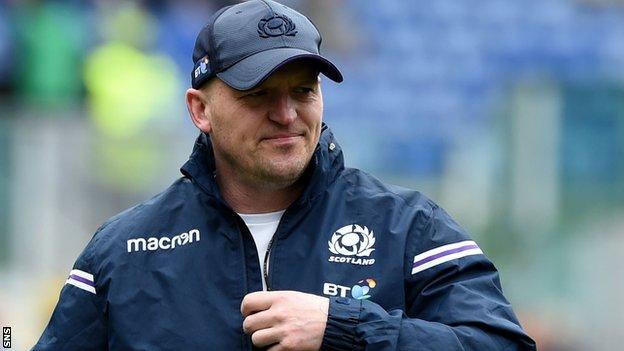 'Too many lost their way'
Quite a number of them will have to wait a while - possibly a long while - before they start one again. This is a savage landscape, a world in which you sometimes you get one - or if you're lucky, two - chances to make yourself relevant.
Townsend was looking for fringe players to step up. They did, in the beginning. When the Americans got on the front foot, though, too many lost their way.
There was a Fiji-esque feeling to Saturday night, a throwback to last summer when Scotland failed dismally in Suva having hit the heights the previous weekend against the Wallabies in Sydney. Fiji was their last game of the tour a year ago, but there's one more to come this time around and it's the hardest one, against Argentina in Resistencia.
Argentina are coming off the back two poor losses against Wales. Depending on how you look at it, that's either encouraging for Scotland in that the Pumas are clearly struggling for form, or it's worrying in that the Pumas will be fired up and desperate to end that losing run.
Townsend keeps a lid on his emotions no matter what the outcome. He's never visibly all that high or low. He doesn't rant or rave or slam anybody in public but, in his own way, his words were pretty cutting. When asked if his team matched America's intensity, he said that they didn't - at least not all of the time.
"In the first half when we were defending close to our line, we were disappointed with that as players and coaches," he said.
USA hooker, Joe Taufete'e barrelled his way over from close range in that period to bring his team back from an unpromising 21-6 deficit to an altogether more hopeful 21-13.
"We didn't put enough effort into that," Townsend said. "I thought [USA fly-half] AJ MacGinty had an outstanding game, the best player on the field. We were aware of his threat but didn't defend him nearly as well as we could have.
"Some of the collisions, we didn't win. The hooker [Taufete'e] got through a number of tackles and those are the areas that are disappointing."
'Some will have to live with that disappointment'
The second try from Taufete'e, three minutes into the second half, was a major moment in the match, not that he scored but in the way he scored. The hooker carried off the back of a maul and not even four Scots could stop him. The crowd became energised, the home team became hungry and relentless and not even Townsend's cavalry could stop them.
"It's a huge downer," he said. "If it was the last game on tour we would be even more disappointed, but we have one more game. We'll have to be much better, but we can right a lot of wrongs with a winning performance.
"We've got a week to improve, a week to select a team that we believe can go to Argentina and win. The difficult thing is that some of these players won't get that chance next week, some will live with that disappointment that we're feeling just now."
This is not how Stuart Hogg thought his first shot at captaincy would work out. "A lot of mistakes by us allowed the Americans to get into the game," said the full-back. "It's really frustrating because the things we talked about at half-time, we did the complete opposite in the second half.
"It's one thing making a mistake, it's another making two with the snowball effect that comes after that. The majority of their points came from our errors. It is all about momentum shifts and taking opportunities and, credit to America, they did exactly that.
"We didn't work hard enough to get into our shape and went four or five phases too many without kicking. It's these little things that we have to add into our game to make sure that we are applying as much pressure on the opposition as we possibly can while saving our energy and using it in the right areas of the field."
On Sunday night, after gathering themselves from the floor, the Scots will kick-on for Argentina. It's a 10-hour flight to Buenos Aires and then another hour and a half to Resistencia where the weekend's game will be played. That's a lot of time to stew on a wounding defeat.