Ireland's Healy could be in disciplinary trouble over Genia challenge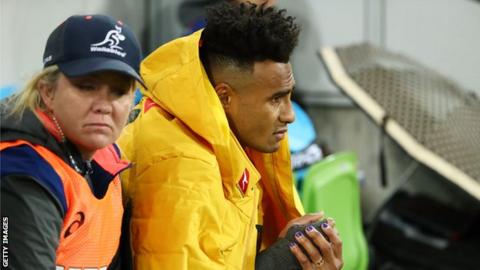 Prop Cian Healy could face disciplinary action for his role in Australia scrum-half Will Genia's departure through injury during Ireland's 26-21 second Test victory in Melbourne.
Genia's series is over after his arm was broken in a 25th-minute incident involving the Leinster forward.
The Wallaby number nine will undergo surgery on Sunday.
Australia do not intend to report the incident but the citing commissioner may choose to review Healy's actions.
Citing commissioner for the game, Mike O'Leary, has 48 hours from full-time to decide on his next step.
Genia is expected to be fit for the start of the Rugby Championship in mid-August.
"We ran the play down the front and Willy's the decoy around the back and he got king hit from the side - looked like a shoulder - and when you're not expecting it that's what happens," said Australia coach Michael Cheika.
"So Hoops (captain Michael Hooper) went down the front, Willy ran around the back - I'm not sure who it was from the other team that came in and hit him - and he jammed his arm and broke it."
Ireland injury concerns
Healy himself departed a physical contest with a shoulder injury early in the second half, while Andrew Conway (hip) and Dan Leavy (sternum) are also injury concerns for Ireland ahead of the decisive third Test next week.
Ireland bounced back from their opening defeat to level the series at AAMI Park and travel to Sydney for next Saturday's decider with momentum behind them.
Cheika is also sweating on the fitness of lock Adam Coleman, who suffered a suspected fractured cheekbone.
Ireland's win was their first over Australia away from home since 1979, but coach Joe Schmidt will not celebrate until his team finishes the job next week.
"All we did was balance the series," he said. "I think it all depends on what we can deliver next week and I know the Wallabies will be thinking the same thing.
"They're a really good side and if they do get a bit more access I know as you saw toward the end we were chasing shadows.
"So, nothing feels monumental when it's one-all. It feels like there's still a huge amount to play for."
'We need to be better' - Schmidt
"We'll glue ourselves back together, get the trip out of the way to Sydney tomorrow and Monday, have a bit of a look back at the game and then get back out on the training pitch in North Sydney Oval and try to work our way through things.
"There's still a few things that we know we need to do better because we know they're going to keep getting better" added the Ireland coach.
"I think we looked after our ball a lot better, there were probably half as many turnovers as we had the previous week, so that didn't allow them as much access to play off turnover ball, where we know they're so dangerous.
"In that third quarter, we broke the line a couple of times really well but it was difficult to score in behind it.
"We were just hanging in towards the end there, which you don't want to be against an Australian team with the athletes they have and the way they like to play with width."
Although a series win is the primary goal, Schmidt is intent on continuing to rotate with next year's World Cup in mind after handing a Test debut to Scarlets second-row Tadhg Beirne.
"We definitely want to win the series, but we've probably got 10 games now between this tour and when we go into our warm-up to the World Cup," he said.
"The thing that we want to believe about our squad is that there's less and less between players, and so selection is a contest every time."