Stuart Hogg: Scotland captain 'nervous and buzzing' to be leading side in USA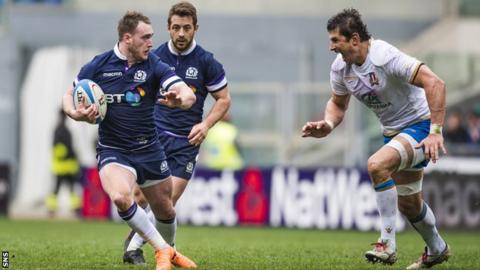 USA v Scotland
Venue: BBVA Compass Stadium, Houston Date: Sunday, 17 June Kick-off: 02:00 BST
Coverage: Watch on BBC One Scotland (repeated 'as live' at 10:00 BST on BBC Two Scotland) & BBC Sport website; text commentary on BBC Sport website
When Gregor Townsend called Stuart Hogg a few weeks back and told him that he was going to captain Scotland against the United States the full-back's first emotion was one of shock. He was actually stunned into silence. "Gregor had to ask if I was still on the phone," explained Hogg.
For a player of Hogg's experience and excellence getting a shot at captaincy would seem like a no-brainer, but he was genuinely surprised. Saturday night in Houston will be the 25-year-old's 61st cap but it's the first time he's led a team from the front since he was cutting about as a much talked-about teenager.
"I'm nervous, but I'm really excited for it," Hogg said. "To have this added responsibility is really keeping me on my toes and has made me adapt my week. At times I'd be the kind of class clown, jumping around and trying to scare everybody, but this week I've taken a little step back from that and tried to be as sensible as I possibly can.
"I wouldn't be captain if Gregor didn't believe in me, so I'm looking forward to repaying the faith he's showed in me."
Earlier in the week, Townsend spoke about the difficulties he once had with Hogg. He went back to 2014 when Townsend was head coach of Glasgow Warriors and Hogg's attitude left a little bit to be desired. On the back of winning caps and making a Lions tour at such a painfully young age, he felt he deserved to play on a bigger stage than Glasgow could provide. He wanted to join Ulster.
Townsend's response was swift and brutal. He dropped him from the squad until he came to his senses.
'Everybody makes mistakes'
"Sometimes you need a negative to make you a better person," said Hogg, who was sent off against Wales in the Six Nations at the same time as he was causing tremors at Scotstoun. "I've openly talked about that red card and my experiences that summer. For me, that period in my life gave me a kick up the arse and made me want to be a better player and a better person and I truly believe that's the case."
The other day, Hogg's dad, John, sent him a copy of Townsend's interview where he spoke about the worries he had for his full-back previously and the joy he's taken in seeing him turn it all around.
"It was pretty special to read what Gregor had to say about it," Hogg said. "I'd never really heard his view on it. Everything he said was spot-on.
"In terms of our relationship, we probably wouldn't have had one if I'd moved away. For me, I would probably have burnt all the bridges with Gregor and would I be sitting here? Probably not. It's these experiences in life that make you re-evaluate. I'm sitting here in front of you as Scotland captain and I'm buzzing for it."
Has he ever wondered what might have happened had he moved away? "It scares me to think about that," he said. "For a start, if I'd been at Ulster, we would have been beaten in the 2015 Pro12 semi-final by Glasgow and I would have had to watch Glasgow lift the trophy on our home ground [the Kingspan Stadium in Belfast]. Everybody makes mistakes. I was young. I was getting pushed to go there and I'm glad I didn't."
Houston heat will be a factor
America lie in wait and they are a team with a bit of confidence behind them. They've won five in a row. True, their opponents have been less than stellar - Russia, Uruguay, Brazil, Chile and Canada - but they've played some good stuff, have scored an amount of tries and they have a physical presence that might cause a callow Scotland side some problems.
Hogg, Peter Horne, Zander Fagerson, Ben Toolis and Tim Swinson are the only players in Scotland's starting line-up who are in double-figures in caps. The other 10 have just 26 caps between them. The half-backs, Adam Hastings and George Horne, have a combined total of 36 minutes of Test rugby.
It's that rawness that makes this Scotland team exciting but it's also something that the Americans, and their wily coach Gary Gold, will be looking to exploit. Especially in the heat. Mid-afternoon temperatures have touched 35C and 36C this week and it's been hot and humid into the evening.
It's a 19:00 kick-off local time (02:00 BST) so the weather conditions will play a part in what happens out there.
"We came into training on Monday and said it would be the first and last time we mentioned the weather," said Hogg. "It's the same for both teams. Some of their players won't be used to this heat either. We were talking to [Glasgow and USA lock] Greg Peterson the other day and he said their boys were struggling with it, too.
"They're playing well as a team and we have to be on the money in defence because they have some very good ball carriers and an elusive back three. We want to take our opportunities in attack. We don't want to be playing too many phases and using up a lot of energy. You don't want to go for 20-odd phases to score a try if you can do it after three or four."
Hogg doesn't have family with him in America and says it's hurting his dad not being here. "It's absolutely killing him," he added. "I told him a few weeks ago that there was a potential for me to be captain but he's a busy, busy man with his work. He'll be getting up in the middle of the night to watch, though. So will my mum. That's good enough for me. They'll be here with me in spirit."
Four years ago, in the same city and in the same stadium against the same opponent, Hogg scored the fifth of his 18 Test tries in a 24-6 victory. He's the only Scotland player from that day - Finn Russell's debut - to be in starting line-up on Saturday. Not just in it, but leading it.