Inside the Springbok Factory: How one school has produced 46 South Africa internationals
By Chris Jones and Louise Gwilliam
BBC Sport in Bloemfontein
Last updated on .From the section Rugby Union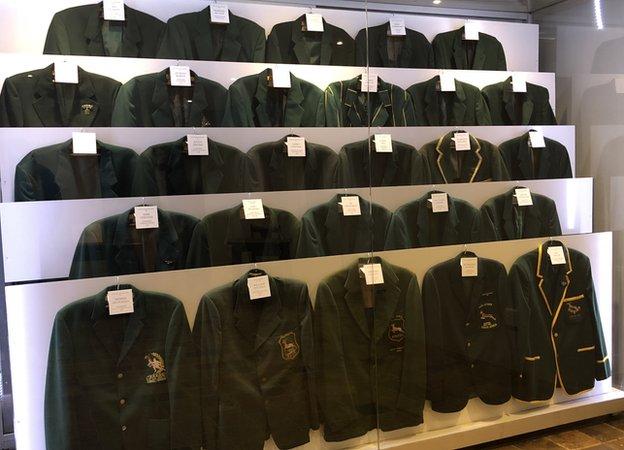 Olympic 400m champion Wayde van Niekerk, Olympic swimming champion Ryk Neethling, former South Africa cricket captain Hansie Cronje, and 46 Springboks - all from the same school.
In rugby's professional era, no school has produced as many South Africa internationals as Grey College in Bloemfontein.
Dubbed the "Springbok Factory", Grey has produced a Springbok in every position.
Their names are etched on the walls of the first XV changing room and only the selected players are allowed to enter.
South Africa scrum-half Piet van Zyl - who only managed to play for the school's second team - never saw inside these walls.
When he returned to the school with his Springbok blazer, he entered the changing room for the first time - and cried.
BBC Sport went behind the scenes at Grey to find the secrets of its success, and how it is adapting to the changing face of South Africa.
'I owe everything to Grey'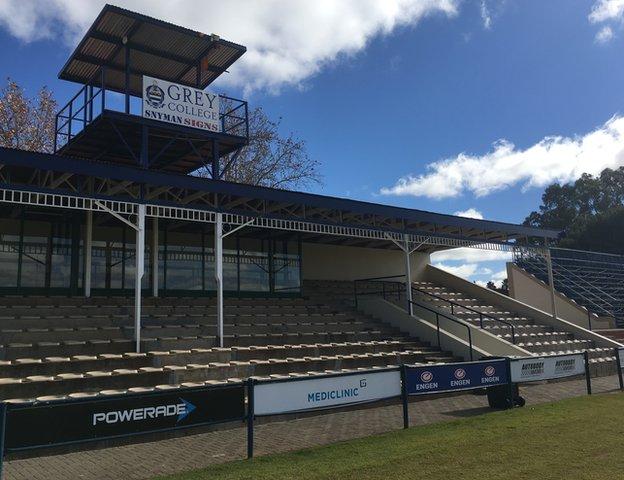 Set on the outskirts of the modest city of Bloemfontein, in the expanses of the Free State on the Highveld, Grey may lack the pomp and ceremony of its British equivalents, but not the history.
Reminders of its famous alumni can be found in every corner of the school, from the memorabilia in the hall, to the memorial wall, where Cronje's ashes are scattered following his sudden death at the age of 32.
The biggest inter-school games - such as the upcoming showdown with Paul Roos in Stellenbosch - will attract up to 15,000 supporters.
International superstars wander into the school on a whim, with South Africa sevens captain Philip Snyman - a proud Grey old boy - popping in after captaining the Blitzbokke to back-to-back World Series titles.
He greets the current first-team coach, Wessel du Plessis, with the Grey College handshake.
"Everything I know about rugby and about being a human being was because of this school. My roots and foundations are here," Snyman said.
"You wanted to play for the brotherhood and the jersey next to you, and it's the same now for the Springbok Sevens.
"It doesn't matter where I live, if I have a son, I will send him to Grey College."
'Grey is bigger than the individual'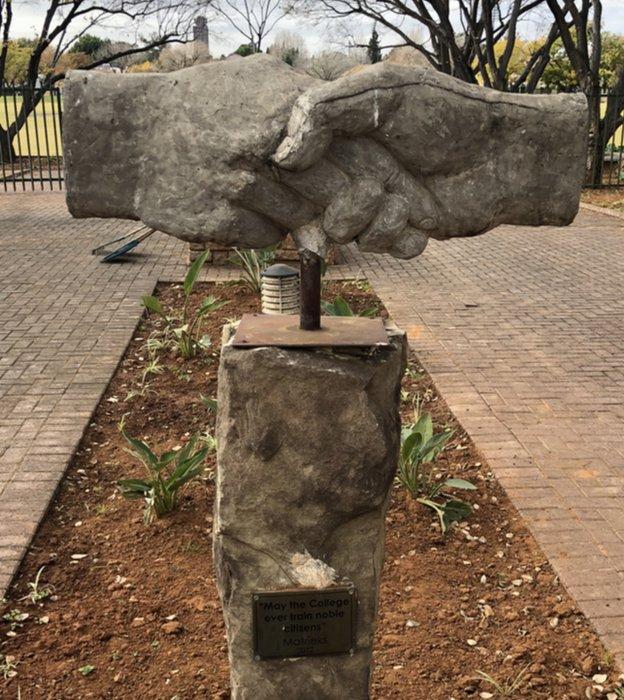 South Africa schoolboys' rugby is considered by some to be at a crossroads, with the thirst for success at all costs proving damaging.
Grey are confident that their way - putting the boys' personal development first - will help retain their place as the best rugby school in the country.
"We believe that Grey College has always been bigger than the individual, and bigger than the first-team rugby players," says headmaster Deon Scheepers.
"We certainly believe that you need to work hard in the mornings in the classrooms, play hard in the afternoon, and study hard in the evenings."
But playing rugby at Grey is a serious commitment, with players devoting up to 18 hours a week to the game, including video analysis sessions, matches and rehabilitation.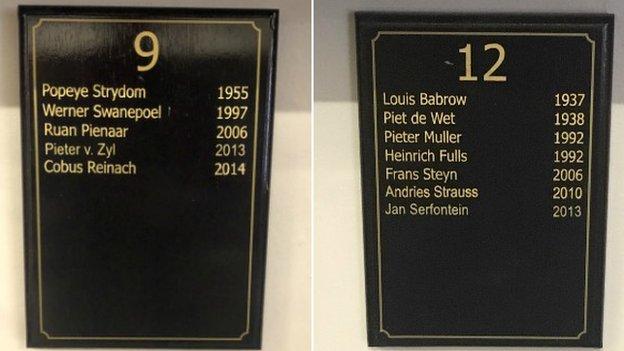 "South African schoolboy rugby has become very professional over the years. But we want the kids to enjoy it - they are still schoolboys who need to enjoy their life," says coach du Plessis.
"The main thing is that we tend to develop players and not just coach winning rugby. It is not always about winning, it is about a way of life. If you just focus on the results you won't connect with the player."
"Grey College forms good people," adds director of rugby Bobby Joubert.
"Hard work is one of the pillars of Grey College. We don't work hard, we work very hard.
"That is part of the culture. We have good facilities, but not better than other schools.
"In the Free State we don't have the finances, but we have the best coaches, and we coach them very hard. [South Africans] are competitive people - but we need to have balanced boys."
One of those is first-team captain and scrum-half Ross Braude.
"Rugby is the biggest thing at the school and it is what we live for," says Braude.
"Since I found out I could pass a rugby ball, it was my dream to play for the Springboks.
"But first of all since coming to Grey I've improved as a person, and that has made me a better rugby player."
'Transformation has to start at school'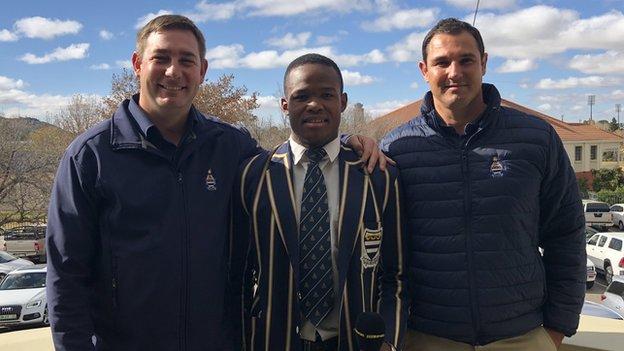 The fact that all 46 Grey College Springboks are white cannot be ignored, especially in light of the transformation movement in South Africa.
The Free State is a traditionally Afrikaans stronghold, compared to more diverse areas such as Natal and Eastern Province, but the school insists change is happening.
There are two black players in the first team, a strikingly low number, but headmaster Scheepers points to the lower age groups coming through, where the split between white and players of colour - the South African term for black or mixed race - is around 50/50.
Under governmental targets, 50% of teams at all levels of South African rugby should be black or mixed race by 2019.
"Transformation in the schools is very important," says Joubert. "We don't have regulation at schoolboy level, but we do it because it is our social responsibility."
Wycliff Vlitoor plays outside centre for Grey, and has been selected in the South African schoolboy squad.
Originally from a township on the Eastern Cape, he was spotted by head coach Du Plessis and offered a scholarships at Grey at the age of 14.
"I wasn't a privileged kid - I wouldn't have had an opportunity to be at such a great school," Vlitoor says. "They gave me the chance to come here.
"I come from a small town so my coach wants me to become something. I am working pretty hard and the dream is to play for the Springboks."
Siya Kolisi, the first black captain of the Springboks, was educated at Grey's sister school in Port Elizabeth, and his influence is being felt already.
"All the guys look up to Siya," Vlitoor adds. "It's history and it's great to see the players of colour moving forward. There is room for us.
"I want to be somebody that can make it better for others, and give them a brighter future. You have to set an example by being humble, helpful and professional."