Warren Gatland: British and Irish Lions need adequate preparation time
Last updated on .From the section Welsh Rugby117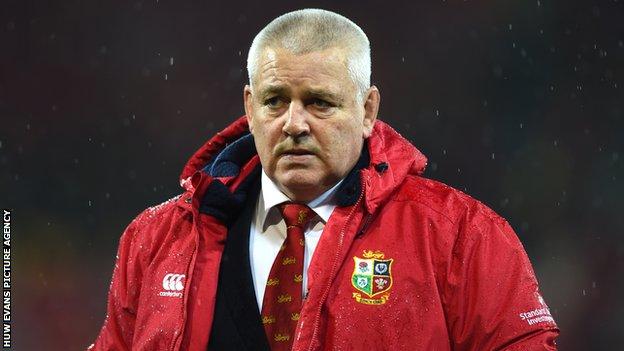 Former Lions coach Warren Gatland has called for the squad to be given a week of preparation time before flying to South Africa for the 2021 tour.
Gatland was head coach for the Lions' series win in Australia in 2013 and the drawn series in New Zealand in 2017.
Premiership Rugby boss Mark McCafferty has indicated the Aviva Premiership will not shorten the 2020-21 season by a week to accommodate the Lions.
"The Lions is supposed to be the best of the best," said Gatland.
"You have to give them adequate preparation. I'm not the only who has said that.
"Why would you not want the Lions to have potentially a week together in the UK or Ireland before they fly out to South Africa?"
That tour is set to feature a reduced programme of eight games over five weeks. McCafferty said shortening the English club season to allow the Lions extra preparation time would be "suicidal" for Premiership Rugby.
The New Zealander believes denying the Lions sufficient preparation time could lead to players being injured.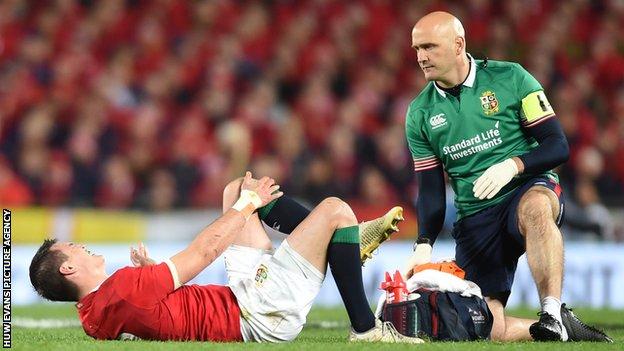 "That is his (McCafferty's choice), it just makes things difficult," added Gatland.
"I felt last time in New Zealand the biggest concern was flying on the Monday, arriving on Wednesday and playing on Saturday, we were exposing some of the players to injury risks by taking to the field as early as we did without adequate time."
The Wales head coach was asked whether the injury suffered by Wales number eight Ross Moriarty in the Lions opening tour game against New Zealand Barbarians, that ruled him out for most of last season, could have been caused by the lack of preparation time.
"Yes, possibly," responded Gatland. "I look back now and it was a really unusual injury, a back and nerve injury.
"Was that caused by the flight time? Lack of preparation? Jet lag? The pressure of having to travel up from Whangarei?
"It's a possibility that injury could have occurred from that, but I'm only speculating."
Gatland was talking in Argentina before Wales' opening Test against the Pumas in San Juan on Saturday and a weekend after guiding his side to a 22-20 victory over South Africa in Washington DC.
McCafferty said that match in north America should not have taken place because it was outside World Rugby's international window.
No English-based Wales players were released for that fixture with Josh Adams, Luke Charteris and Tomas Francis missing out.
McCafferty said matches outside the window places an "unnecessary burden" on the clubs and players involved.
Gatland responded initially by saying politics was the reason behind the decision not to release the players.
"I don't want to talk about Premiership Rugby Limited (PRL) any more," said Gatland.
"It is obviously the best competition in the world, isn't it?!"