Chris Paterson backs Gilchrist & Hogg to step up as captain in McInally's absence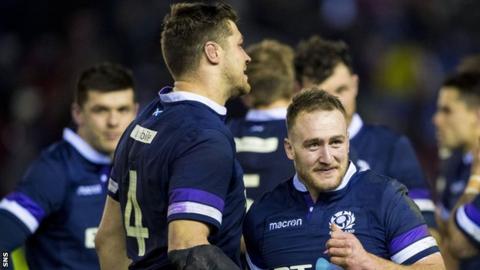 Former Scotland captain Chris Paterson believes Grant Gilchrist and Stuart Hogg are ready to take on the armband if Stuart McInally is unavailable.
McInally was named as skipper for the upcoming tour matches against Canada, United States and Argentina.
However, the Edinburgh hooker has suffered a calf strain.
"One of those two, certainly, would be where I would go if Stuart [McInally] doesn't make it," Paterson said of lock Gilchrist and full-back Hogg.
"Stuart is the most capped on tour. He's sitting with 60 caps. I think the second most capped player in the touring part is Dave Denton and then closely followed by Grant.
"It's whether you would like your captain to be at the coalface, like Grant - he is a good leader - or whether you want the captain to be a little bit more detached in terms of his position on the field with Hoggie out the back.
"But I think Hoggie's ready for that next step of captaincy. He's in the senior group, the leading group at Glasgow and Scotland so either of the two I think would be important but whoever it is will need support and other leaders across the field."
'Go with your strongest team'
Scotland follow their third place at this year's Six Nations with the Tests against Canada (10 June), USA (17 June) and Argentina (23 June) and there will be autumn internationals against Wales, Fiji, South Africa and Argentina.
And as well as the Six Nations, Gregor Townsend will have summer Tests home and away next year against both France and Georgia prior to the World Cup.
"You should go with your strongest team and just attack everything," said Paterson, who played 109 times for Scotland and is the country's record points scorer with 809.
"Don't hide anything, don't hold anything back because you need to know who you can trust under pressure in a World Cup.
"There's far more opportunity to try things - three Tests now, four autumn Tests, the Six Nations, four warm-up [summer 2019] Tests, two home, two away against France and Georgia - so there's a lot of rugby to be played. As a coach, you would want to know maybe 75% of your squad leading into the Six Nations of what your squad's likely going to be come the World Cup time."
In North and South America, uncapped Adam Hastings and James Lang will compete for the fly-half position with the more experienced Peter Horne, since regular 10 Finn Russell is not involved.
"Blair Kinghorn you could add to that mix - played most of his rugby as a stand-off growing up but so elusive, so brilliant, so quick, so powerful in the back three," Paterson said of the Edinburgh full-back.
"If he's targeting the full-back berth, Stuart Hogg is going to be there and thereabouts so getting those two players on the field at the same time could become a priority. I still think it'll be in the back three for Blair but he can play that number 10 position as well.
"That's one of the big aims to come out of this tour is to see how the number 10s shape up."