Cardiff Blues: New coaching team has 'hard act to follow'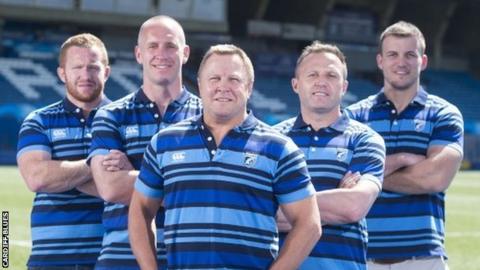 Cardiff Blues chief executive Richard Holland says John Mulvihill's new-look coaching team has a hard act to follow.
Danny Wilson has left to join Wasps after guiding the Blues to Challenge Cup victory.
Backs coach Matt Sheratt is joining the Ospreys, while Shaun Edwards' season as a defensive consultant has ended.
"They have a tough act to follow, haven't they?" said Holland. "Danny took over three years ago after we had been through a few coaches.
"He stabilised the ship and progressed through to a European title which is a hard thing to come by."
Backroom boys
Australian Mulvihill has been appointed despite not having much experience as a head coach.
He completed his new coaching team after Tom Smith was officially installed as the forwards coach to join new backs coach Jason Strange.
"When we found out last September Danny was leaving and then followed by Matt Sheratt, they are big shoes to fill," said Holland.
"I think we have found the right man in John. He is hugely experienced, although perhaps not as a director of rugby/head coaching role. He is vastly experienced in developing players.
"He has put a team of young Welsh coaches around him and I am excited where they can take the young players."
More recruits
Wilson said the Blues would need to recruit to compete in the Champions Cup after helping them qualify for Europe's top tournament for the first time in four seasons.
Holland says the region is looking to bring in players in a certain area.
"We would like to add greater strength in depth to the front five," said Holland.
"We are in final discussions with some quality players to come on board in those positions.
"But also we had 13 out of the 23 players in the squad in Bilbao who have come through the academy system.
"We made a conscious decision to develop homegrown talent as opposed to buying in overseas talent to fill the ranks.
"It was not a long time ago we were losing up to 16 players a season and it became difficult to create stability.
"The vast majority of those players we wanted to contract next season have been concluded and we are in discussions with lots of players to extend contracts beyond the 2018-19 season."
Holland says it is important the Blues do not dwell on their Challenge Cup triumph final victory over Gloucester in Bilbao that emulated their 2010 win.
"It has been fantastic, we need to build and hopefully this is just the start," said Holland.
"We have ambitions beyond the Challenge Cup and want to compete in the Champions Cup.
"We have a three-year plan to do that and compete in the latter stages of the Pro14 because that is the bread and butter."
More investment
Holland admits that success will need further investment, with the Blues recording annual pre-tax losses of almost £1.5m in the 12 months to June 2017, with the net debt rising close to £15.5m.
"It is challenging," said Holland.
"We have a squad this year that won the Challenge Cup that cost £5m.
"My estimation is we will need £6m this coming season and maybe £7m to go and compete in the Champions Cup."
The Ospreys last week also recorded a loss of more than £500,000 with the four regions meeting with the Welsh Rugby Union attempting to sign a new Rugby Services Agreement.
Plans for a WRU temporary takeover of Cardiff Blues were shelved last year but Holland believes the four regions can co-exist alongside the Union.
"There are four regions and they are here to stay," said Holland.
"With the WRU working with us, I see no reason why that would change.
"The last year has been collaborative and lots of dialogue on how the five entities can work more closely for the benefit of everybody and Welsh rugby."
Call to Arms
Holland revealed the Blues are working with the Union in trying to stay at the Arms Park with their current lease running out in 2022.
The region announced in February they might have to move because a new deal with landlords Cardiff Athletic Club could not be agreed.
Cardiff Blues say an £8m offer for a 150-year lease at the Arms Park was rejected by its owners, but admitted to owing rent arrears to the Cardiff Athletic Club.
"We want to stay here at Cardiff Arms Park and we are still in dialogue with Cardiff Athletic Club," said Holland.
"I have left it with them to come back on how they perceive the future looking.
"We have made it clear we would like to develop the site and put a fit for purpose stadium in here.
"We are in dialogue with the WRU to see if they could come on board in a tripartite relationship.
"We are trying to set up a meeting with the three parties to put something in place that is beneficial for all
"I have gone past putting deadlines.
"It would be nice to get it sorted so we can concentrate on implementing the required facilities to operate a professional rugby team.
"We can't do it unless we have a lease agreement with the Athletic Club, so the ball is in their court.
"We are having amicable discussions, but no progress to report."
Chairman Peter Thomas has helped fund the Blues since the inception of regional rugby in 2003 after initially becoming involved with Cardiff RFC in the 1990s.
Thomas was heavily criticised by former Wales captain Gwyn Jones in October 2017 following Wilson's decision not to continue as Blues head coach.
"He deserves all the accolades for continuing to fund this region," said Holland.
"I was so happy for him on the night in Bilbao for him seeing the fruits of his labour in terms of financial perspective.
"That is two European trophies he has been a part of.
"It is good to have a silverware return in terms of an investment."