Principality extends Welsh Premiership deal for another season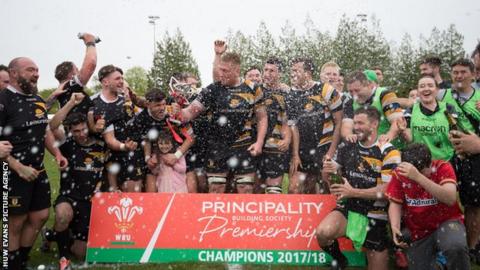 Principality Building Society has extended its title sponsorship of the Welsh Premiership and the WRU National Youth Leagues for the 2018-19 season.
The company first sponsored Welsh rugby's top domestic league in 2005 but had been expected to end that association next season.
But the deal with the Welsh Rugby Union will now continue for a 14th season.
"Principality's continued commitment is welcomed by all in Welsh rugby," WRU chief executive Martyn Phillips said.
"The Principality Premiership is entering the third and final season of ring-fencing and from 2019-20 will be reduced to 12 (from 16) teams.
"This gives a final year of absolute stability for all of the Principality Premiership clubs next season, which will prepare the way for the jeopardy of promotion and relegation the year after and Principality's support increases that stability.
Principality will still remain involved with Welsh rugby, after taking over naming rights of the former Millennium Stadium in January 2016 on a 10-year deal.