Ospreys sign Argentine back rower Guido Volpi for next season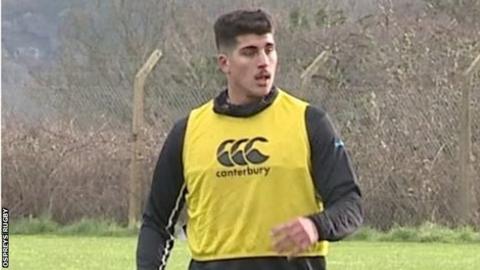 Ospreys have signed Argentine back rower Guido Volpi for next season.
The 22-year-old played for CUQ Rugby in Buenos Aires before heading to France last summer to sign for Narbonne.
He can play at number eight and blindside flanker and will be the first Argentinean player to sign for Ospreys in their history.
Meanwhile, Georgia back-five forward Giorgi Nemsadze will remain with Ospreys after signing an extension to the short-term deal he signed in March.
Volpi, who will join the squad for pre-season training ahead of the 2018-19 campaign, said: "I am very happy to sign.
"They are a big club and are always ambitious about their goals."
He added: "It will be my first experience at this level, so I'm really looking forward to it and I hope to benefit from this and grow as a player."
At 6ft 3in (1.93m) tall and 17st 3lb (110kg), Volpi's physicality impressed during a trial.
Dan Griffiths, Ospreys rugby general manager, said: "Guido is a fantastic athlete, with size, pace and the ability to offload.
"He really impressed during his time with us, not only with his physical capabilities, but also his ability to adapt and learn quickly".