Cardiff Blues: No regrets for departing boss Danny Wilson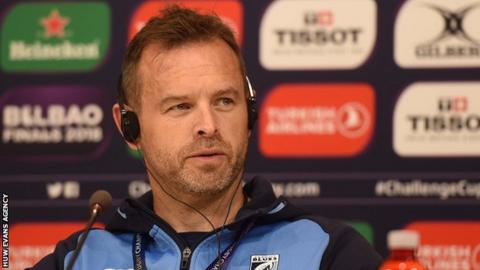 Head coach Danny Wilson admits leaving Cardiff Blues will be "tough" but has no regrets about his decision.
Blues were crowned European Challenge Cup champions after a stunning comeback to beat Gloucester in Friday's pulsating final in Bilbao.
Wilson announced earlier this season he would be joining Wasps in the summer after three years with Blues.
"It's been a real rollercoaster. It's great but it's not about me, it's about the group."
Fitting rewards
He added: "This group have gelled unbelievably over a three-year period.
"To leave this group of players is tough, and emotionally it's tough because I've got some great relationships with them.
"It's fitting that they got the rewards they 110% fully deserve."
Clinching the Blues' second European title - and only the second in Welsh rugby history - capped an excellent end to Wilson's three-year reign.
After a difficult start to this season, the Blues have been vastly improved in 2018 and have qualified for the 2018-19 top-tier European Champions Cup.
It was announced last September that Wilson, formerly a coach with Bristol and Scarlets among others, would be leaving the Arms Park.
No change of heart
Despite his spectacular swansong in Bilbao, Wilson is not tempted to change his mind.
"I'll be very disappointed to leave this group, but I made my decision a long time ago for a number of reasons and my decision hasn't changed, my views haven't changed," the former Wales Under-20s coach added.
"It was never about the playing group, it was never about the rugby environment.
"It was based on other reasons and now's not the time to talk about that.
"I'm definitely looking forward to a new challenge with Wasps.
"But what a way to finish as a group, to come away with some silverware and I think leave the Blues in a situation where this can be built on."