Siam Cup: Guernsey beat Jersey 46-30 to win trophy for first time since 2008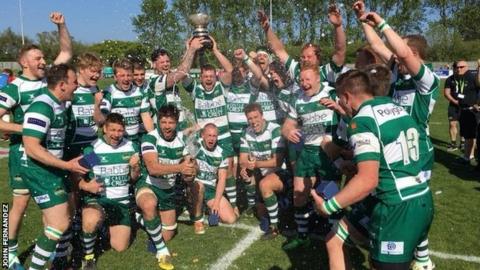 Guernsey ended Jersey's winning run in the Siam Cup with a 46-30 victory.
The Raiders - who won promotion to National Two South last week - ended Jersey's run of nine successive wins.
Under revised rules only two of Jersey's professionals - Nick Selway and Uili Kolo'ofa'i were eligible to play, so the side was mainly made up of the club's 'Athletic' second team.
It is only the second time in 23 years that Guernsey have won the title on home soil - the last time in 2008.
Guernsey raced into an early 10-0 lead thanks to tries from Ned Brown and Luke Sayer, but Simon Johnson's penalty and Kolo'ofa'i's try narrowed the gap.
The islands then shared four more tries - Dan Hill and a second from Brown interspersed with scores for Alex Budd and Liam Rhodes for Jersey as Guernsey led 24-22 at the break.
But Hill's second try and late scores for Luke Jones and Anthony Armstrong ensured the cup would be staying in Jersey, despite a try for Nathan Rogers for Jersey.
Guernsey also won the women's, veteran's and second-team matches with Jersey - their first-ever clean sweep over the Caesareans.
"It's still a bit numb, we haven't won it for 10 years so we don't know what to do with it," joked Guernsey head coach Jordan Reynolds.
"I've asked a lot of the players in them last couple of weeks and they've stepped up," he added to BBC Radio Guernsey.
"I can be a hard taskmaster. but these are the guys that had to go out and deliver."
The win was just the 16th time that Guernsey have taken the title compared to Jersey's 60 wins.
"It hurts a lot, and a lot of the lads are in tears, but it's one year of heartache for us to nine years for Guernsey," said Jersey coach Myles Landick.
"We've got to pay respect to Guernsey, they took their chances, we weren't clinical enough in certain areas and we missed a couple of tackles.
"Guernsey were more clinical today, they stuck at it all day and it was a fantastic win."