Richard Cockerill sends message of belief to Edinburgh before Munster test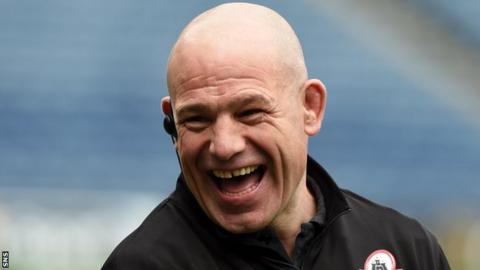 Pro14: Munster v Edinburgh
Venue: Thomond Park Date: Saturday, 5 May Kick-off: 15:15 BST
Coverage: Watch on BBC Alba
In every syllable he utters you get a sense from Richard Cockerill that he wishes he could be out there himself on Saturday at Thomond Park when his Edinburgh side to take on Munster in the quarter-final of the Pro14.
Cockerill is a tour-de-force of determination, a gnarled beast who gobbles up these occasions like they were raw meat.
"The good thing is we can get amongst them," he says of the hosts and favourites.
"They bleed like the next man. If you hit them, they stay hit. We've just got to make sure we don't stand in awe of those guys and we get right in the mix of it, go toe-to-toe. Munster say 'Stand Up And Fight'. Well, that's exactly what we're going to do."
On Saturday, Thomond Park will say farewell to Simon Zebo, who is Racing-bound. The script has it that Zebo will bow out with a win. Nobody in Limerick is anticipating anything else.
Their support is still disheartened by their exit from the Champions Cup a fortnight ago, too disheartened, in fact, to fully engage with a game they're expected to win.
Call it what you will - Pro14, Pro12, Magners League or Celtic League - but quarter-finals have never floated many boats in these parts. The sense of excitement in the city is low.
It's different for Edinburgh. So many things are different. Cockerill inherited a poodle and is beginning to turn it into a Rottweiler. They have come on a devastating run towards the end of the season. They are robust when previously they were soft. They have belief where before they were riddled with doubt. Munster are deserving favourites, but this is a quarter-final they'll worry about.
The pressure? It's all on Munster and it's a hell of a weight. Seven years have gone by without a trophy at Thomond Park. Of their starting line-up on Saturday only Conor Murray and Keith Earls know what it feels like to win a trophy in the red jersey. Since their Celtic League win in 2011, Munster have lost two Pro12 finals, two Pro12 semi-finals and four European Cup semi-finals. It's a run of near misses that has become a major issue. It's a track record that infuriates the lot of them behind the scenes.
"They're the home team," says Cockerill. "We may well get beaten heavily, they play really well and it's just one of those things and we'll learn from that. But maybe, just maybe, we're good enough to go and do it. Why not? If you don't have that mentality, there's no point going."
At the start of the season, nobody expected weak-willed Edinburgh to make the shake-up, but they have. Very few people expect them to win on Saturday, but they genuinely believe they can. You really do sense that this isn't a kid-on belief put on just for the cameras. Cockerill has worked on their mentality and they're a pretty robust crew now.
"You've got to be mentally tough and physically tough," he says. "They're a good side. On form and on history they should beat us, but we'll see. We'll go there and do what we've done all season. We've got a good pack that will compete and we've got threats in the back-line that will cause problems. We're lowly Edinburgh, they're Munster. They should win and we'll see if we play along with the script.
"What's the expectation? We've never been in a play-off before. There is no expectation, but what we do know is that we're good enough to win if we get things right. They know that, we know that.
"There are no excuses. They lose, they're out. Simple as that. We lose, we're out. Simple as that. It's going to be full-on and that's how we want it. I don't know if we're good enough, but we'll find out. That's the beauty of what we're doing. We're treading new territory.
"This group has worked really hard. Any team that plays us now, whatever they think of how we play or what we do, they certainly respect us. That's a good starting point.
"We have to turn up and be accurate. Not get the wobbles when they score a try or score a penalty and the crowd goes wild or something happens. We've got to make sure we control the game as best we can, keep the crowd quiet. If we're in the game with 20 minutes to go, we'll win."
Cockerill also said: "If we're in the game with 20 minutes to go, we'll win." This is Cockerill upping the ante. Part of the fighting talk is meant for the opposition, but mostly, you sense, it's directed at his own players. It's a message being sent to the dressing room, a message of belief ahead of a mountainous challenge.