Super 6: Glasgow Hawks ask for independent review on selection process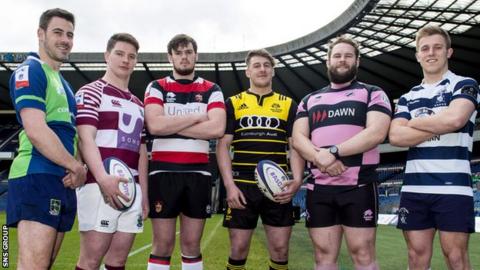 Glasgow Hawks have formally requested an independent investigation into the Super 6 selection process.
Three of the six teams chosen for the new tournament are from Edinburgh, which Hawks believe contravenes Scottish Rugby's own guidelines.
The initial project document set out plans for franchises in each of Scotland's four regions, with no more than two teams in any single region.
Scottish Rugby says it has selected the "most robust applicants".
The Edinburgh trio of Boroughmuir, Heriot's and Watsonians were selected for the new semi-professional league, alongside Melrose, Ayr and Stirling County.
Glasgow Hawks' bid was unsuccessful, alongside those of Currie Chieftains, Dundee, Edinburgh Academicals, Gala and Hawick.
Hawks president Kenny Hamilton called the decision to have no Glasgow franchise "illogical" and confirmed he has now called for a review of the process.
Should that not be forthcoming, Hawks are prepared to explore legal avenues to pursue their case.
"I have now contacted our Premier club representative on the Scottish Rugby Council and formally requested an independent investigation into the Super 6 process and the application of the rules," Hamilton said.
"My understanding is that that request will go to the Scottish Rugby president [Rob Flockhart] to consider.
"The president has a strong track record in governance issues. It is our view that the allocation of Super 6 franchises has been carried out contrary to the Scottish Rugby's explicit undertaking contained within 'Compliance with the Super 6 Franchise Model' section of the franchise information."
The franchise information document, released in mid-November, stated: "Scottish Rugby will select at least one applicant from each of the four regions of Scotland and not more than two in any region."
Scottish Rugby's position is that the document was essentially a guide at the outset of the project, rather than any contractual agreement, and the selection criteria had to be fluid to allow the strongest bids to come to the fore.
A Scottish Rugby spokesman said: "The franchise information document was prepared as guidance on the overall process, long before any applications were submitted and before Scottish Rugby reached a concluded view on what the regional composition of Super 6 might look like.
"The selection of the successful franchises was based solely on the criteria evaluation set out by the review panel which had a remit to determine the strongest bids.
"Under the terms of the application process, Scottish Rugby board had the final decision on which clubs were selected and Scottish Rugby believes it has selected the most robust applicants for the Super 6."