Super 6 choices 'most appropriate', says Scottish Rugby chief Mark Dodson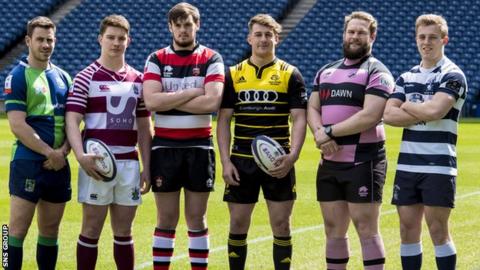 The decision not to award Glasgow a Super 6 franchise was simply down to the strength of the successful bids, says Scottish Rugby chief Mark Dodson.
Boroughmuir, Heriot's, Watsonians, Ayr, Melrose and Stirling County will compete in the new semi-pro league.
The choice of three Edinburgh teams and none from Glasgow has been criticised.
"When we looked at the criteria that the bids were judged on, the Glasgow bid fell below the ones that were successful," Dodson told BBC Scotland.
"It was an extremely good bid. It wasn't that Glasgow performed badly in the presentations, it was just that the six bids that we have were the most appropriate to be used.
"When we look at Glasgow, we have the pro team going great guns over there.
"Would I like to have a Glasgow team? Would I like one in Edinburgh, in Dundee? Of course I would. But the truth of the matter is this was an independent, rigorous process. At the end of that it came out that these six bids were the most appropriate."
Dodson also hailed the Super 6, which will run from season 2019-20, as a "historic day for Scottish Rugby" and said he hoped to have to interest from broadcasters in covering the competition, which is designed to bridge the gap between the amateur and the professional game.
Kenny Hamilton, president of Glasgow Hawks, one of the unsuccessful bidders, branded the decision to overlook Glasgow as "illogical".
'I want the whole nation behind this'
Currie Chieftains, Dundee, Edinburgh Academicals, Gala and Hawick also missed out.
"This is a step change for the domestic game," added Dodson. "It will crystalise the best talent, with event rugby. "[The successful clubs] brought a vision and sustainability to club rugby that we haven't seen before.
"I want the whole nation behind this because it will be good for everybody."
With Stirling the most northerly club in the new set-up, Dodson is keen to stress that teams further from the Central Belt will continue to receive support.
"They will still have access to the highest levels of the amateur game," he said. "The idea that it's just a wasteland above that area is just wrong.
"We will work hard with clubs in those areas to make sure there are proper feeder systems and grassroots structures that allow players to come through."
On a new cross-border competition with Irish and Welsh clubs, Dodson revealed that it would "probably take place at the end of the Super 6 season", with details to be announced soon.