Guernsey Raiders win promotion to National Two South after Bournemouth win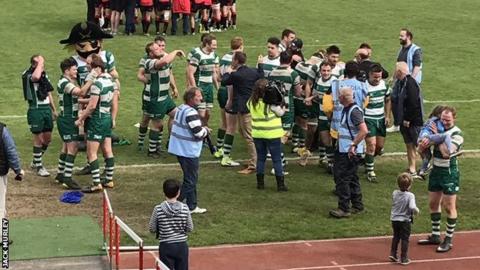 Guernsey Raiders have won promotion to their highest-ever level of rugby after a 38-23 win over Bournemouth in their promotion play-off.
The islanders - who lost the London and South East Premier title by a point to Barnes - trailed 13-7 at half time after Anthony Armstrong's sole try.
But a pushover try, as well as scores from Layton Batiste, Armstrong, Luke Jones helped the home side recover.
The victory means Guernsey will play in National Two South next season.
"The credit goes to the boys, they've been working at this for the last four years, so I hope we can celebrate and enjoy it with them," Guernsey head coach Jordan Reynolds told BBC Radio Guernsey.
The Australian has been in charge at Footes Lane since 2008 and overseen the island side's rise from the seventh tier to the fourth tier of English rugby in seven years.
But he says it needed a particularly frank half-time team-talk from him to turn the game around.
"I scared myself a little bit," he said of his instructions to his side at the break.
"I was a bit emotional, I won't go into what was said but we said 'these are the two things we fix, and if we don't do it we're not going to be happy campers' and the boys came out and played really well.
"But it's only words from me, these boys had to put it on the pitch and make it happen."