Glasgow Warriors: Captain Ryan Wilson commits future to Pro14 club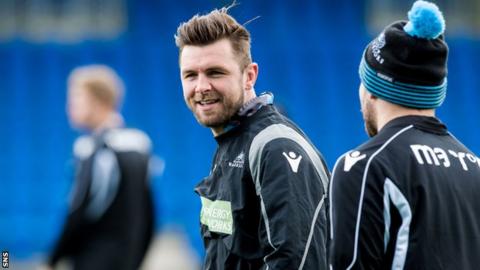 Captain Ryan Wilson hopes to help Glasgow Warriors' burgeoning youngsters avoid "making the mistakes I did" after signing a new two-year contract.
The 28-year-old was found guilty of assaulting a fellow player in October 2013 during a team night out.
But he believes he has matured as a person and a player since then.
"It happens in anyone's life, when you become a dad you have to grow up a little bit, become a bit more sensible," the Scotland back-row said.
"I've got three of them now, but it just comes naturally as you get older.
"I'm not too old yet, but as you get older, you start to see things in a slightly different perspective.
"We've got a brilliant bunch of young lads coming through and I can hopefully help them not make some of the mistakes I did."
The new deal will extend Wilson's stay at Glasgow to a decade - until 2020 - and he says the unity and "special" ethos of the club were pivotal to his decision to remain at Scotstoun.
Prop Ryan Grant and backs Ruaridh Jackson, Niko Matawalu and DTH van der Merwe returned for second stints at Scotstoun this term and Wilson said: "A lot of players that leave end up coming back.
"Seeing some of those guys speak about the club the way they do, you realise what a special club you're at."
Wilson joined Warriors from English lower league side Moseley in 2010 and has since amassed 138 appearances.
Dave Rennie, upon arriving from New Zealand last summer, made Wilson his captain.
"The club's grown massively since I've been here and I want to be part of it," Wilson, whose three children were born in Glasgow, added. "Dave said there's a side of me which is good with the boys.
"I can get on with them and relate to most of them, but there's a part of me which, when out on the pitch, I'm there to do a job and I'm happy to call people out.
"That's the way I like to try and lead. As most people will know, I don't take myself too seriously around the club, but when it comes down to doing the job on the field then I switch in.
"A big thing we talk about at Glasgow is accountability, making sure everyone's accountable from the leaders all the way down to the academy boys."
Rennie welcomed Wilson becoming the 13th player to commit his future to the club for next season.
"Ryan is a good man, he loves this club and he has a really good way with the players," he said.
"He is demanding and challenging when he needs to be, but he's great at putting an arm around guys and he really cares about his mates and this club.
"Ryan is uncompromising on the pitch, he's got a really good skill-set and he's obviously a really experienced player."