Dan Carter: All Blacks great targets Champions Cup swansong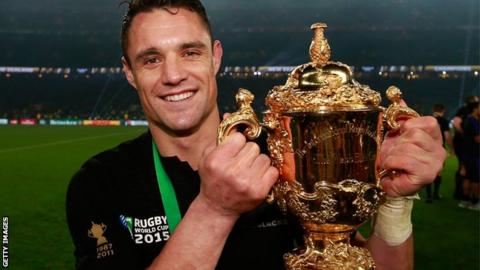 All Blacks great Dan Carter says he is more motivated than ever as he looks to end his top-level career by winning the Champions Cup.
Carter's Racing 92 side face Munster in Sunday's semi-final showdown in Bordeaux.
And despite being in the twilight of his career, the 36-year-old has vowed not to let up.
"I've been able to win plenty of trophies, and there is no better feeling in rugby," he said.
Carter added on the Rugby Union Weekly podcast: "I want the younger guys in this team to experience that, and that's why I'm trying to push this team and put the team first.
"I'm 36 and I may not be playing the best rugby of my career, but I still feel like I have got a lot to add, and the individual is nothing without the team.
"Even though I may not be playing my best rugby, I want this team to be successful."
After guiding New Zealand to World Cup glory in 2015, Carter has spent three seasons in France before he winds down his career in Japan.
He retired from international rugby following the World Cup, having scored an all-time record 1,598 Test points.
"I've got my last couple of months here, and I'm not going to slacken off. I'm going to work harder than I have ever worked," he said.
"The feeling I get playing rugby is like nothing else - it's a dream come true since I was a child - and I just want this feeling to last as long as possible.
"Obviously it doesn't last forever, but as long as you have that drive to play at the highest level, that feeling of getting out of bed and saying 'I am so lucky to call this my job', that feeling of being excited about going to work and striving to get better every day.
"As long as you have that feeling within, I wanted to keep playing. I still had that feeling in 2015, and I still have those feelings now."
Carter came off the bench to match-changing effect against Clermont in the quarter-finals and is likely to again be among the replacements against Munster, with former Springbok Patrick Lambie starting at fly-half.
"I could be sitting here being annoyed about being on the bench, but it's not like that for me," Carter said.
"It's a new challenge actually. The game has changed so much that the replacements are sometimes just as important.
"My job is made a lot easier when the boys have battered them for 60 minutes. It's about finding the best way to help the team, and making the most of every opportunity I do have now."