Stuart Hogg: Scotland full-back says sports psychology 'made me a better player'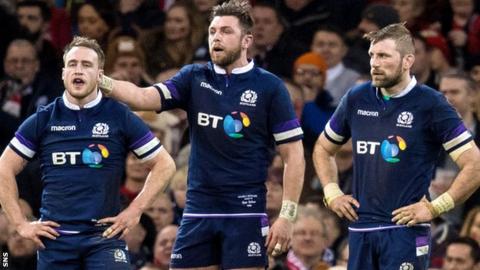 Scotland full-back Stuart Hogg says he is a firm believer in sports psychology and believes it has made him a "better player and a better person".
Glasgow attack coach Jason O'Halloran says the mental side in Scotland is "not done particularly well" and "where New Zealand was at 20 years ago".
Hogg accepts "some players don't believe in it" but hopes "in the near future we can get everyone into it".
"It is something I have been enjoying for the past few years," he said.
"I ended up working with a guy called Steve Black [renowned for his relationship with England World cup winner Jonny Wilkinson], who is hugely into learning from your mistakes - like when I tried to leave the club a few years ago.
"I have been a big believer in it... little things like goal-setting before a game, learning from other sports as well. There are loads of different bits and pieces. I have not even scratched the surface with this yet. I am excited to see what I can learn.
"It is mainly setting myself different challenges, long-term and short-term. It works for me. Some boys don't believe in it, some do. It is purely down to the individual. I believe it helps me as a player, so I am going to stick to doing it."
O'Halloran worked as an assistant coach to Vern Cotter with Scotland before moving into a similar role at Glasgow under Dave Rennie when Gregor Townsend succeeded Cotter in the national role.
The Kiwi, 46, said it was a "real eye-opener" to witness "how far behind New Zealand we [in Scotland] are and how that affects players as individuals, particularly how they accept feedback".
"Sometimes, Scottish boys see any sort of constructive feedback as you having a go at them," added O'Halloran, who said Glasgow are trying to source their own sports psychology provision.
"That is a big issue and dictates the way you coach and the way you give feedback or constructive criticism.
"That continues to be a balance for us as Kiwi coaches in Scotland."
Former Scotland centre Scott Hastings believes the national team has a core of players "that can embed a winning mentality" and does not believe "they are so far behind" New Zealand.
"We are seeing a bit of a sea-change in Scottish rugby," he told BBC Scotland. "Gregor Townsend has brought a confidence back into the team; it just takes time to develop a culture.
"You've got to appreciate that Jason O'Halloran comes from a culture where rugby is the number one sport and everybody desires to become an All Black. That focuses the mind and also increases the competition.
"We had access to sports psychologists when I was playing but it was more an attitude of mind. The players got together and instilled a belief and a confidence.
"It was the senior players at the time when I first came into the Scotland team [in 1986] who led that. The 1990 Grand Slam was based on the 1984 team [who also won a Grand Slam]."
Scottish rugby on the up in 2017-18?
Scotland win three Six Nations matches for second straight year for first time since 1996
Glasgow top of Conference A in Pro14, with a home semi-final to come
Edinburgh on verge of Pro14 play-offs for first time after winning 14 of 20 league games
Hastings, who won 65 caps for Scotland and two for the British and Irish Lions, believes while the culture within Scottish rugby is changing, a lack of consistency - particularly away from home - suggests improvement is still needed.
"In a professional environment it can be very serious at times," he noted. "I still use a lot of techniques every day that I learnt in rugby, from visualisation, to breathing, to planning and strategy.
"In New Zealand, there is an embedded culture that has grown over the last 20 or 30 years into the behemoth which is the All Blacks. Everything feeds off that All Blacks syndrome.
"Everybody who supports Scottish rugby has seen a change and that is bred from the national team. There was a desire and a joy at being at Murrayfield this season, especially when the two victories over France and England were achieved.
"On the other hand it is all about consistency and you think back to the opening game of the Six Nations against Wales in Cardiff and you realise it is a thin line between success and failure."