Alun Wyn Jones: New dual deal about 'bigger picture'
Last updated on .From the section Welsh Rugby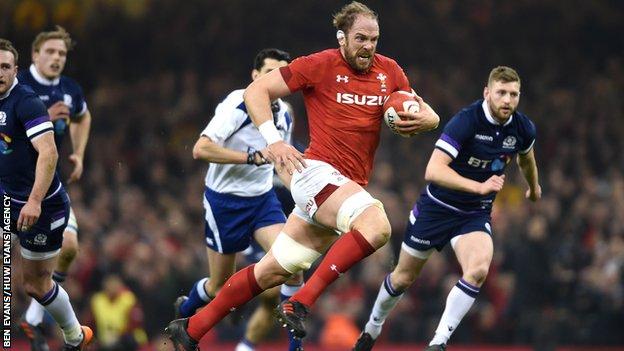 Wales and Ospreys captain Alun Wyn Jones says signing a new National Dual Contract was not just about rugby but "a life decision".
He said putting pen to paper was not just about him and the club now that he is married with a second child due.
"I'm at a point in my career where it's a lot bigger picture for me than just the rugby," he said.
'Own worst enemy'
Jones has been on a dual contract since 2015, but said: "It's hard to say it's served me well this year... that's not because it hasn't worked, it's because we've been under pressure with Ospreys".
He admits to being his "own worst enemy" in the past having carried on playing despite being given time off.
"I probably should have put my foot down and not played," he said.
"Moving forward, I know were I am and I know where I want to be, so it's going to be of greater value to myself in particular as I'm 32-years-young."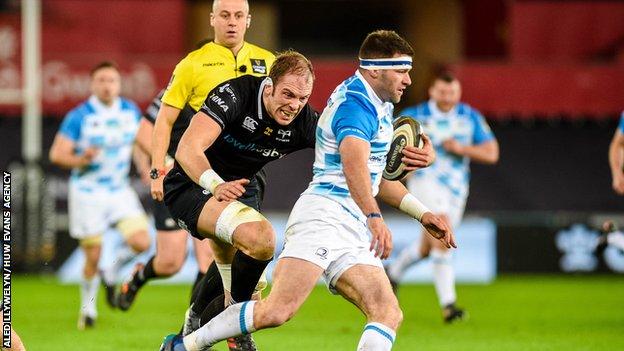 Ospreys are currently fifth in Pro14 Conference A with a game in hand over their rivals, and Jones said the aim is to qualify for the Champions Cup.
They parted company with head coach Steve Tandy in January after just four wins from 13 games and failing to reach the knock out stage of Europe's top competition.
"To go back into that Challenge Cup isn't something we want to do," said the second row.
"The target for us is Champions Cup rugby and we can still achieve that.
"It's going to potentially go down to Judgement Day and we could still have to play in a play-off. It's massive for us to be in the top echelon of domestic rugby."
Jones said Ospreys were dealt a blow in losing four or five British and Irish Lions players, such as Mike Phillips, Tommy Bowe and Adam Jones, in recent years.
"We've probably punched above our weight with the people we have recruited and the people we've had," he said.
"That's not to say we are underfunded but there's people more qualified within this organisation to make decisions to rebuild or build again for the future."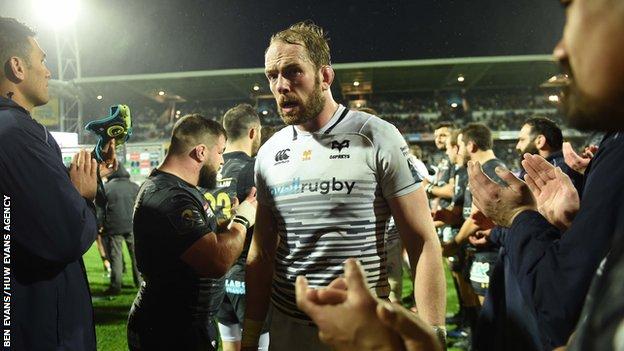 Uncertain times
Ospreys have yet to appoint a permanent successor to Tandy.
Forwards coach Allen Clarke is interim boss for the rest of the season, while talks have also been held with the likes of Stormers coach Robbie Fleck.
Jones said Tandy's departure during the Six Nations and the uncertainty surrounding who will be their new head coach has affected the players.
"It is what it is and it's out of our hands and the players, so you have to deal with that.
"The working week can become dishevelled because of certain reorganisations happening but credit to Allen Clarke and the rest of the coaching staff.
"We've knuckled down and moved forward and a few positive performances is what's been needed during a time of uncertainty."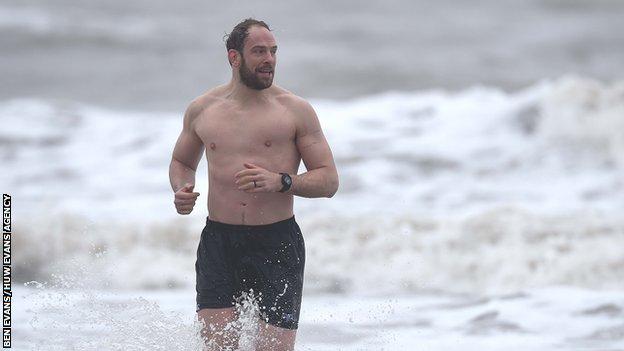 Baa-Baas ambitions
Jones has made 117 appearances for Wales, with only Gethin Jenkins earning more international caps, and is a three-time British and Irish Lions tourist.
He has also made 224 appearances for Ospreys since 2005.
Asked what is left to achieve 13 years into his career, Jones said: "Take everything I have done and what's left, you want to achieve all that".
He said he would love to feature for the Barbarians, which he described as the "ultimate invitation team", win the Champions Cup and get to another World Cup with Wales.
"I'd love to get to at least a World Cup final and see what could have been, particularly after 2011," he said.
"I'm probably being greedy and asking for too much, but it's served me well over the years."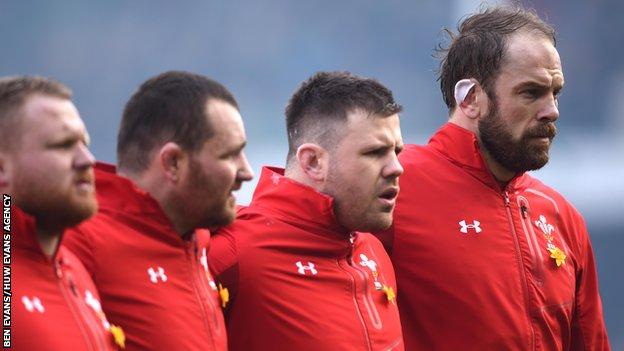 Jones insisted Wales "weren't the complete package" despite finishing second in the 2018 Six Nations but believes it was now an "upward curve" to the World Cup in 2019 after developing their strength in depth during the campaign by giving new players a chance.
However he regretted Wales had missed the chance to potentially win the title.
"Going into that campaign we said we wanted to create opportunities and take them. But the opportunities we didn't take were costly.
"It would have been interesting if Ireland had not scored that late drop goal against France.
"But the competition on the whole was good and it was pleasing from a Welsh point of view."