Dual rugby star Jaz Joyce 'living the dream' with Team Wales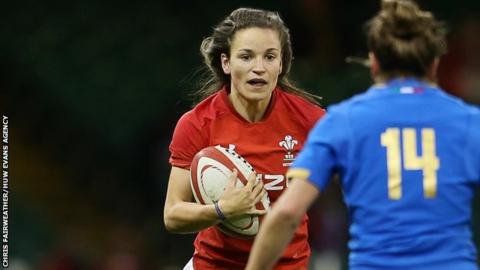 Olympian Jaz Joyce says she and her Wales Sevens team mates are preparing for the "most important tournament of their lives".
Nick Wakley's 12-player squad will compete in the Hong Kong Sevens with the aim of qualifying for next year's World Rugby Sevens Series.
They will then travel on to Australia's Gold Coast to represent Team Wales in the Commonwealth Games.
But Joyce says the Commonwealths are "almost at the back of their minds".
The Hong Kong tournament takes place from 6-8 April, with Wales drawn against Poland, Argentina and Belgium.
Joyce said if they win in Hong Kong they "potentially go professional and compete on the world stage against the best teams in the world".
The 22-year-old from St Davids, Pembrokeshire is one of five players to have featured in the Six Nations for Wales.
She said it had been a "tough year" going between the 15s and sevens camps but "I wouldn't change it".
Women's sevens rugby is making its first appearance at the Commonwealth Games in its 88-year existence.
Joyce said "it's an amazing opportunity" to publicise and promote the sport to the world.
"It's going to be a huge honour and a privilege to represent your country. To put the jersey on... I can't even imagine what it's going to feel like.
"The one thing I remember from Rio is walking out on the pitch and seeing thousands of people there, and knowing that my parents were in there made it more special.
"They've been a massive support for me from day one of my rugby career and to give something back and make them proud is an honour."
Joyce and her sevens team mates have already clocked up the air miles by participating in Dubai sevens in December and Brisbane's Super 7s competition in February.
Long term she said she wants to continue playing both codes of rugby.
"I just want to keep putting the jersey on and play for my country," she said.
"My goals are to represent Team GB at the Tokyo 2020 Olympics and to continue playing 15s in the Six Nations and the World Cup and sevens in the Euros.
"It's a dream job."
Team Wales Women's Sevens: Alisha Butchers; Elinor Snowsill; Gemma Rowland; Hannah Jones; Jaz Joyce; Kayleigh Powell; Laurie Harries; Philippa Tuttiett (c); Shona Powell-Hughes; Sian Williams; Sinead Breeze; Sioned Harries.