Gemma Fay: 'Fear' is biggest barrier to sports participation
By Iona Ballantyne
BBC Scotland
Last updated on .From the section Scottish Rugby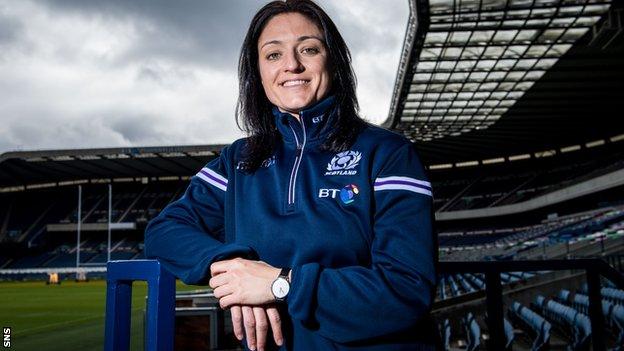 Scottish Rugby's head of women and girls' rugby Gemma Fay says that "fear" is the biggest barrier to participation in sport.
The former Scotland football captain and goalkeeper made the "whirlwind" switch in sports in November 2017, after retiring from playing.
She believes that individuals need more self-confidence to take up sport.
"The biggest barrier for anybody to get into any sport is usually themselves," Fay told BBC Scotland.
"[It's] the fear that we associate with doing something new, something different.
"Once we get over the fact that fear is something that we create ourselves, we can drop these barriers."
Fay became Scotland's most capped female footballer with a record 203 appearances before retiring from the game following the Euro 2017 finals in the Netherlands.
She then made the move into rugby, and says that she can apply lessons she learned in football to a different sport.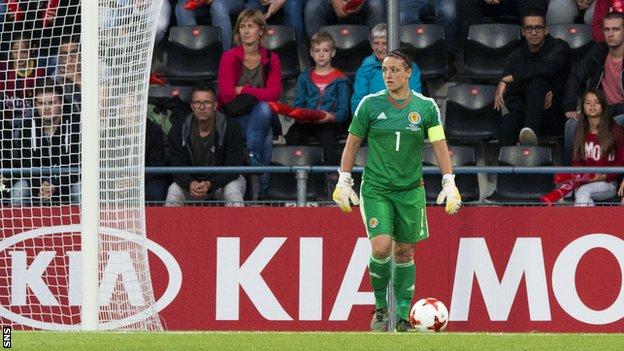 "Women's rugby is in a different place that women's football is at now. However that's understandable," Fay said.
"What I would say is there's a really good level of resource and internal support for the growth of the women's game.
"I've been on that journey with football so I understand what it's like. Hopefully I can bring some of that in to Scottish rugby and support them on that journey."
Scotland Women finished fifth in this year's Six Nations, down one place from 2017. However, the past two years could be seen as a success following six seasons of no wins from 2011-2016.
Fay also says that rugby players may be drawn by the combative nature of the sport, even if there are inherent injury risks.
"We have to understand that there are so many different females out there and physicality may be one of the things that attracts them to rugby," Fay said.
"We'll continue to develop our coaching, and continue to develop the techniques that we have for those that we bring in to make it as safe as possible.
"But that will always be part of the sport and it is part of the reason why people love it."