How Richard Cockerill has Edinburgh crowing again
By Jamie Lyall
BBC Scotland
Last updated on .From the section Rugby Union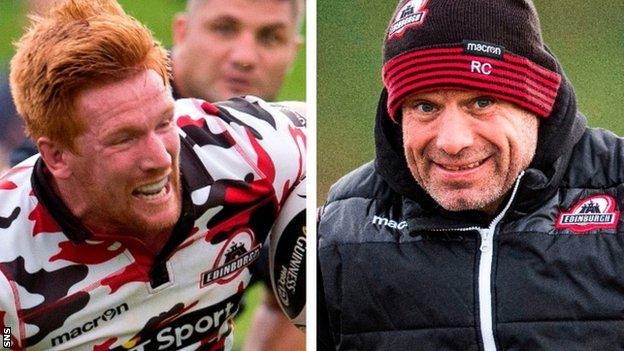 European Challenge Cup quarter-final: Edinburgh v Cardiff Blues
Venue:
Murrayfield, Edinburgh
Date:
Saturday, 31 March
Kick-off:
17:45 BST
Coverage:
Live on BBC Radio Scotland MW, DAB & online, BBC Radio Wales AM, BBC Radio Cymru & BBC Sport website and BBC Sport app.
In the course of 40 minutes dissecting Richard Cockerill's startling reinvigoration of Edinburgh, Roddy Grant mentions "hard work" no fewer than 15 times.
Hard work on the training paddock. Hard work in the gym. Hard work scouring match footage. Hard work honing skills.
Hard work chiselling away at years of rank mediocrity. Hard work reconnecting with an ailing fan base that has grown painfully accustomed to failure.
After winning their past six matches, Edinburgh are third in Pro14 Conference B, two points behind second-placed Scarlets, and 13 ahead of Ulster in fourth with a haul of 59 from 18 games. That's more than they have ever amassed since the old Pro12's inception seven years ago. Last season they mustered a paltry 31.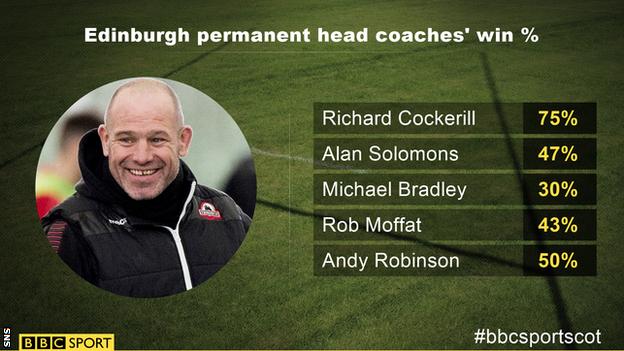 Grant played 138 games for Edinburgh, a back-row of steel and a man of towering integrity whose talents were never fully utilised.
He harbours a degree of frustration that he could not bring lasting success to the club he loves as a player, but he is getting another chance now as a burgeoning coach, a deputy to Cockerill's undisputed role as sheriff in Scotland's capital.
No more 'shooting stars'
In an interview in March last year, Mark Dodson, Scottish Rugby's chief executive, gave Edinburgh both barrels. He was fed up, he said, of their "shooting star" performances. Fleeting glory in Europe was no reparation for season after turgid, barren season in the league.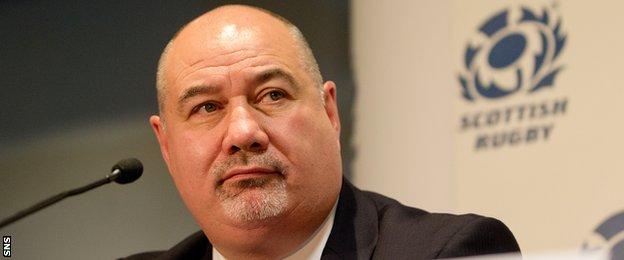 Dodson had funnelled more of Scottish Rugby's turnover than ever before into the coffers of Scotland's two pro-teams - Glasgow delivered, Edinburgh sat stagnant.
Cockerill shares his chief executive's contempt for "shooting stars". Eradicating the team's flaky character has been his top priority.
"A big focus of the season has been winning consistently in all areas and not just one game or one competition," Grant says.
"It's no different whether it's Cardiff [in the European Challenge quarter-finals] this week or Connacht [in the Pro14] last week. Every game is a big game, certainly at this stage of the season.
Edinburgh & Glasgow in Pro12 - last six years

Season

Edinburgh

Glasgow

2016-17

9th

6th

2015-16

9th

3rd

2014-15

8th

1st (champions)

2013-14

8th

2nd (finalists)

2012-13

10th

3rd

2011-12

11th

4th
"From the start - as a coaching group, player group, everyone - the big focus is being consistent and earning respect. Consistent teams win, don't they?
"If you're not consistent in your training or you pick and choose what you want to do, you're not going to be consistent."
'You can't get bored of basics'
Cockerill has spoken again and again of the importance of "earning back the respect" of Edinburgh's foes - teams who may quite justifiably look upon them as malleable pushovers.
Edinburgh play with something akin to anger now. There's a ferocity, a snarl, an almost palpable disdain for status or reputation about them that stems from Cockerill himself.
This is a man steeped in the iron traditions of Leicester Tigers. He was reared on toil, hunger and trophies.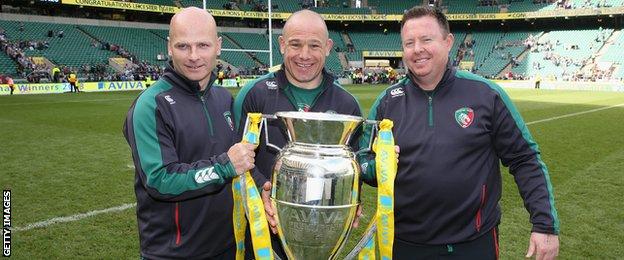 "Mentality is a massive thing but mentality is driven from training and I can assure you training is very thorough," Grant says.
"Something I've tried to take heed of in my coaching is that you can't get bored of the basics.
"You can try and think of as many drills and sessions as you can but you need to have your basics honed down. That needs to be at a premium to do anything off it - not trying to run before you can walk."
Late escape acts fuel belief
This new resolve has been illustrated recently with a litany of late acts of escapism. It began with the almost inexorable, suffocating comeback win over Glasgow at Christmas, sealed at the death by Chris Dean, and snowballed from there.
They did it to Stade Francais, then to Leinster. They did it again to Ulster in Belfast and to Connacht in Galway. There's a belief in their ranks that if, as Cockerill is fond of saying, they can "stay in the battle", Edinburgh have the mettle to pull a rabbit from the hat.
"It's something that guys learn how to do, groups learn how to do," Grant says.
"We've shown that if we stay close score-wise, and keep that physical edge and hunger and desire, we can win games.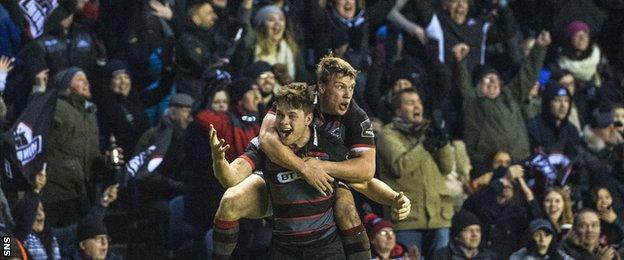 "You win one game doing it that way, then you win a second doing it that way, that builds a serious amount of confidence. Group confidence is a really powerful thing.
"As a group, that's good. For us, for the competition, that's good. The opposition know, if Edinburgh are close, they're going to win it - or certainly try and win it.
"We're trying to make as good decisions as possible in any shape or style. We've shown in the last few weeks we're able to adapt the style of play to get a result, to get a win.
"It's just about making good decisions within our team structures, being hard to beat and staying in the fight. That in itself is a form of pressure."
'Doing the hard things well'
To exact these feats of late heroism, Edinburgh players have to be fit. Cockerill was not impressed by the extra beef he reckoned many of his new charges were carrying when he arrived at Murrayfield.
In from the Scotland Sevens roster came Nick Lumley, a strength and conditioning coach held in extremely high regard by the players and who orchestrated some remarkable physical gains in the squad during rugby's most merciless undertaking, the World Series.
"The players are looked after in terms of being monitored and kept fit and healthy," Grant says. "You need fresh guys; you don't need flogged and broken players.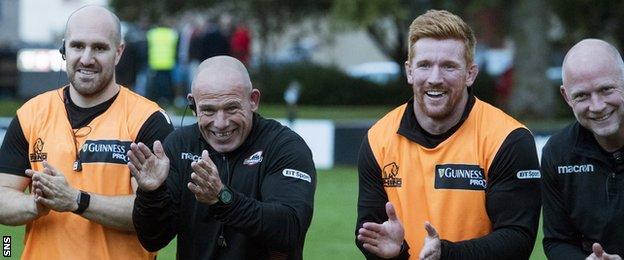 "We also work incredibly hard, so that's the balance.
"There are certain [training] things that aren't pleasant. Contact, line-outs, mauling, some players love defence, some players don't. The list is endless.
"We do the hard work on things guys don't like doing, but have to do to produce in a match. It's all incredibly professionally done and thought about and meticulously planned."
Off-pitch standards same as on it
Cockerill has only added a sprinkling of new blood to the squad that laboured to eighth place last season. What is striking about Edinburgh this term is that players who were bumbling along light years from their best form before his arrival are flourishing.
Stuart McInally is among the form hookers in Europe, if not the world. Lock Grant Gilchrist is hitting rucks and carrying ball with a fury not seen in years.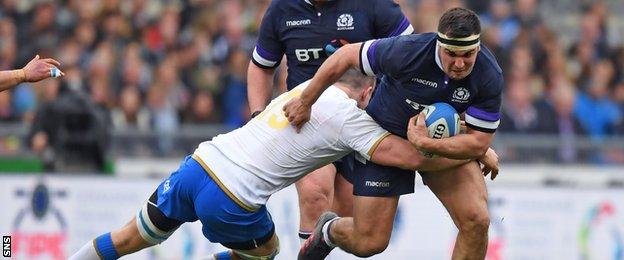 John Hardie, Magnus Bradbury and Duncan Weir were three of Edinburgh's go-to men in Galway last week. Hardie and Bradbury have both been banned for well-documented disciplinary transgressions, while Weir has been told he has no future at the club, yet all are still fully invested in Cockerill's plan.
"He's the same on the pitch as he is off it - that's what makes him very good," Grant says.
"He is what he is and you know what to expect from him. Standards off the pitch are the same as they are on it.
"He gets the balance really well and that's something I've picked up on and would really like to develop in my coaching.
"He's got a really good handle on how to pitch things; it's not all one way of delivery."
'It's not all scream and shout'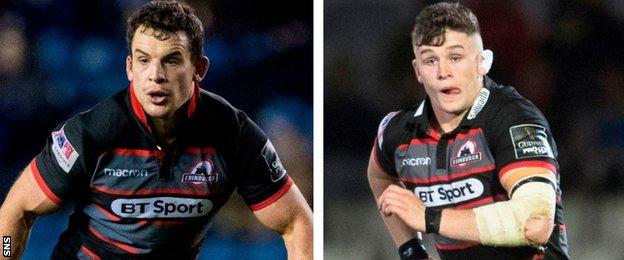 Is the snarling Cockerill a soft pussycat at heart then?
"Well, softer," Grant laughs.
"It's not all scream and shout, for example, it's very well thought-out. He's just got a good grasp on how to get the most out of the team.
"The impressive thing from a coaching point of view is that everything's thought out, every training session, every meeting is thought about and done accordingly.
"Ultimately what we're asking for - there's never any perfect performance - is coming out on the pitch. What we train is what we're getting, and hopefully the players see that as well.
"There's nothing worse than training for the sake of it and you're going to get that product.
"And you've got such a finite window of getting things done. That's where the good coaches know what will make the biggest difference and are as concise as they can be in getting those messages across.
"It's always a race against time, training, and the more precise and specific you can be, the better."