Cassiem attracted to Scarlets by prospect of silverware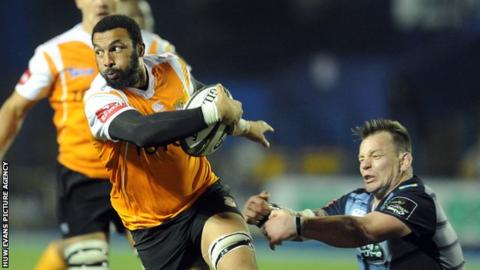 South Africa back-rower Uzair Cassiem says he's joining the Scarlets due to their previous successes.
Cassiem will move the West Wales region for the start of next season in a switch from new Pro14 side Cheetahs.
"They're a team with one desire, to win titles," he said. "The brand of rugby they play is almost like the Cheetahs. I won't be uncomfortable.
"The Scarlets are a champion side, they won the Pro12 last year and are in the quarter-finals of the Champions Cup."
The back-rower leaves South Africa after seven seasons playing for the Cheetahs and Pumas.
With a wife and two boys heading to Wales with him, Cassiem said his family were at the forefront of his mind before agreeing the move to the Llanelli-based region.
"The fact of the matter is I have a young family. The decision was made around them," he said.
"There were a few (other offers) but at the end of the day, the Scarlets sold it to me with the brand of rugby they play and I love that."
Cassiem expects to feel at home in his new surroundings.
"Llanelli is almost like Bloemfontein. The people are very passionate about their rugby," he explained.
"In a small town you get the crowd behind you. All the people are behind you so you don't want to disappoint. We play this game to win silverware and I'll be happy to do that."
The eight-time Springbok who can play across the back-row says it will be an easy move from fellow Pro14 side Cheetahs due to their stylistic similarities.
"The brand of rugby they play is almost like the Cheetahs," he said. "I'm going to fulfil the same role as I do now with the Cheetahs.
"You don't want to go somewhere where you have adjust your game because your strengths are your strengths and you want to play to them."
Wales fans will get a good look at Cassiem when Warren Gatland's side face South Africa in the United States of America at Washington's Robert F. Kennedy Stadium on Saturday, 2 June.
Cassiem, who also made his international debut against Wales in 2016, says he is excited to add another stamp to his passport.
"The only place I haven't been with rugby is the United States of America, it's exciting and it's going to be something totally different and new," he said.
"The guys will be in good spirits. We will go there with one desire, with one goal. After the Wales games we are straight into the England series with three Tests [against Eddie Jones' side]. We want to have a good start to build-up to that series.
"To represent your country is the ultimate prize in rugby. That will never close. If they need me, if they want me I'll be there. First of all I have to contribute to the Scarlets and by doing that if the Springboks coaches see then they can use me as they want."