Romania qualify for 2019 Rugby World Cup as Spain suffer shock loss to Belgium
Last updated on .From the section Rugby Union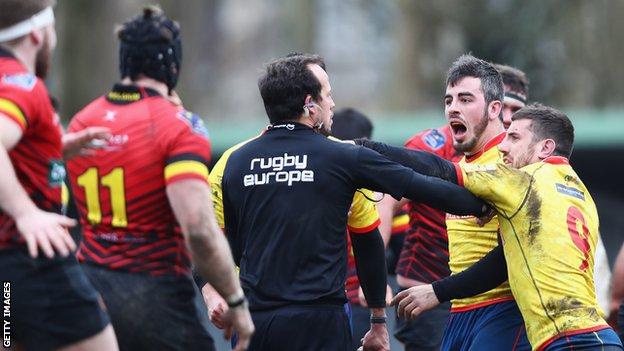 Romania qualified for the 2019 Rugby World Cup after Spain suffered a shock 18-10 loss to Belgium, with ugly scenes marring the end of Sunday's match.
Spain had looked set to qualify for the first time since 1999, but their defeat in Brussels handed Romania the automatic European qualifying spot.
Spanish players confronted referee Vlad Iordachescu, a Romanian, at the final whistle in their loss to Belgium.
"We weren't allowed to play," said Spain coach Santiago Santos.
"The referee kept stopping the game at every moment. Our game was stopped continuously, the Belgians benefited from many more decisions.
"The difference between penalties against us and for us was huge. When we were trying to come back in the game the play kept on being interrupted."
Spain must now beat Portugal in a playoff to maintain any hopes of reaching the 2019 tournament in Japan, with the winner facing Samoa in a two-legged tie.
Rugby Europe issued a statement following the match clarifying its procedure for the selection of match officials.
"Referees' appointments for the Rugby Europe Championship have been made ahead of the competition by an independent and neutral skilled committee," it said.
"It would be inappropriate to comment on match official performance before the usual full review has been undertaken."
World Rugby told BBC Sport it would not comment on the match until it had received a full review, however vice-chairman Agustin Pichot posted on Twitter saying: "I'm going to watch the game and of course there will be an explanation."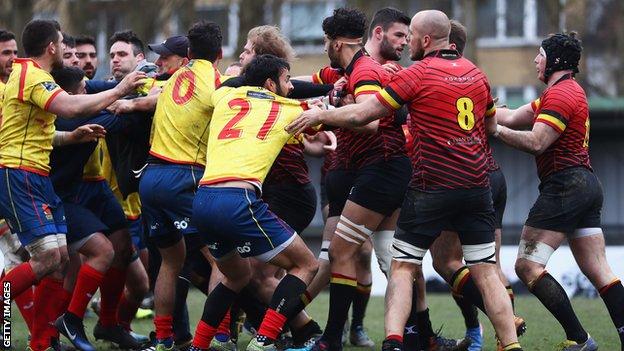 Spain, ranked 19th in the world, were overwhelming favourites to beat 25th-ranked Belgium on Sunday.
But on a muddy pitch worsened by overnight snow they failed to get up to full speed and their players, angered by the way the game was officiated, were involved in heated exchanges with both the Belgian players and referee Iordachescu at the end of the match.
Members of the Spanish coaching staff were forced to restrain their players, while the referee had to be escorted off the pitch.
Romania have now extended their record of competing at every World Cup since its inception in 1987.
The Oaks lost 25-16 to Georgia in Tbilisi on Sunday but compiled 29 points in qualifying matches across the last two Rugby Europe Championships - three more than Spain.
Georgia topped the standings but having already qualified for the World Cup in Japan courtesy of their third-place pool finish in the 2015 edition, points from the games against them did not count towards qualification.