Ireland win Grand Slam: 'Upwardly mobile Irish leave England behind'

By Tom Fordyce
Chief sports writer
Last updated on .From the section Rugby Union1075
Grand Slams are special things and they are rare things. You do not fluke them and you do not pass up the chance to celebrate them in a way you will never forget.
And so it was that night fell at Twickenham on St Patrick's Day with the stadium emptied of Englishmen but awash with cavorting Irish men and women: green shirts amid the swirl of white snow, fireworks against the darkening sky, ole after ole rolling round the three tiers and selfies and hugs and 'we were theres'.
Even the deserted seats were the same colour as the Irish jerseys. It felt fitting on a day that Ireland came to the home of English rugby and gave them a lesson in the virtues that once defined its own triumphs.
In their last Grand Slam, amid the mayhem of Cardiff nine years ago, Ireland's victory was secured only on the very last kick of the match. The finale had swung every which way and fed both sets of spectators through the wringer. Brian O'Driscoll scored a pair of critical tries from a combined distance of about six inches.
This time it was almost comfortable, England's late charge coming with the game already gone. This time it came at a canter: three first-half tries, Ireland never behind and 16 points up at the break. No desperate late drama, no fears, precious few doubts.
It was a Ronan O'Gara drop-goal at the death which won it in 2009. It was a drop-goal from his successor Johnny Sexton at the start which we may look back on this time as the pivotal moment: clock red in Paris with France ahead, 41 phases gone, 45 metres out, a miracle conjured up when a miracle was needed.
There are those making the argument that Ireland deserve now to be called the best team in the world. If they are not then they are mighty close. Twelve wins in a row for the first time in their history, only a third ever Slam sealed in a stadium where they hadn't won for eight years. And they are doing it all in a way that the All Blacks, the only team above them in the world, would find familiar.
There is an unnatural composure when all around are losing heads: when Wales chopped a 14-point lead to three, when Scotland were threatening to cut through and cut loose a week ago, when injuries against England saw a 20-year-old novice in Jordan Larmour operating at outside centre and scrum-half Kieran Marmion pressed into service on the wing.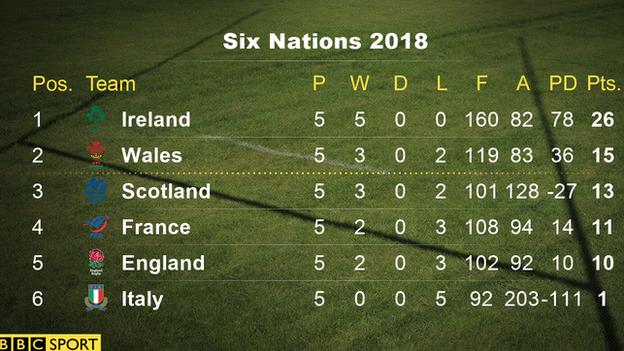 There is a cold-blooded execution where others rush and spill: making exactly the same number of entries into the opposition 22 against France, Wales and Scotland as England but coming away with almost three times as many points; a total of 31 points scored in this championship when the clock has been red.
There is a bravery, not just of the physical type when putting bodies in the defensive line but in taking risks in attack when the safe option and a lack of censure beckons. Sexton cross-kicking to Keith Earls as the seconds bled away against France; Tadgh Furlong - a tight-head prop - flicking an offload away to Bundee Aki for the break that ended with CJ Stander's try on Saturday, when taking the ball into contact would have been the stay-safe call.
There is commitment - the defence in the first eight minutes of the second half against England when, as coach Joe Schmidt admitted afterwards, their 22 was under siege - and there is adventure: 20 tries scored in this championship, seven more than the team in second place, Wales, nine more than Scotland in third, more than double the number of France in fourth.
Nothing encapsulated it all better than the final few moments of the first half here at Twickenham. A man down after Peter O'Mahony's yellow card, already with a nine-point lead to take to the dressing-room, penalties coming and a ball to kick to touch.
Instead they marched it downfield, winning line-outs, controlling possession, sucking in defenders, protecting the ball. And when the slightest opening came, blowing the doors open - Conor Murray's flat, fast pass to Stockdale, a chip over Mike Brown, the speed to accelerate past the full-back, the balance to escape the scramble for the ball, the poise to touch it down inches before it went out of play.
Illustrated too in that try was the blend of experience and youth which has been so critical. The veterans like Sexton, Murray, O'Mahony, captain Rory Best, Keith Earls, Rob Kearney. The tyros and the fresh-faced: Stockdale, the first man to score seven tries in a campaign since five nations became six; Larmour, Garry Ringrose, James Ryan, Dan Leavy.
Every Grand Slam team needs its totems. The Three Apostrophes in 2009, O'Driscoll, O'Gara, O'Connell. Furlong up front this time, O'Mahony in the back row, Sexton and Murray as the Half-Back Heroes.
Schmidt is not a man naturally given to eulogising, but he could not help himself afterwards with Sexton. The fly-half is sometimes known as His Master's Voice for the way he translates the coach's instructions into action. Schmidt spoke of three attributes: ability, consistency, insanity. Even the last was meant admiringly.
For England the descent has been steep and it has been rapid. Champions for the last two years, on a run of 24 wins from 25 matches less than a month ago, and finishing a Six Nations in fifth, three defeats in a campaign for the first time since 2006, coach Eddie Jones booed by portions of the home crowd when he was interviewed on the pitch after the game.
They have had worse runs, losing five on the bounce as recently as 2014.
And 18 months after the dark days of 2006 they were in a World Cup final and maybe a disputed foot in touch away from winning it.
"It's been our best Six Nations in terms of moving forward," Jones told BBC 5 live afterwards. "We've learnt a lot.
"I've coached long enough to know you have these runs. It's not nice, but it's part of the process of being a better team. For us it's been an enormously beneficial, albeit disappointing, tournament."
But his team have been one-dimensional for much of this championship, an inability to compete at the breakdown matched by a paucity of attack. These are serious problems. The solutions are not immediately obvious.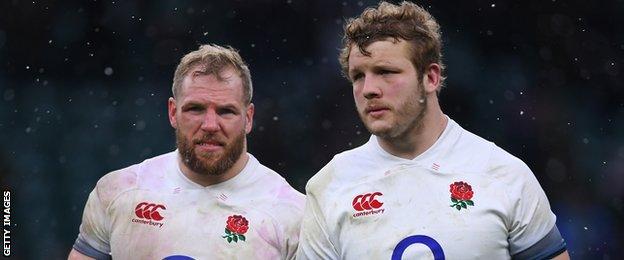 Not that those left dancing through the puddles of Guinness in south-west London on Saturday night will care.
The 2009 triumph was the peak for that Irish team. They would be beaten in the quarter-finals of the following World Cup by a resurgent Wales. They would have to wait another five years for their next title.
The class of 2018 feels different. There is an upward curve ahead and a World Cup that grows more alluring with every passing month. Grand Slams are special. But they need not be the pinnacle.