Six Nations: Scotland ditch 'it'll do' culture as problems on road remain

By Tom English
BBC Scotland
Last updated on .From the section Scottish Rugby116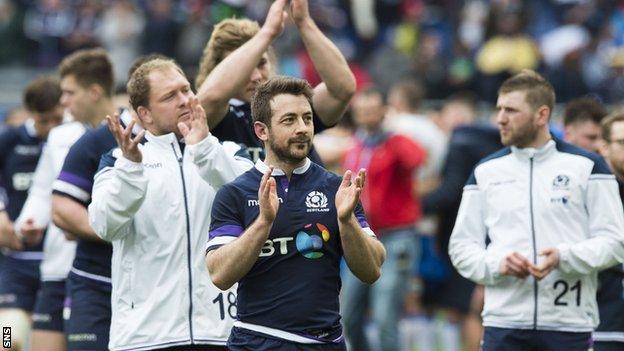 In the Eternal City, there was Old Testament rugby on Saturday.
Fire and brimstone from the Italian pack. A horrible tempest unleashed. Sergio Parisse and his driven men, Alessandro Zanni, Dean Budd, Sebastian Negri, Jake Polledri, rained down on the visitors for an hour and to all the world it looked like their awful run of 16 straight defeats in the Six Nations was about to come to a glorious end.
Scotland trailed from the sixth minute to the 70th, and again from the 75th to the 79th. They were 17-5 down after quarter of the match, they were 24-12 down after an hour. With a minute to go they were behind by a point and drowning until Noah in the number nine jersey arrived and carried them to victory.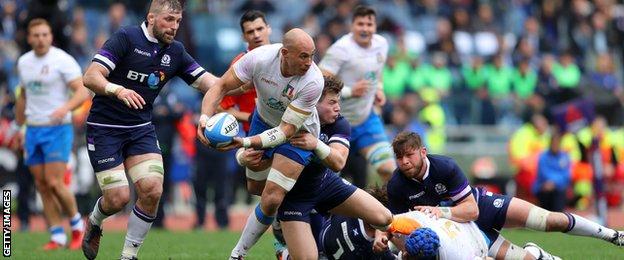 Yes, this should have been Italy's day, but if there's a game of coulda and shoulda to be played then Scotland know well how to play it. After ones that got away, this was one they got away with. Fair enough.
We'd all fetched up at the Stadio Olimpico armed with a book of facts that would have choked an elephant. Some of those facts suggested caution about the notion that a comfortable away win was in the offing, but most of the analysis indicated otherwise.
The Scots had suffered at Italy's hand many times in the past, but they'd won the last five and had momentum on their side. Italy hadn't won since Adam and Eve's time. Or so it seemed. Of the 16 straight losses, eight were in Rome and were lost by an average of 32 points a game.
Three moments in the opening few minutes made you strap yourself into your seat and prepare for turbulence. Scotland lost their first line-out, then Huw Jones forced a pass to WP Nel who dropped the ball, then they got shunted backwards in a scrum. That was the rhythm set and from that point on there was but one certainty - this was going to be another difficult day on the road.
Jones' miscalculation in defence - seven points for Italy. A Stuart Hogg fumble into touch followed by a Finn Russell kick out on the full - seven points for Italy. A Zander Fagerson spillage and a missed tackle by Ryan Wilson - seven more points for Italy.
Scotland ran the gamut of mistakes from A to Z and all the way back again. The fact that they won the match is a tribute to them because they really had no right to. Italy should have been out of sight.
In the minutes after the game it was said, by way of encouragement, that this was a Test that Scotland would have lost a few seasons ago. That's unarguably true. Scotland cornered the market in tales of woe and wrote the book on self-inflicted losses.
Three or four years ago you'd have bet the house on them going down in flames in the same circumstances.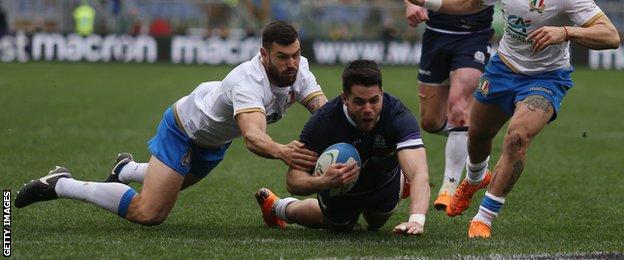 There comes a time, though, when it's not appropriate to look at the past as a guide to the present. Scotland's past in this championship is largely awful. They're better now. They've shown that they're capable of greater things than their predecessors.
Why revert back? Why not project forward? Instead of saying, 'In the dark days, we'd have lost this one', why not put it out there that, 'This was way below what a championship-seeking side should be producing'?
In the victories they've won over the last year, Scotland deserve to be held to a higher standard - and, even in victory, they let themselves down in Rome.
A win is, indeed, a win. And, yes, the scoreboard doesn't lie. There is a bucket-load of cliches that we can throw at this, but if Scotland are ever to become a real contender in this championship then brutal assessment is called for.
The 'it'll do' culture is going and good riddance to it. No serious rugby country grants immunity against flak just because they've won a game.
Match stats

Italy

Scotland

47%

Possession

53%

48%

Territory

52%

6 (1)

Scrums won (lost)

4 (0)

7 (0)

Line-outs won (lost)

12 (2)

9

Pens conceded

5

107 (5)

Rucks/mauls won (lost)

125 (3)

27

Kicks from hand

27

149 (19)

Tackles made (missed)

158 (15)

360

Metres made

383

9

Off-loads

7

6

Line breaks

7
They showed character and a bit of class to get the tries that got them back into it. They showed composure to get themselves the penalty at the end and, in Greig Laidlaw, they displayed the coolness to execute.
Gregor Townsend said afterwards that it was his team's fitness that decided it - and he was right. Once Italy's energy levels started to fade a door opened for Scotland and they were good enough to barge through it.
Against other teams? No chance. There would have been no recovery. This would have been another Cardiff, as in the opening-round shellacking at the hands of the Welsh. Another Twickenham, as in last season and a 40-point humiliation. Another Suva, as in June, and a chastening loss to Fiji.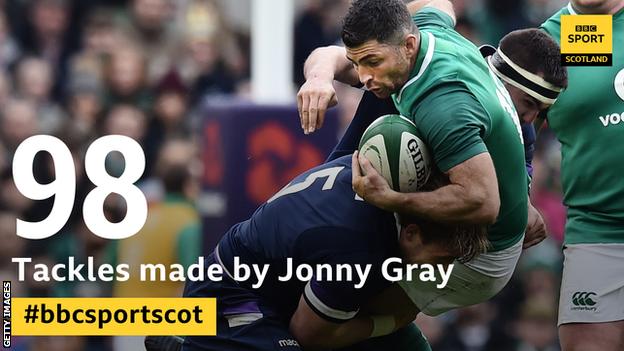 As admirable as their act of escapology was, it did nothing to address the concerns about how this team performs away from home in the championship.
There is a bottom line in all of this and it's attractive for Scotland. Three wins back-to-back for the first time in the Six Nations. A third-place finish following fourth last season, fourth the season before last and sixth (bottom) the season before that. Progress, unquestionably.
Scotland beat all the teams below them and lost to the two teams above them. Third was where they deserved to be.
We know where they are, but do we have any idea where they are going? You'd like to think that they're capable of taking the same road that Ireland took a few years back.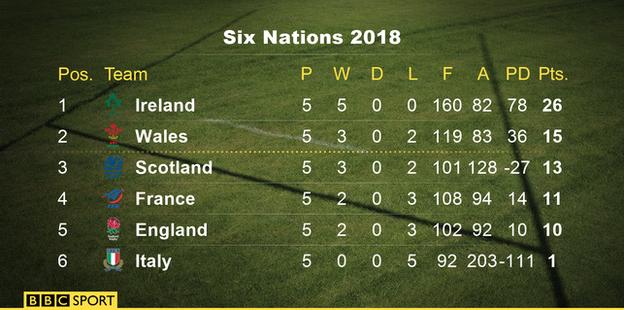 In 2013 Ireland finished fifth in the Six Nations with one victory, one draw and three defeats. They went to Rome and got turned over. Nine of the players who won the Grand Slam on Saturday were on the pitch in Italy that day.
Joe Schmidt did what Townsend is now trying to do. He made Ireland hard and organised and difficult to beat. He made them clinical. He turned them into a winning machine. Every player in his squad this season could be counted on to deliver. Home or away - no difference.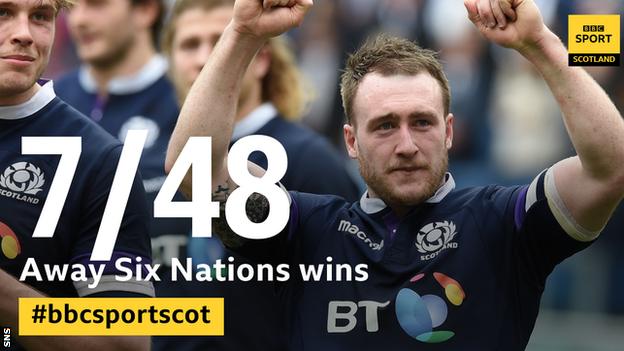 There's still a boom-or-bust dimension to this Scotland team, still too many players who blow hot or cold depending on the stadium they're playing in. That's Townsend's mission now - to eliminate the mad fluctuation in performance and replace it with consistency and dependability.
It's a savagely difficult assignment in the increasingly unforgiving world of Test rugby, but he's got some artillery for the fight. We've all seen it. We just want to see it more often.