John Barclay column: Winning well in Rome is a must now for Scotland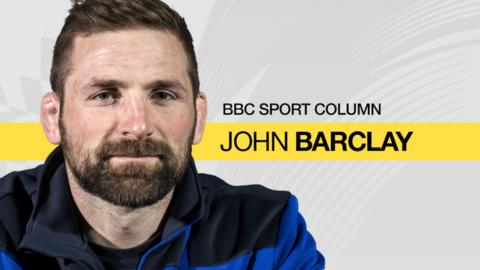 Six Nations: Italy v Scotland
Venue: Stadio Olimpico, Rome Date: Saturday, 17 March Kick-off: 12:30 GMT
Coverage: BBC Radio Scotland, BBC Radio 5 live extra, live text commentary on BBC Sport website
After about 50 minutes of a physically punishing Test match in Dublin on Saturday, myself and Rory Best were lying on the ground at a ruck when referee Wayne Barnes blew his whistle for an infringement of some sort.
Rory, one of the really good guys in world rugby, is 35. I'm 31. Our eyes met and we gave each other a knowing smile. "I think we're getting a bit too old for this," I said. He laughed and nodded.
Hands-down, the game in the Aviva was the most tiring we've played in the Six Nations this season. Everybody was blowing hard. You look back at it and some boys are bent over double at the breakdown long before the end.
The first half, in particular, was brutally fast and incredibly fierce. Your legs are just draining all the time. It was notable that there was no flare-up, no aggravation and very few verbals going on. There wasn't enough time, or breath, for that. Verbals was the last thing on our minds.
Ireland knew that the breakdown was pivotal in our victory over England a fortnight earlier, so we knew they were coming for us there and we knew we weren't going to stand back. It was a proper Test.
Ireland deserved the win but, as their head coach Joe Schmidt and Rory and some more of the Irish boys said afterwards, it felt like a one-score game, not a 20-point game. We have a few 'what ifs' about the game, a few 'what might have beens' had we nailed the chances we created, chances that we're normally very good at nailing.
Third place and three wins a 'driving force'
We have a chance, if everything goes our way, of ending up in third, which, if it happens, would be just the third time in our Six Nations history (after 2001 and 2006) that we've been in the top three when it's all over.
If we beat Italy then it would be the first time we've ever managed three wins in the championship in back-to-back Six Nations seasons. We have a mountain of work to do to get to that point, but it's a driving force and it would represent consolidation and progress. The title has gone, but we've still got a huge amount to play for.
When talking to Rory after the game on Saturday, we got into the subject of fine margins. Rugby players talk about this a lot. If we could only have been more accurate in finishing some of the chances we created, who knows what happens after that.
I felt, early on, Ireland were struggling with the kind of pace we were playing at. The ball in play time was high and if we just put a try away early then we're in business, but we end up doing the opposite. We concede at the other end off our own ball. It was a massively frustrating day. I think we did a lot of things really well. The loss felt totally different to the one in Cardiff.
'England will have to make chances stick to beat Ireland'
Will Ireland beat England at Twickenham and take the Slam? It's a tough one to call. England are under a lot of pressure and they're at home and that makes them dangerous. Winning away from home in this championship has become a very big deal. Ireland won in Paris but only after an incredible last play.
England? You don't become a bad team overnight despite what people are saying. I know they're getting a lot of flak but they haven't gone from being a team that won 24 out of 25 to being nobodies in the space of a month. England have all sorts of motivation for this one.
They have a few issues, but they're still a bloody good team. They'll be coming up against a very good Ireland side, though. In their four games so far, Ireland have dominated the possession and the territory by a fairly wide margin. They've forced teams into making huge numbers of tackles. We made 204, Wales made 208, Italy made 148 and France made 238.
If you look at the player tackle stats after each of Ireland's games, it's their opposition players who occupy the top seven or eight places in terms of guys who have made the most number of tackles. Ireland just look after ball so efficiently.
That takes a toll eventually if you're not making the most of the chances you create at the other end. We created stuff in Dublin but didn't execute. That wastefulness came back to haunt us. England are going to have to make most of their chances stick if they're going to win.
Ireland are very good at contact, very well coached and they know their game-plan inside out. They've got great clarity around what they want to do. They're very physical and don't give away many penalties. They conceded nine against us but only 13 in their other three games combined. They have a pretty complete game, which is different to ours, but it's really effective and it's made them champions again.
We have to finish our championship on a high in Italy. That's the only thing that's matters now. Italy haven't had the results, but they've played some really good rugby, they've tested teams at various times and they've scored tries (nine in four games).
They're going to come out fully pumped up for the game. Scotland, more than any other nation in the Six Nations, knows what a handful they can be if you give them the momentum in the game. They're dangerous at home and they'll be thinking Scotland's history in Rome (five Six Nations defeats) isn't great. There's no doubt in my mind that they believe they can turn us over. We'll be ready for that. We'll have to be.
The difference between games we've won and games we've lost in this championship has been that fine margin of accuracy, of looking after the ball, dictating the tempo and not letting teams off the hook when you've cut them open. That's one of the big lessons. Gregor said it right on Saturday. Ireland are ahead of us in their development, particularly in the way they win these tight games, but we're improving and, I think, improving fast.
We didn't take away any points from Dublin, but we know for a fact that if we play our own game, and play it accurately, then the best teams in the world struggle to beat us. Winning well in Rome is a must now. One last very big push.