Premiership: Plan to extend season scrapped - players' union chief Damian Hopley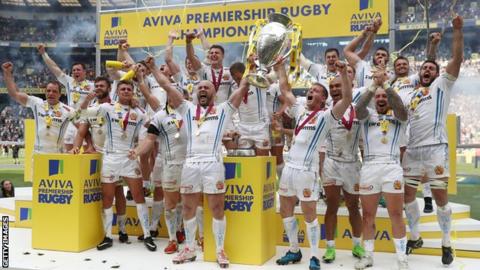 Controversial plans to extend the Premiership season have been declared "dead in the water" by players' union chief Damian Hopley.
Premiership Rugby announced last year that the domestic season would be extended to 10 months from 2019-20.
England's elite players were furious, and Hopley confirmed the plans have been shelved on player welfare grounds.
"We remain committed to delivering a viable and flourishing game in England, but not at all costs," Hopley said.
"The health and wellbeing of our members remains our priority, be that around season structures, growing concerns over artificial playing surfaces or ongoing welfare support both during their playing careers and through the transition into retirement."
The board of the Rugby Players' Association rubber-stamped their opposition last month, in a meeting described as "the most significant in the near-20 year history of the RPA".
The Premiership clubs had hoped an extended season would limit the overlaps between the domestic and international game, and would provide more frequent rest periods for players.
In an RPA magazine circulated to members and seen by the BBC, Hopley added: "The encouraging news is that the one or two month season extension is now dead in the water, but there is still some way to go to ensure we find a solution that addresses the ongoing concerns from the players.
"We have been working closely with Premiership Rugby and the RFU to deliver a four-year schedule that can accommodate demands made on both EPS (England's Elite Playing Squad) and non-EPS players and the recent players' board gave the player reps in attendance the opportunity to find out more about the potential scheduling from the 2019-20 season."