Pro14: BBC disappointed to lose live broadcasts to Premier Sports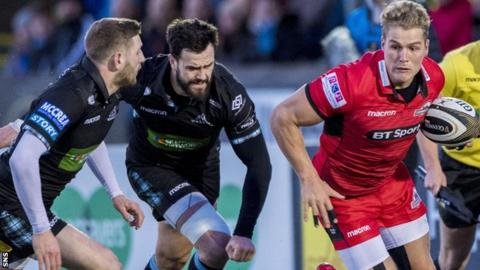 The BBC has expressed its disappointment after losing out to subscription channel Premier Sports for Pro14 broadcasting rights.
It means regular live terrestrial coverage is due to end next season.
The Guinness Pro14 has yet to confirm the new deal, but BBC Scotland stated: "BBC Northern Ireland, BBC Scotland, BBC Wales, BBC Alba and S4C put together a competitive joint bid.
"We are therefore disappointed our bid has been rejected."
Edinburgh and Glasgow Warriors games have been broadcast regularly on BBC Alba, with some also being screened on BBC Two Scotland.
BBC Two Northern Ireland had also broadcast games involving Ulster.
Live games involving the four Welsh sides will also end on BBC Two Wales, but negotiations over Welsh language rights are continuing with the possibility of some games being broadcast on S4C.
The BBC still hopes to be able to continue to offer highlights.
BBC Scotland stressed its bid for the next three-year cycle of coverage included "a financial uplift and significant production commitments across the three nations".
"BBC Scotland and BBC Alba were also keen to enhance their existing partnership to deliver full TV, radio and digital coverage of all Scottish home matches free to air," said its statement.
The competition had been expanded to the Pro14 this season after the introduction of South African clubs Toyota Cheetahs and Southern Kings, and the league hopes the new broadcasting agreement will further enhance its operations.
"After the successful expansion into South Africa, the Guinness Pro14 is continuing to grow in strength, with unprecedented interest leading to rising attendances, increased broadcast viewers and an upsurge in social media engagement," it stated.
"As Pro14 Rugby plans for the exciting seasons ahead, the championship has overseen a highly-competitive tender process with multiple pay and free-to-air operators across the UK and Republic of Ireland bidding for the broadcast rights in those territories.
"Pro14 Rugby is currently concluding negotiations for these rights ahead of the 2018-19 season and will confirm the final position to partners and supporters once the formal agreements are in place."
However, BBC Wales has also confirmed it has lost out.
"We're proud of our record of covering live Pro14 rugby across television, radio and online and we offered a significantly increased financial bid in order to safeguard these rights on a free-to-air basis for hundreds of thousands of viewers in Wales - and across the UK," it said.
"We know there will be a real disappointment at this outcome among hundreds of thousands of rugby fans who have enjoyed live free-to-air coverage on the BBC over many years."
Luxembourg-registered Premier Sports was set up by Irish businessman Michael O'Rourke in 2009 and already broadcasts football matches, rugby league, ice hockey and motorsport.