Six Nations: Scotland centre Peter Horne leaves setbacks behind to 'cherish every opportunity'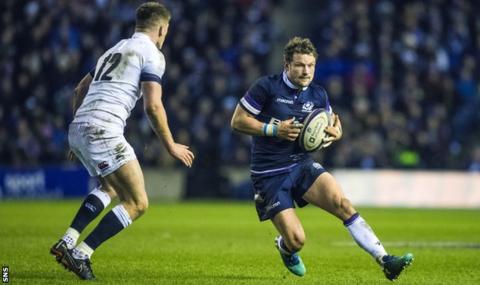 On the morning of the Calcutta Cup, Peter Horne picked up his phone and had a quick look at Twitter, just to remind himself that the world was, indeed, carrying on as usual outside the Scotland team bubble.
He had a few notifications, mostly well-wishers, some he knew, some he didn't. Then there was somebody else. A real beauty, this guy. "Peter Horne," he wrote. "You're stealing a living." The sheer randomness of it was a hoot and Horne's reaction was one of uproar. As in, uproarious laughter.
There might have been a time when he took that stuff to heart, but it's so long ago now that he can scarcely remember. What Horne has right now - apart from a hell of a game and a work-rate that is probably only fully appreciated within the Scotland camp - is serenity. He has arrived at a place in his career that no Twitter fundamentalist can get to.
"As I get older, I don't tend to put too much pressure on myself," he says. "Whenever I play, all that people usually talk about is who is missing and why. The only reason I'm there is by default. And I can laugh that off. You learn not to get bothered by anything.
"After the England game, I had a chat with Rambo (Stuart McInally) and he reminded me of a conversation we had after I missed touch against Italy (in the Six Nations in 2015) and it cost us the game.
"I told him at the time that I'd worked so hard for years and years, that I'd left no stone unturned and then I missed that touch and we lost a Six Nations match and it felt like my whole world was collapsing around me. And I said to him, 'I've just worked too hard to feel this bad and I'm not going to allow it to destroy me'.
"Rambo, who was world-class against England, said that stuck with him and that whenever he has a bad game he just goes, 'well, I did all my prep, I worked as hard as I possibly could, and for whatever reason, it didn't work out'. It's a good attitude to have.
"We'd all love it to be sunshine and roses all the time, but for most of us, it's not. We're all on our own unique path.
"I've never been the most physically gifted player and nobody has ever gone, 'Oh my God, he's one of the most talented players in the world', but I cherish every opportunity to the point that if it proves to be the last time I wear the jersey, then I can look back and be proud of it."
Horne would be the last man to talk himself up, but many around him will do it readily enough. Gregor Townsend has always eulogised his intelligence on the field and Dave Rennie, his coach at Glasgow, had some interesting things to say about him not long after he arrived at Scotstoun as Townsend's successor.
In New Zealand, Rennie had a very tight bond with Aaron Cruden, his fly-half throughout the glory years of the Chiefs. Rennie said that Cruden was the heartbeat of his all-star team, the player who held the whole thing together.
He was asked if Finn Russell might become his Cruden in Glasgow. "Maybe," he replied, "but I see Peter Horne in that way. In terms of the pride he has in the club and the values he represents, he's outstanding."
Horne says that if Alex Dunbar was fit right now then he'd probably be playing ahead of him. That's a moot point, but what it does is reflect is the intensity of the battle for places in the Scotland midfield.
In the last nine Tests, there have been eight different centres (not counting Mark Bennett, who's been recovering from injury) and six different starting partnerships. Scotland beat Australia in the summer with a combination of Dunbar and Duncan Taylor and beat them again in the autumn with Huw Jones and Horne.
As a pair, Jones and Horne have a 100% win record. Three starts, three wins, against Australia, France and England.
The Calcutta Cup was only a third Six Nations start for Horne. "Och, it's been one of those journeys that's been full of ups and downs," he says. "My first cap would have been a start against England down in Twickenham, but I broke my thumb in training in the week leading up to it and my whole Six Nations was gone.
"Then I did my ACL (anterior cruciate ligament) on my second cap and missed the next Six Nations again. Then I missed touch against Italy. The following year I ruptured my plantar fascia (foot ligaments), then I ruptured my syndesmosis (ankle joint). It's done me no harm to have those little downs because it means when you have your highs they mean more."
Horne speaks about the growing resilience in this Scotland squad, the strides they've made since that opening day horror show in Cardiff, losing 34-7 to Wales. He remembers the dressing room being a little bit too quiet at half-time in the Principality Stadium, a mood that screamed not quite panic, but not far off it.
Against France, it was different. In front of their own people, there was a focus and a steel, and that only increased when England came to town. Once more, Horne's self-mocking humour comes into play when recalling a missed opportunity to score a fourth try in the 25-13 win, when Horne delayed a pass to Hamish Watson and got cleaned out.
"I thought it was a two-on-one. Myself and Hamish (Watson) against (England full-back) Mike Brown," he says.
"I knew Sean (Maitland) was outside Hamish but I thought (England wing) Anthony Watson would be chasing back with him and that he wasn't an option, so I was trying to stick Mike Brown before giving the pass to Hamish and I made a mess of it.
"I watched it back later and it was even worse than I thought. I was looking at it and going, 'Oh God, that would have been a walk-in for Sean. My hope for the Ireland game? Try not to butcher as many overlaps.
"Listen, it was a great day. I called it after the France match. I got grilled by Ugo Monye on the BBC rugby podcast about Finn (Russell). He was asking if Finn would start the next game. I said he'll definitely start and that he'll come out and have an absolute blinder and get man of the match.
"Nobody was more smug than me. The famous pass (to Huw Jones for Scotland's second try) was my highlight of the game. I'd just got melted by Joe Launchbury so I didn't see it live, but when I watched it back on that (overhead) spidercam I was like, 'Oh man, that's beautiful'."
What lies in wait in Dublin will come as no surprise to Horne. He played there, off the bench, two years ago and remembers with brutal clarity how intense Ireland were, how their line speed killed Scotland in a 35-25 defeat.
"It's probably an even tougher challenge than (England). We got hosed the last time we went away from home. It was embarrassing, so we have to get out of the blocks quickly, we have to be ahead, or close, by the hour-mark and if we are, you don't know what's going to happen.
"The Aviva to Ireland is like Murrayfield to us. They have a brilliant record there. In the back of their minds they might be thinking about a Grand Slam, but once the whistle goes on Saturday I doubt they'll be thinking about it at all.
"There's nothing worse than getting mugged-off in your own back yard and they'll be so focused on this game alone."
Horne says that challenging, and winning, away from home is the next step for this team, that there is enough quality and resilience to get it done this time, but only if they deliver the performance of their lives all over again.
Perhaps his Twitter warrior might get back in touch on Saturday morning. A troll and a good luck charm rolled into one.