Cornish Pirates: Attitude in win over Doncaster impresses coach Gavin Cattle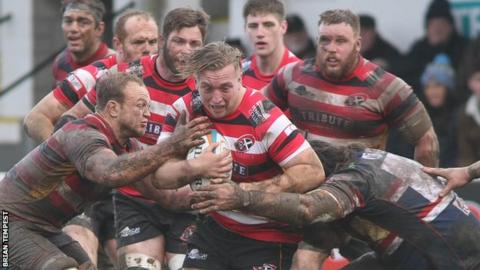 Cornish Pirates coach Gavin Cattle has praised the attitude of his side after their last-ditch 22-19 win over Doncaster in the Championship.
Having trailed 12-0 at half-time, Alex O'Meara and Tom Duncan went over after the break before Tom Lawday's last-minute try secured the win.
It was Doncaster's first match since the sudden death of prop Ian Williams.
"I'm really proud how we stuck in the fight, the attitude was outstanding, as it is most games," Cattle said.
"I know people get frustrated by results, but when you actually take the result out of it and look at the efforts each individual's putting in, in really difficult conditions, I'm really proud of what the boys did."
The win kept the Pirates in seventh place in the Championship.
A minute's silence was held in memory of Williams, who collapsed at training on 20 February and could not be resuscitated.
"That was such an awful thing and we highly respect Doncaster as a team and Clive (Griffiths, Doncaster director of rugby) and the coaching staff," Cattle told BBC Radio Cornwall.
"It's a tragic thing to go through and you could see that they were pretty pumped, very emotional, especially in that first half."
"I do feel for Doncaster and our thoughts go out to them."