Dave Ewers and Max Bodilly: Exeter duo extend contracts until 2020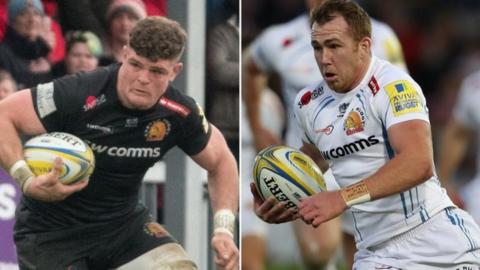 Back row Dave Ewers and centre Max Bodilly have signed new two-year contracts with Exeter Chiefs.
The pair both progressed through then club's youth system, with Ewers, 27, on the fringes of an England call-up before a series of injuries.
He returned to action in November after seven months out with a knee injury while he also missed a chunk of the previous season with a similar problem.
Bodilly, 23, has also missed much of this campaign with injury.
"I'm a big believer that you can often use these injury breaks, especially if you're a young player, in a positive manner," said Exeter director of rugby Rob Baxter.
"Because pre-seasons are getting shorter and breaks are a lot less common, having a break at some stage I think can help to improve your physique and your skill development.
"Whilst it can seem frustrating when a young player is out for a sustained period, I do feel in the long term it can have real benefits, particularly as they are not receiving that week to week battering that a tough season can deliver to you."