John Barclay column: 'Every team is beatable, including England'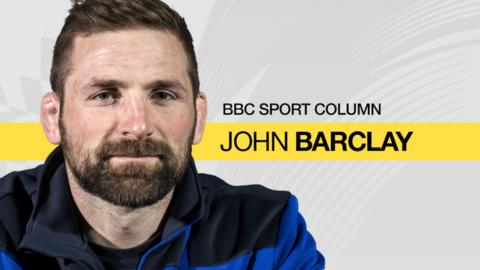 Six Nations Championship: Scotland v England
Venue: Murrayfield, Edinburgh Date: Saturday, 24 February Kick-off: 16:45 GMT
Coverage: Watch live on BBC TV, Red Button, Connected TVs, BBC Sport website and mobile app. Listen on BBC Radio Scotland, BBC Radio 5 live, BBC Sport website and app. Live text coverage on BBC Sport website and app.
When I think about my experiences of playing in the Calcutta Cup a number of things spring to mind.
The mixed emotions of drawing my first one 15-15 in Edinburgh in 2010; the disappointment of losing the next four, including a game in Auckland that put us out of the 2011 World Cup, by seven points and fewer; the embarrassment of shipping 61 points at Twickenham last season.
Before any of that, though, there was the game in 2008 - Scotland's last Calcutta Cup victory. That was my breakthrough season. I'd made my debut in the World Cup the previous autumn, I'd won my second and third caps in the spring in the first two rounds of the Six Nations. England came to Scotland that year and I was up for it in a major way.
The previous weekend I'd had a quiet one. I decided I'd take it easy and go for a nice dinner with my wife, Hayley, and some of our friends. We all went back to the house later and we were shooting the breeze. There was a spare seat on the sofa beside me. I had my wine glass sitting on it, my hand holding it in place.
Andrew Kerr was a hooker with Edinburgh at the time. I reckon he was about 120 kilos. I was looking away when he decided to sit down beside me. He wasn't looking either. He came crashing down on the sofa, straight on to the glass, which shattered in my hand. Blood everywhere. Stitches galore. The tip of one of my fingers was actually sliced off. It was nasty.
That destroyed my chances of playing against England, but I was still named as 24th man, just in case of an emergency, which never materialised. I was at the stadium but was released before kick-off. I decided to go home. I stood out in the rain waiting for a lift as the atmosphere built inside. I was like a drowned rat by the time Hayley got me. We watched the game on television. Scotland 15 England 9.
I didn't see a Test jersey for a little while after that.
More than any other game we play, the Calcutta Cup is the one that has everyone coming out of the woodwork looking for tickets. Scotland v England is the oldest fixture in the book and its ability to capture the imagination is as strong as it ever was.
My earliest memory of a Calcutta Cup was 2000 when I was 13. I was really getting into my rugby at that stage and I was there in the rain when Duncan Hodge denied England a Grand Slam.
'The most miserable experience I've had in rugby'
I've played in six of them and in five of the six there's only been a converted try, or less, between us at the end. Last season was the exception, it was a game that none of us will ever forget. It was the most miserable experience I've had in rugby. We'd been playing well. We'd beaten Ireland and Wales and we felt like we were going to Twickenham with a chance, but we profoundly failed. We could not have played any worse. I don't ever want to look like that in a Scotland jersey again. It was gutting.
I suspect that the media will be asking about revenge this week. It's not about that. Revenge doesn't come into it. If we beat England on Saturday it's not like it takes away from what happened last season. It doesn't. That stuff stays. You don't get a second chance at things like that. You get one shot.
Some of the boys who played in that game might use the memory of it to drive them on, but it will probably be done privately, an internal thing. We try to live in the now. Victory would mean that we are right back in the hunt for the championship, but victories don't come easily against this England side.
Scotland v England in Six Nations - last 10 years
2017: England 61-21 Scotland
2012: Scotland 6-13 England
2016: Scotland 9-15 England
2011: England 22-16 Scotland
2015: England 25-13 Scotland
2010: Scotland 15-15 England
2014: Scotland 0-20 England
2009: England 26-12 Scotland
2013: England 38-18 Scotland
2008: Scotland 15-9 England
We have some confidence back after the win against France, so that's a huge plus. We should talk about the French game because it was critical that we bounced back from the disappointment in Cardiff and we did exactly that, even though we had a hairy beginning.
We were more accurate, our defence was much better, we played with tempo and even though we were behind for much of the day, we very calm. There was no drama at all. No panic. We played with speed in the first half and we felt that we would get our reward in the second half once their energy started to go.
In the last 20 minutes we scored 12 points and they scored zero, they gave away seven penalties and we gave away one. The last 20 minutes is when you see the effort you put in at the start coming to fruition. The changing room was weird afterwards. Nobody was jumping around, everyone was fairly quiet. It was just relief in there. Relief that we were up and running.
We've now beaten Ireland, Wales, Italy, Samoa, Australia and France at Murrayfield in the last year and we came very close to beating New Zealand, too. It's a record we're desperate to protect.
Having won back-to-back championships, England will be hot favourites. They score a lot of tries and don't concede many. In the 12 Six Nations games they've played since Eddie Jones became their coach they've conceded an average of just 14 points per game, which is a hell of a testament to their defence.
They're on an incredible run of 24 wins from 25 games. Only Ireland have beaten them and that was in Dublin and the margin was only four points. They're hugely consistent.
There's a couple of guys in their team who are world class and who are fundamental to the way they play, so we have to stop them having an influence. They've got one of the best kickers in the world [Owen Farrell], so our discipline needs to be brilliant.
We have to test them with ball in hand. Rugby can be quite a simple game so long as you protect the ball and make the opposition work and work and work to get it off you, and even if you don't score every time you visit their 22, you hope to drain them physically before going at them again. For us, it's all about tempo and ball retention.
Every team is beatable, including England. We have massive respect for them and they represent one of the biggest challenges in our sport. Predictions are a waste of time. All I'll say is that if we get everything right then we know how good we can be, especially in our own place, in front of our own people.