Six Nations 2018: Ian Robertson's top five moments from Scotland v England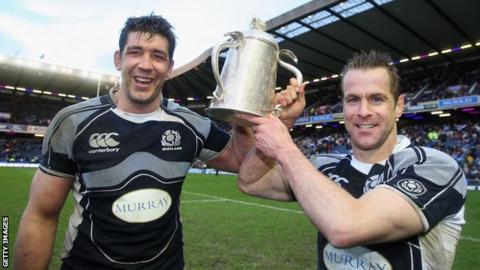 Six Nations 2018: Scotland v England
Venue: Murrayfield Date: Saturday, 24 February Kick-off: 16:45 GMT
Coverage: Live on BBC One, BBC Radio 5 live and BBC Radio Scotland. Live text commentary and report on the BBC website and app
BBC rugby union broadcaster Ian Robertson will commentate on his final Calcutta Cup on Saturday, when Scotland host England in the 2018 Six Nations at Murrayfield.
The former Scotland fly-half, 73, will retire from broadcasting at the end of the year, after 46 years with the BBC.
Robertson made his Test debut 50 years ago in a Calcutta Cup match and played in three such fixtures, winning in 1970.
Here he discusses his top five Calcutta Cup moments.
5. 2000 - Brave Scots defeat England
England had already been crowned the inaugural Six Nations champions before the final match of the tournament against Scotland at Murrayfield.
But in the driving rain in Edinburgh, England saw their Grand Slam hopes dashed when the hosts took a 19-13 victory on home soil at the end of a wretched Championship for the Scots.
Scottish fly-half Duncan Hodge scored four penalties, a try under the post and a conversion in one of the most memorable matches in Six Nations history.
I remember thinking at the start of the Championship, Scotland have got a really good side now, this could be a great year for us.
And then they lost the first match, they lost the second match, and the third and fourth. It wasn't looking good. We weren't expected to beat England and we never thought we'd win, but we did. That's why it's so special.
We'd had a bad time, we were going to get the wooden spoon and we went to Murrayfield expecting it to be a thumping. But the result was so different to that.
England were going for the Grand Slam and we were the party poopers, just like in 1990.
After the match, the England team, including their captain and my Radio 5 live colleague Matt Dawson, were forced to apologise to the Princess Royal after leaving the pitch and failing to collect the Six Nations trophy.
4. 1988 - Calcutta Cup goes missing
The 1988 Calcutta Cup was a dull game. Gavin Hastings kicked a couple of penalties for Scotland, as did England full-back Jonathan Webb and it was won in the second half with a Rob Andrew drop-goal, 9-6.
But it became one of the most memorable for what happened after the final whistle.
The England players went off to a nearby pub to celebrate. But by the time they got to the post-match dinner, the Scots had drunk all the alcohol to be shared between both teams, with England left to make up for the deficit.
At the end of the night the Scottish players had begun to disappear, but so had the Calcutta Cup. England couldn't find the silverware, and no wonder, because it was bouncing along Princes Street with England number eight Dean Richards, who was a policeman at the time, and Scotland flanker John Jeffrey.
Richards and Jeffrey were running up and down Princes Street passing the trophy between them. I don't know if either of them had ever passed the ball before, and the trophy changed shape considerably after its outing.
The next day the two players were summoned. Jeffrey was subsequently banned from rugby for five months by the Scottish Rugby Union, while Richards was banned for just one game.
Jeffrey wasn't even playing in the game, he was on the replacements' bench and he'd clearly saved all his energy up for training up and down Princes Street.
3. 1984 - Scotland win on way to Grand Slam
Scotland didn't go into the 1984 Five Nations match at Murrayfield as favourites, despite having beaten Wales in the opening game in Cardiff.
But they produced a commanding 18-6 win and England were nowhere near. Dusty Hare was such an amazing goal-kicker and he only kicked two out of eight penalty attempts and that really sunk the visitors.
The victory over England meant Scotland were halfway to a little bit of glory. It was an amazing match. And then they went on to beat Ireland and France to win their first Grand Slam in almost six decades.
It was a great occasion for Scotland. They hadn't started the season expecting to go for a Grand Slam, but their first two results spurred them on.
2. 1990 - Winner takes all
This is as good, but no better, than 1984.
For the first time in Five Nations history, both Scotland and England went into the final match of the Championship with the Grand Slam still on offer.
England arrived in Edinburgh as favourites, expecting to claim the title, the Grand Slam, the Triple Crown and the Calcutta Cup.
Scotland had a home game to finish their Championship. It was winner takes all with both sides going for everything, and it was underdogs Scotland who snatched only a third ever Grand Slam, following victories in 1925 and 1984.
Scotland played their best rugby of the whole year to beat England 13-7 at Murrayfield.
The supporters arrived thinking Scotland had a chance but they weren't confident or expecting to win.
But the crowd erupted when Gavin Hastings put a beautifully weighted chip kick and winger Tony Stanger, sprinting through at 100 miles an hour, plucked the ball out of the air and flew over the line.
It was a great moment, and it might be a long time before Scotland win another Grand Slam, so we have to clutch these pearls when we have them.
1. 1970 - Robertson wins the Calcutta Cup
My favourite Calcutta Cup moment was 1970, on the basis that playing is the best thing of all, and the second best is commentating.
It was a different era then. We trained for an hour on the Tuesday night and then an hour on the Thursday night in the week before the match.
Come game day though we beat England 14-5 at Murrayfield, scoring two tries, through Alastair Biggar and Jock Turner, to England's one. Jock was a tremendous player, very quick but also big and strong. Alastair was similar, he had a lot of meat on him and took some stopping.
I remember it all vividly, making a break to help set up Alastair's try. Listening back to the radio commentary, it brings back some special memories.
The disappointment of losing the previous two Calcutta Cups means that this win was multiplied by 100. To have one magic day means everything to me.
It was my second-to-last international for Scotland, my final Calcutta Cup, and everything I had ever dreamt about was wrapped up in a nice parcel and handed to me.