Injury blows for Dragons' Gavin Henson and Tyler Morgan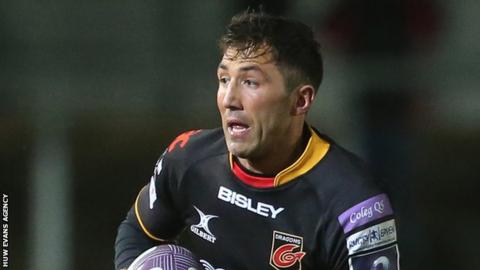 Dragons players Gavin Henson and Tyler Morgan face an "extended spell on the sidelines", the club has confirmed.
They both missed the 18-15 defeat by Benetton Rugby in the Pro14 on Sunday.
Scans earlier this week revealed Henson has a hamstring tendon injury, which is expected to keep him out for between 6 and 8 weeks.
Centre Morgan has a foot injury he picked up in training which requires surgery. He is not expected to return to action for about four months.
Dragons head coach Bernard Jackman said he hopes Morgan can have better luck with injuries next season after missing large parts of the current campaign.
"It's very frustrating for him because he's a super talented player, he's been involved in Wales squads from a young age and he's passionate about the Dragons and he was in great form until he was injured in November," said Jackman.
"He came back from that, did a lot of hard work, and in an innocuous moment in training he went up for a high ball, came down and hurt his foot which requires surgery.
"He's obviously pretty down about it but he's mentally tough and he'll come back strong.
"He'll miss the end of the season but hopefully we'll have him for a good chunk of pre-season and he will get a clean run next season."
Like Morgan, Henson has missed long spells this season, and has only started one game in 2018.
Jackman was keen to praise the fly-half's body awareness in spotting the injury before it became worse and needed surgery.
"We were doing a fitness session last Monday and he [Henson] had a little twinge," said Jackman.
"He went off straight away to get looked at by the physio. He wasn't in serious pain but he didn't feel right so, to be sure, we had him scanned.
"Thankfully his body awareness is so good he didn't train again on it. If he had of trained there was a real chance he could have ruptured his tendon and needed an operation.
"It makes it tricky for him to get back before the end of the season and that's obviously frustrating because he's been really good for us. Even though six weeks is frustrating it's better than him needing to have surgery."