Six Nations: Scotland prop Simon Berghan 'felt like a boy in a man's world'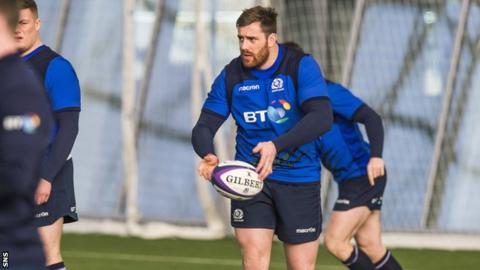 Scotland prop Simon Berghan is ready for the challenge of facing England after admitting his debut Six Nations last year "overwhelmed" him.
Berghan was one of the standout players in Scotland's 32-26 win over France.
The Edinburgh player, 27, made his Test debut against the same opponents in Paris last year and confesses he was not prepared for the step up.
"This time last year, I was a new face and it was a tough Six Nations for me," Berghan said.
"The whole thing was quite overwhelming and I wasn't aware of how much I'd be affected by everything around it - the media, the build-up and everything.
"My first game was in France and I hadn't played in front of a crowd bigger than at Edinburgh, which, compared to the French crowd, was nothing and I just felt a bit like a boy in a man's world.
"Then it was the Irish game here, when they pipe you into the stadium, huge crowd waiting and it was just a bit overwhelming."
Much like this year, Scotland were in the midst of a front-row injury crisis going into the 2017 Six Nations, resulting in Berghan being called into the squad by then head coach Vern Cotter.
"Being a bit unknown coming into a settled squad was probably part of it and maybe I didn't deal with the pressure of playing for Scotland too well," the New Zealand-born prop added.
"But, after a while, it becomes a bit easier and it's made it easier for me this year to put my front foot forward and put my hand up with a bit more confidence.
"Hopefully, now I'm getting some traction."
Berghan joined Edinburgh in 2014 - "the best decision I ever made" - but since the arrival of head coach Richard Cockerill last summer, he has taken his game to a new level.
He missed the Six Nations opening-day hammering by Wales in Cardiff through suspension, having been sent off for a stamp on Glasgow Warriors hooker Fraser Brown in the 1872 Cup clash in December.
His return to Gregor Townsend's side aided a much-improved Scotland display to defeat France, but the challenge gets more daunting as England head to Murrayfield on Saturday.
In the last meeting between the sides, Eddie Jones' men dished out a record 61-21 defeat at Twickenham and Berghan would love to exact revenge.
"It would be brilliant wouldn't it?" he said. "Any game against England's brilliant.
"I played last year off the bench and the result wasn't great, but we're in a better place this year. We're at home and it would mean the world to me if I got the opportunity.
"We haven't spoken a lot yet about England, but I'd imagine Gregor will be speaking about a better start - to start fast and get points on the board early.
"We'll get a good look at England next week, but it's going to be a big old match isn't it?
"I remember coming off the pitch last year and thinking 'far out, that team was really well drilled'. It felt like they didn't seem to put a foot wrong, which basically tells us you have to take every chance against them; you have to play well, make chances and take them."
Berghan was aware of the rivalry between Scotland and England before arriving from New Zealand but now appreciates the full extent of the passion that surrounds the fixture.
"I sort of knew that everyone hates England basically because we did, but when I came over here, it was made more obvious to me," he joked.
"It will be brilliant to get one over them next week, if I can say that. I certainly am aware of the rivalry there."