Cardiff Blues say £8m Arms Park offer was rejected
Last updated on .From the section Rugby Union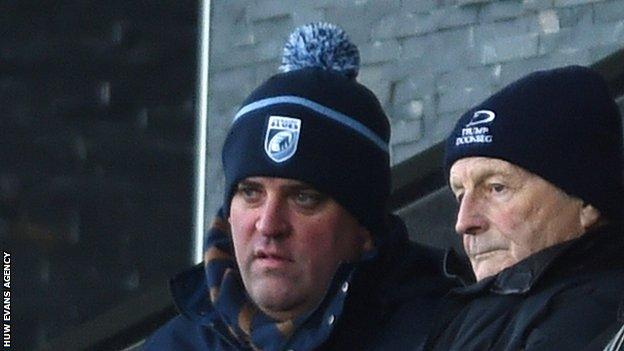 Cardiff Blues say an £8m offer for a 150-year lease at the Arms Park has been rejected by its owners.
Chief executive Richard Holland has admitted to owing rent arrears to landlords Cardiff Athletic Club (CAC) because of "cashflow problems" but has pledged "full payment".
Holland also says they are in the "latter stages" of finding successor to Wasps-bound head coach Danny Wilson.
While there is uncertainty over who will take charge of the team from next season, Blues are also wrestling with where they will play in the longer term.
Blues had put forward plans to give the stadium a multi-million pound facelift but that plan was rejected by CAC in early 2017.
Holland says looking at a new home was "not a decision taken lightly".
Legal costs
He added: "But Cardiff Blues can simply do no more to reach an agreement.
"Negotiations with CAC have been going on for 10 years and at great legal costs, which recently we have picked up for both parties.
"Throughout the negotiations I have been involved in during the last six years, we have agreed to the majority, if not all of the Athletic Club's requests, including comprehensive protections around the heritage - the Cardiff name, the colours, the Gwyn Nicholls Gates, a museum and more.
"Included in the last wave of negotiations was an offer of an £8m payment.
"It appeared that all parties had reached agreement however at the eleventh hour CAC turned the proposal down, which is incredibly frustrating following such a long period of protracted, expensive and positive negotiations."
Rent arrears
Holland added: "I can confirm we are in arrears on rent due to CAC, which is down to cash flow challenges, but this has always, and will always, be paid albeit sometimes late.
"I must reiterate it has always been our preference to remain at Cardiff Arms Park and should CAC provide us a proposal then we will always listen to it.
"However as a company we can do no more and with just four years left on the lease we must protect the future of professional rugby in Cardiff.
"Having tried for the last 10 years to extend the lease, the board must act now to explore options for a new stadium or the alternative is to run the risk that we are homeless in 2022.
"There are a number of exciting opportunities, which we will now pursue to ensure Cardiff Blues have a long-term fit-for-purpose home and thus a long-term future."
Who next after Wilson?
Holland says their rugby priority is to secure Wilson's successor.
"We are making good progress and are being supported through the process by the Welsh Rugby Union," added Holland.
"The emphasis has been on ensuring we secure the best possible candidate, who is the right fit for Cardiff Blues and the criteria we require.
"We are in the latter stages of negotiations with a number of candidates."