Cardiff Blues ponder moving from Arms Park home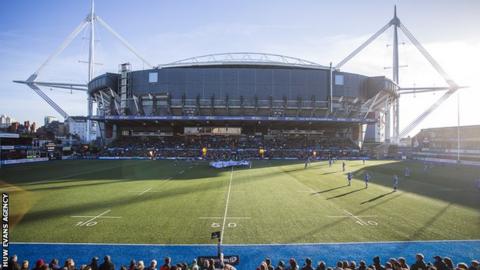 Cardiff Blues are considering moving from their Arms Park home.
The Welsh rugby region says a failure to negotiate a new lease beyond 2022 with landlords Cardiff Athletic Club (CAC) is behind the decision.
CAC says it was the decision of the Cardiff Blues to halt negotiations about a new deal.
The CAC management committee also claim there are significant arrears of outstanding rent from the Cardiff Blues.
The Blues released a statement on 5 February following a board meeting saying the decision was made to "redouble efforts to secure a long-term home with a 'fit for purpose' stadium.
Blues' statement said: "Following 10 years of negotiations, Cardiff Blues have been unable to reach an agreement with Cardiff Athletic Club (CAC) to extend the current lease at Cardiff Arms Park, which expires in four years.
"The board are in agreement they must future proof Cardiff Blues by exploring alternative options away from Cardiff Arms Park.
"There are a number of exciting opportunities available and the executive have been instructed to take these forward."
In response, the CAC management committee released their own statement to BBC Wales Sport.
It read: "The management committee of Cardiff Athletic Club has a responsibility to its sections and members to ensure that the existing lease, and any new lease, provides a secure income stream for the promotion of sport in the capital.
"Unfortunately, there are significant arrears of rent outstanding from our tenant Cardiff Blues Limited and this has not assisted recent discussions.
"It was however the decision of Cardiff Blues Limited to terminate the discussions."
Blues had put forward plans to give the stadium a multi-million pound facelift but that plan was rejected by CAC in early 2017.
In May that year, Blues said a possible temporary takeover of the team by the Welsh Rugby Union, the sport's governing body in Wales, had been called off.
In October of that year CAC said they were willing to discuss a new lease "to secure the future" of rugby at the ground.
Cardiff RFC, who play in the second-tier Welsh Premiership, also call the city centre Arms Park site home.
Blues moved to Cardiff City football club's home in the Leckwith area of the Welsh capital in 2009.
Three seasons later, at the end of the 2011-12 season, that move was aborted as Blues returned to their traditional home.
CAC are due to hold their annual general meeting on 7 February.