John Barclay column: Scotland must win away if we're serious about Six Nations challenge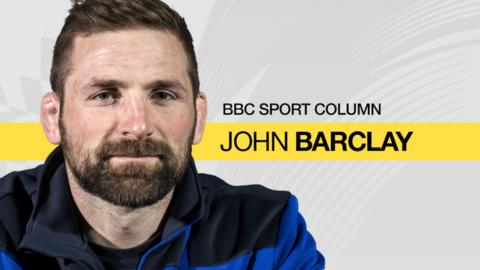 Six Nations Championship: Wales v Scotland
Venue: Principality Stadium, Cardiff Date: Saturday, 3 February Kick-off: 14:15 GMT
Coverage: Watch live on BBC TV, Red Button, Connected TVs, BBC Sport website and mobile app. Listen on BBC Radio Wales, Radio Scotland, BBC Radio 5 live, 5 live sports extra, BBC Sport website and app. Live text coverage on BBC Sport website and app.
There's been an understandable amount of chat about the number of injuries that Wales have suffered in recent times: injuries to Lions, injuries on the wing and in the midfield and at half-back, injuries at second row and back row. Key men out all over the place. And it's true. Wales have suffered.
I can't sit here and say that they won't miss those guys. Any team would. What I am saying, though, is that the guys coming in can fill the void.
Why do I say it? Two reasons. One - because I know them. I play with quite a few of them at the Scarlets. They're my mates.
They're serious rugby players who are carrying some serious confidence into the championship after our recent performances in Europe and, I promise you, there isn't a single soul in the Scotland camp who is looking at their line-up and thinking about the ones who are missing.
The second reason? Because if Scotland can lose important players and still be competitive then so can Wales.
Remember the autumn? There was a lot of chat about our injured front-rows. Others came in and did the job. Darryl Marfo, Jamie Bhatti, Stuart McInally, George Turner. They all stepped up.
In the near-miss against New Zealand, we lost Hamish Watson and Zander Fagerson in the first half and Alex Dunbar and Luke Hamilton by the 50th minute and we still went painfully close to winning. From memory, George ended up playing flanker.
The point is that good players take their chance when they're given it and I don't see why these Welsh lads are going to be any different.
At the official launch of the Six Nations in London last week, there was a bit of a recurring theme. Can Scotland start winning games away from home and make ourselves contenders for the title at last? It's a fair question and the time for answers is almost upon us.
I'm not a great one for looking back, but I know that eight years have passed since we won a Six Nations game on the road anywhere other than Rome. It was in Dublin in 2010. Careers have come and gone in those years.
The backs were Hugo Southwell, Sean Lamont, Nick de Luca, Graeme Morrison, Max Evans, Dan Parks and Chris Cusiter. The pack was Allan Jacobsen, Ross Ford, Euan Murray, Jim Hamilton, Al Kellock, Kelly Brown, Johnnie Beattie and myself. I was one of the youngest back then and I'm one of the oldest now. A dad of three after our third son, Max, was born at the end of December.
Being in this squad remains a privilege. Being captain remains an honour.
They're such a diverse bunch. There's Bhatti, the abattoir man who has killed 100,000 cows and yet is so quiet. There's Rambo (Stuart McInally) who taught himself how to fly a plane. He says he never talks about aeroplanes, which may be true - while he's asleep.
While he's awake, it's all he goes on about. He said he'd take me up for a spin. 'Yes, Rambo'. He said I can bring the kids and they can have a go at steering. 'No, Rambo'. Rambo has had to work hard to get into the team and he's a brilliant and driven rugby player.
Being around these boys is terrific. We all have our own routines, our own oddities.
Jonny Gray can't sit still at the dinner table for some reason. Sitting beside him is a nightmare. Hamish Watson is a PlayStation geek; Ali Price has his phone welded to the side of his face; Finn is Finn; Hoggy is Hoggy.
One of the great mistakes of my life was not to take copyright out on the ScareCam. The BBC did a compilation of the clips and 750,000 people watched it. A pound a time and I might be able to buy a house in Edinburgh when I return to Scotland.
Jon Welsh is back in the fold after two years away. His last game was the famous World Cup quarter-final against Australia at Twickenham. He was the one who got done for the match-winning penalty.
Welshy came back into the camp and said, 'You know what? I saved the SRU a bloody fortune giving away that penalty. Imagine all the bonuses they'd have had to shell out. I should be an honorary member of every squad from now on'.
Back in the day, when the dogs in the street had a better chance of being selected than the pair of us, we used to share a lift to squad sessions knowing that we had no chance of making the cut. We'd joke that the two of us could clamber up to the top of BT Murrayfield and threaten to jump if we weren't picked and nobody would have noticed. It's good to have him back.
All of our opponents will know that we want to play with tempo and they're going to try to stop that. There's been some talk of them trying to beat us up physically. We'll see.
There are lots of ways creating tempo - quick line-outs, quick taps, turnovers. We produced more turnovers than any home union in the autumn Tests. We have guys who are very good over the ball. We want to play fast rugby.
I've always wanted to win a trophy and last season I managed it with the Scarlets in the Pro12. I've also always wanted to get in the knockouts of Europe and we did it at last a few weeks ago.
That final Saturday, when we beat Toulon at Parc y Scarlets, to get a home quarter-final was incredible. Never in my life have I witnessed an atmosphere like it a club match.
People were saying it was like Stradey Park back in the glory days. I'm leaving there in the summer, but I'll never forget that day.
Another dream, of course, is to challenge and win a Six Nations. We showed in the autumn that when we establish our tempo then the best team in the world can struggle against us.
We need to show that again now. Wales have won five of their last six home games in the Six Nations. They have an amazing stadium and a fantastic support.
Winning away is hard, but if we're serious about pushing up the table then that's what we have to do.
John Barclay was talking to BBC Sport Scotland's chief sports writer, Tom English.