From slaughterhouse to Six Nations: the rapid rise of Scotland's Jamie Bhatti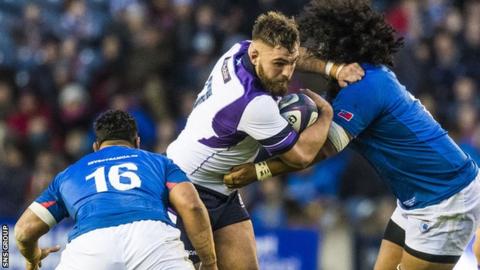 The old man's story begins in Ludhiana, a city set on the Sutlej river in northern India, a place that has produced any number of celebrated singers and actors, industrialists and freedom fighters as well as a bizarre character called Jaspreet Singh Kalra, aka Rubber Man, a contortionist who has achieved a strange kind of fame in his homeland as, apparently, the world's second most flexible person.
No cataloguing of Ludhiana will include the tale of the teenager who left its shores more than 60 years ago to become a maths lecturer in a new world, but his family name has become familiar in his adopted country if not in the place of his birth.
Jatinder Mohan Singh Bhatti is 85 now. He lives in a nursing home in Menstrie in Clackmannanshire at the base of the Ochil Hills and his grandson is Jamie, the 24-year-old Scotland prop.
"I wish I got some brains from him, but I never," says Bhatti the younger, who left school at 15. "The others got some. I got nothing."
The self-mocking is done with the smile of a man who is living the only dream he ever had - the life of a professional rugby player. It's been such a breathless rise that oxygen is almost required in the telling of what has happened to him over the last 15 months.
Back then, he was fifth choice at Glasgow. He made his debut off the bench for the Warriors in November 2016 and even now he has only played 22 games for his club - and only 15 of those have been from the start.
As a loose-head prop he's but a pup, but a pup who has three caps to his name after his sudden elevation in the autumn, brought on by the plague that descended on Scotland's front-row forwards.
Bhatti's cameos against Samoa, New Zealand and Australia in November were excellent. He's too young by far to resemble the finished article as a scrummaging rock, but his broken field running was a thrill.
Only the illegal hand of Kieran Read denied him a try against the All Blacks. His ball-carrying helped create one for Jonny Gray against Australia.
Watching Six Nations as a fan - last season
Bhatti is favourite to start against Wales in Cardiff on Saturday.
"It's been surreal," he reveals. "People are asking me if I watched the Six Nations when I was a kid and I go, 'As a kid? I watched it last season still feeling like a kid. I was a fan, just like everybody else'. I didn't think for a second that this was going to happen to me."
It's also been uplifting, not just for Bhatti but for the Scottish game as a whole. This is not a boy who went to private school and whose path to international rugby was smooth. This is a character who has lived in the real world, a player who could easily have been lost to the game had he not wanted it so badly.
That's the message he sent out to the minis at Hillfoots, the place where he first picked up a rugby ball. After the autumn series he went back there to gift the club one of his Scotland jerseys.
He spoke to the youngsters, telling them that they can do whatever they want to do just as long as they believe in themselves.
'I'll have killed 100,000 cows'
Maybe he spared the kids the full gory details of his journey, but it's a story worth hearing, so long as you're not squeamish.
Seven miles from home, in the Stirlingshire village of Bridge of Allan, there's an abattoir, and that's where Bhatti worked from the age of 17. On and off, he was there for five years.
"In the beginning, I was in the packing room, packing the meat, but then they put me through my licence to do the killing," he recalls.
"I was on the sheep slaughter line for a while and then I got put over on the cattle side. That was seen as a step up. For my last two years, I slaughtered cattle. Three of us done it. One would shoot, one would shackle and one would stick. And then we'd rotate it.
"You're either putting a bolt in the animal's head, hanging it up on the line or bleeding it with a knife. The same thing all day long from six in the morning.
"Dire. Poor cows, man. Standing killing cows all day. I'll have killed 100,000 cows and I remember thinking at the time, 'I can't be in here for the rest of my days. I just can't be'."
That was his young life; abattoir from Monday to Friday, then doorman at Dusk nightclub in Stirling on Friday and Saturday night and if it wasn't Dusk in Stirling it was Storm in Falkirk, and then back to the slaughterhouse on Monday morning.
Rugby, for Stirling County and later for Melrose, was his escape, but it wasn't enough. He tried to join the police and even though he knew in his heart of hearts that a successful interview would mean the end of his dream of professional rugby he still went for it. Butchering animals was no life.
"I passed the exams, I passed the fitness test and then I fluffed the interview," he says.
"I just froze. I studied so much for it. I don't have good grades from school but I worked really hard to get that job and then I sat down and they asked me why did I want to join the police and I couldn't think. I went completely blank. Everything went downhill from there.
"They said at the end, 'We'll speak to you soon' and I said to myself, 'I ken exactly what's coming'."
Keep going, never give up
In John Dalziel at Melrose, Bhatti had a coach who could see his talent and his desire. Dalziel campaigned for him and things got spooky after that. He got a contract with Glasgow and says that when the call came he just sat in the house afterwards laughing to himself. It was everything he wanted.
He made his Glasgow debut in November 2016, was in the wider Scotland training squad in August 2017 and won his first cap three months later.
"I got my chance because of injuries to other players, but those were the best three days of my life," he says.
"That's when I went back to Hillfoots to talk to the kids. It doesn't have to be rugby, it can be anything. Don't give up. Even if you get a knock back, even if you get two or three or four knock backs, if you really want to do something, keep doing it. Don't stop doing the thing you love."
At such a young age, he's got a lot to learn about the brutal reality of front-row play at the highest level, but he's got time and ability and hunger on his side. However Scotland get on in the weeks ahead, his is a story worth celebrating.