Eddie Jones: England head coach signs contract until 2021
By Chris Jones
BBC Radio 5 live rugby reporter
Last updated on .From the section Rugby Union287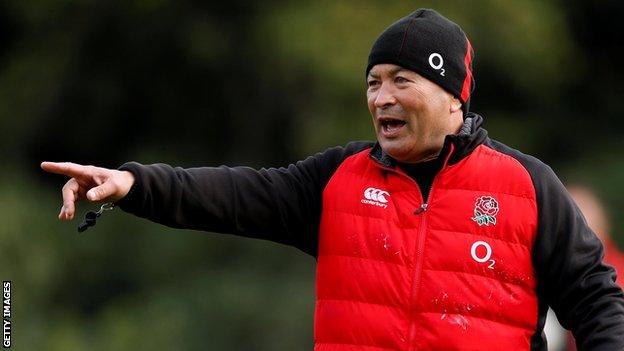 England head coach Eddie Jones has signed a two-year contract extension to stay in the role until 2021.
The 57-year-old Australian's previous deal ran until the the end of the Rugby World Cup in Japan next year.
Jones has won 22 of his 23 Tests since taking the role in November 2015, and says extending his deal was "not a difficult decision".
"Coaching England is a dream job for me, and I was delighted to be asked to stay on after the World Cup," he said.
"I have been completely focused on developing a team capable of being the number one rugby team in the world and winning the World Cup in 2019.
"I never take my role as England head coach for granted and did not presume I would be asked to stay on, but, once the conversations started very recently, it was not a difficult decision to make."
England implement 'robust succession plan'
The RFU board has also agreed a process for finding Jones' successor, which is likely to involve the appointment of a new head coach by the end of the 2019-20 season.
This new figure will work with Jones until the summer of 2021, before leading England into the Rugby World Cup in France in 2023.
"These are exciting times for English rugby, with a focused and committed squad who are full of potential and determined to win," said Jones.
"I will continue to work as hard as I can to make England the world's best rugby team."
Jones' new contract includes a performance-based break clause based on England's performance at the World Cup in 2019.
"Eddie's results as England head coach speak for themselves," said RFU chief executive Steve Brown.
"Under Eddie's leadership, we have risen from eighth to second in the world - and Eddie won't be satisfied until we are number one.
"He has a 95% win rate at the helm, and has been a galvanising force for the RFU, bringing focus, clarity and extraordinary commitment to the role.
"We now have a robust succession planning process in place which will avoid the historically disruptive pattern of resetting the coaching team and performance system every four years.
"Eddie will be a big part of this process, and wants to ensure a smooth handover to his successor."
Analysis
Even though Jones has often insisted he would only be in the role until 2019, a combination of his outstanding record and the need for the RFU to have a proper succession plan means this news makes sense for both parties.
Although Jones will now lead England until 2021, the RFU plans to appoint a new head coach in 2020, and Jones will then work with his successor for a year until handing over the reigns.
The two main candidates from inside the set-up are assistant coaches Paul Gustard and Steve Borthwick - neither of whom are yet ready for the top job - while Exeter's Rob Baxter is the outstanding figure from the Premiership clubs.
Either way, this move is designed to avoid a coaching overhaul after the World Cup - the traditional "boom and bust" scenario that has dogged English rugby for more than a decade.