'Super Six': Seven Scottish Premiership clubs eye chance to go semi-professional
By Jamie Lyall
BBC Scotland
Last updated on .From the section Scottish Rugby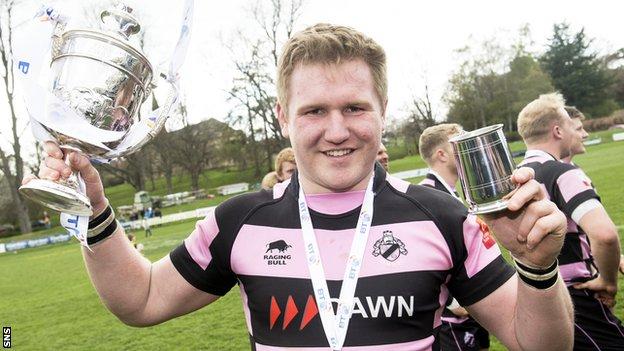 Scottish Rugby is holding meetings with seven of the nation's top domestic clubs who are "genuinely interested" in becoming one of six semi-professional franchises from 2019.
The "Super Six" will replace the existing 10-team BT Premiership, with its purpose to bridge the gap between the club game and Scotland's professional sides, Edinburgh and Glasgow Warriors.
"We were mandated [by member clubs] to look at four key areas," Stephen Gemmell, Scottish Rugby's technical director, explained.
"One was where the amateur game started and stopped, the second was about improving the standard of the top end of our domestic game, the third was about providing cross-border competition, and the fourth was about providing a genuine coaching pathway and opportunity.
"Super Six, for me deals ,with all four of those aspects.
Scottish Rugby's new domestic set-up, from season 2019-20
A semi-professional "Super Six" replaces the amateur BT Premiership
Directly below this will be an all-amateur 12-team Championship
This will sit above a three-tier National League system
"There have been and are scheduled before the end of next month, [meetings with] seven interested BT Premiership clubs, and a number of other clubs, either individually or joint."
What is happening?
The Super Six is part of a £3.6m overhaul of domestic rugby in Scotland, announced in August

At least one Super Six franchise will be based in each of Scotland's four regions - Caledonia, Glasgow & West, Edinburgh & East, and the Borders

The Super Six teams will play 20 competitive matches per season, including cross-border fixtures against sides from Wales, Ireland or England

Each squad will comprise no more than 35 players, who can be paid a salary no greater than £12,000 per annum

Scottish Rugby will contribute £62,500 towards player remuneration, which the franchise must match, and £75,000 towards hiring a full-time head coach and support staff

Union committed to an annual spend of £137,500 per franchise, per season, for five seasons - a total investment of just over £4.1m.

The deadline for applications is 31 March; the six franchises will be named on 1 May.

Super Six begins at the start of season 2019-20.
'We need to improve the standard'
Gemmell, a former head coach of Scotland Sevens, said the gap between the BT Premiership and pro-teams is "probably getting wider".
"I believe this new competition, bought into in the right way, will improve the standard," he said. "We will have fewer players, more resources and head coaches who are full-time, who have made a decision they want to be professional and therefore they're held to account.
"In terms of what the top clubs are doing and the investment they are currently putting in, we don't believe it's significantly different from that. We're not naive, they still then need to run an amateur team.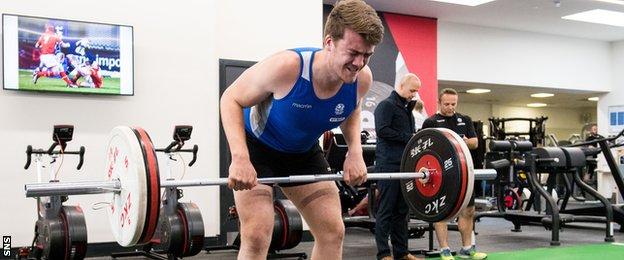 "We need to look at how we improve the standard of competition. I want this to work in a way that our academy players spend more time in the environments they've come from than they currently do.
"A lot of what the academy players [currently] get is delivered by us. Moving on, I would want the Super Six to be delivering those sessions for academy players, let academy players get back into the heartbeat of our club game.
"We then add value to those academy players. I believe that will have a positive knock-on effect to others playing in those environments."
So what will the Super Six look like?
Beyond the 20-game figure, details of the season structure have not been decided, nor has the cross-border element of competition.
Gemmell says clubs - or syndicates of clubs, who have joined forces to make their application - may present "different models" to Scottish Rugby, as long as they operate within the rules.
"We've got a lot of investment in this," the former Scotland Sevens head coach said. "We need this to work.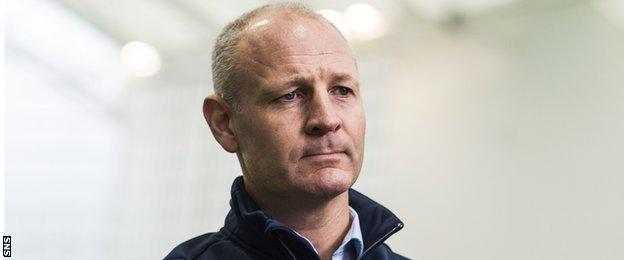 "We cannot afford, and that's not about financial afford, we can't afford for this to fail. Because we've got too much invested in this in terms of the commitment we've made to drive it forward, the investment we're putting in, and our desire to improve the standard of the game.
"All of the people we're speaking to are coming in saying, 'this is how we think this could work for us, these are our concerns around the finances, what can we do to make this operate?'
"There are some unknowns. And we've not shied away from that. Until we've got the six franchises confirmed it's very difficult.
"The cross-border competition is vital to this. Wales is the [union] we're having the most conversations with. We're also in conversations with [England's] RFU and the Irish RFU.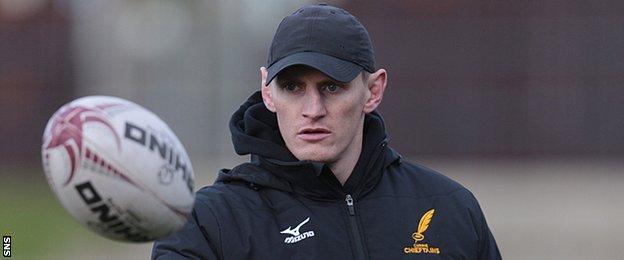 "We believe it is vital to improving the standard, it challenges players and coaches in a different way. Effectively Super Six becomes two tournaments running side-by-side, a domestic tournament and a cross-border tournament, whatever those look like.
"Why would people come and watch it? The acid test is going to be about the improvement of the standard of the game. But also having that connection. Hopefully it will attract more people to the game.
"Our desire is for each of our Super Six franchises to have a link to a tertiary education partner. Because we believe that affords new opportunities, resources, people, and spectators."
What about the amateur game?
Scottish Rugby has pledged to enforce the strictly amateur status of the game beneath the Super Six.
It hopes to bring an end to any "gentleman's agreements" between clubs and players - forms of financial remuneration or employment which are, at their core, payments for playing.
"Our member clubs said, 'We want non-payment of players in our domestic game'," Gemmell said.
"How it's going to be policed is something we will need to work through. Payment of players outwith HMRC directly by clubs, we're going to be saying as a rule of our competition, you're not allowed to do that.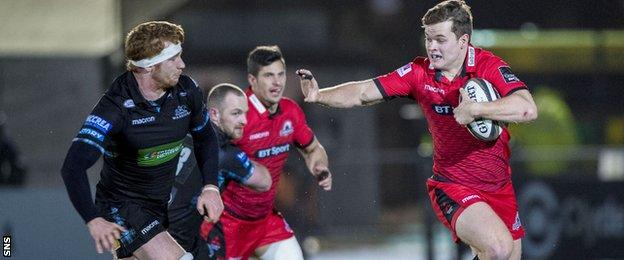 "For the first time, that will be in the participation agreement. You sign up to that, that's what you're saying.
"And there will be consequences for the first time if that happens, whether those be for the signatories [of the participation agreement] or docking of points.
"It's a way to protect players playing at a level they are capable of playing at. It would prevent other clubs in an area losing players to a club who are willing to pay them.
"I think if you get to the stage where this is successful, and clubs who are not in the Super Six are actively promoting their players moving to the next level because they are good enough, rather than being poached for x amount of money."