Northampton Saints: Alan Gaffney a 'new voice' to benefit players, says Rob Horne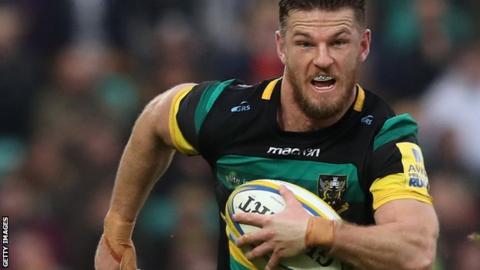 A fresh approach at Northampton under Alan Gaffney will lift the players, says Saints' Australia international centre Rob Horne.
The 71-year-old succeeds Jim Mallinder as interim director of rugby on Monday.
In their final match before the veteran Australian's arrival, Northampton were defeated 50-21 by Harlequins.
"To have a new voice come in and a different look and perspective on that game can only bring the most out of players," Horne said.
Horne, in his first season at Franklin's Gardens, has previous experience of working under Gaffney at Super Rugby side Waratahs.
The former Saracens coach, who has extensive coaching experience with the Ireland squad, Munster and Leinster, also takes on the role as technical coaching consultant at Northampton.
"He has seen it all," Horne told BBC Radio Northampton.
"I'm excited to see what Alan decides to do because he's a smart rugby coach. He sees what he has got and creates a game plan around what he has got. It's not a one size fits all, he works with what he has.
"Fortunately at Saints we've got a lot of talented individuals but we need to be at our best."
'He will get a response at Franklin's Gardens'
Acting Northampton head coach Alan Dickens, who was in charge as Saints suffered their seventh straight Premiership defeat on Saturday to leave them 10th in the table, personally lobbied to have Gaffney brought in.
"I know Alan Gaffney very well and he's someone that I hold in high regard.
"He's a quality coach and he's someone who I have stayed in contact with regularly with over the last few years. He is someone who I ask for advice and I'm looking forward to him coming here.
"I spoke to Mark Darbon (Saints chief executive) and said 'if you're looking to get someone in on an interim basis then this is the person that I think would work well within the group'.
"He'll freshen things up; it's not just me that knows Alan. I think that Alan tried to get Dorian West down to Saracens years ago when he was working with the RFU. We go back to what Alan can bring; he knows us and I'm sure that we'll get a response next week at home at the Gardens."