Guernsey Raiders must 'back up' win to stay top says captain Lewis Hillier
Last updated on .From the section Rugby Union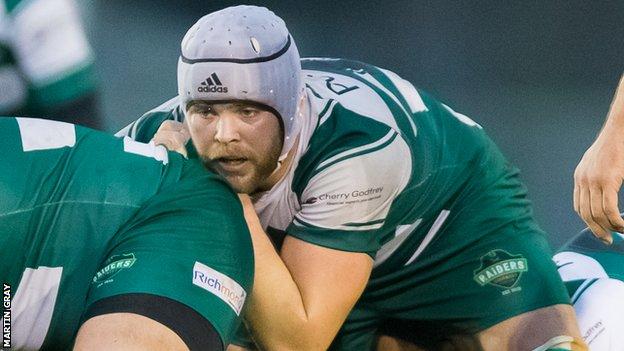 Guernsey Raiders captain Lewis Hillier says the club must keep up their consistency if they are to stay at the top of London and South East Premier.
The Raiders are a point clear in first - their highest-ever position in the English rugby union league structure.
"It is great to get the wins at the moment," he told BBC Guernsey.
"But if we don't back it up the week after and the week after that, with even the lower-ranked teams, then it doesn't make much of a difference."
The Raiders travel to second-placed Hertford in less than a month, who have a game in hand on the islanders.
"Every point is crucial for us at the moment, so as long as we're going away and getting bonus-point victories against these lower-ranked teams then it's all good for us," he added.
Guernsey's latest win was a six-try 43-19 victory at Sutton and Epsom last week - their fifth in succession.
"We're happy with where we're sitting at the moment, there's a good buzz about the players," Hillier said.
"To finish the first half of the season sitting top, even regarding Hertford still having a game to play, but that still fills us with confidence going into the second half of the season."