European Challenge Cup: Edinburgh 78-0 Krasny Yar

By Tom English
BBC Scotland at Murrayfield
Last updated on .From the section Rugby Union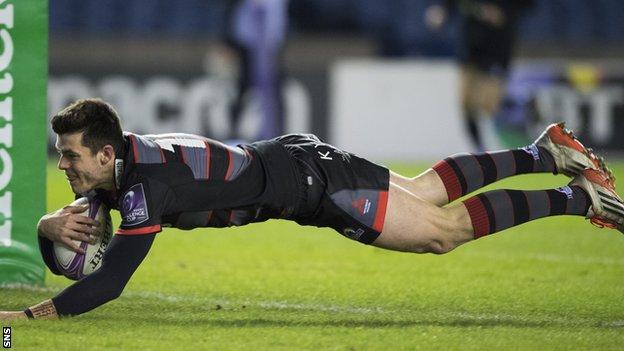 European Challenge Cup
Edinburgh (47) 78
Tries:
Van der Merwe 2, Dean, Carmichael, Ritchie, Kinghorn, Kennedy, Cochrane, Graham, Hoyland, Rasolea, Fenton
Cons:
Kinghorn 6, Hidalgo-Clyne 3
Krasny Yar 0
Edinburgh maintained their 100% European Challenge Cup pool record with a club record 78-0 thumping of Russian visitors Krasny Yar.
Richard Cockerill's men ran in 12 tries, scored by 11 different players, with South African winger Duhan van der Merwe bagging a brace.
Fly-half Blair Kinghorn contributed 17 points, scoring a try and kicking six conversions.
Edinburgh are all-but assured of a place in the quarter-finals.
The Scots are the only Challenge Cup team to take maximum points from every fixture.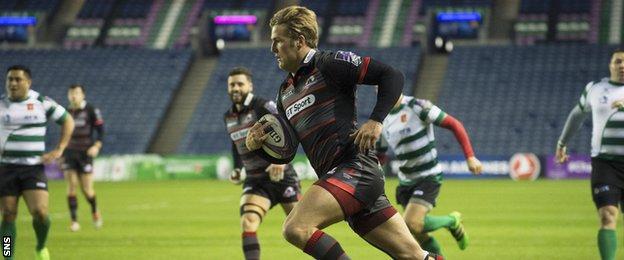 The number of points, margin of victory and number of tries are all club records, surpassing the previous benchmarks set when Edinburgh hammered Krasny Yar 74-13 in Russia during October.
Even with a weakened team and a tiny home crowd at Murrayfield there was only question worth asking in the build-up to this game - having put 73 points on Krasny Yar in Moscow, could Cockerill's team make it a century in Edinburgh?
They gave it a fair old rattle in that opening half that brought seven tries and 47 points against a Russian side that were excruciatingly out of their depth.
True, they beat Stade Francais on the opening weekend of the Challenge Cup and pushed the French reasonably close last Friday, but that was as much a measure of Stade's disinterest in Europe's second-tier tournament as anything else.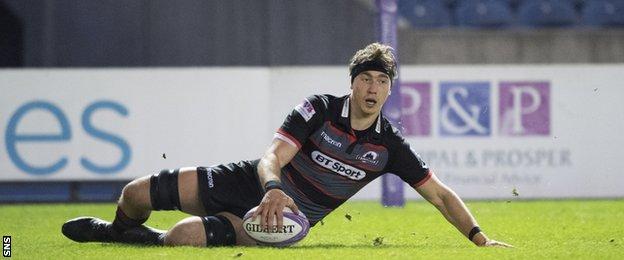 Edinburgh scored after a minute and barely stopped scoring in the opening 40 minutes. On his home debut, Van der Merwe pushed open the floodgates, breaking his duck for the club, with Chris Dean scoring soon after and Lewis Carmichael following him over the try line minutes later. Kinghorn, playing 10 to make room for young Darcy Graham at 15, added the conversions.
That was 21 points in 17 minutes. Krasny Yar's defence was not a defence at all, it was just a row of bodies with a ton of space in between that Edinburgh had no problem in exploiting.
To make matters worse, the Russians lost their open-side, Viktor Arhip, to the bin and while he was away, Edinburgh kept piling on the points and the pain.
Jamie Ritchie raced in, Kinghorn went over from close to halfway, then Sean Kennedy was allowed to run away to the posts despite getting a forward pass to make it 42-0. Half an hour had been played.
It was Edinburgh's good fortune to be drawn in a group with three soft touches - the ill-equipped Russians, the blase French and the relegation-haunted London Irish. In that company, Cockerill's team are a class apart.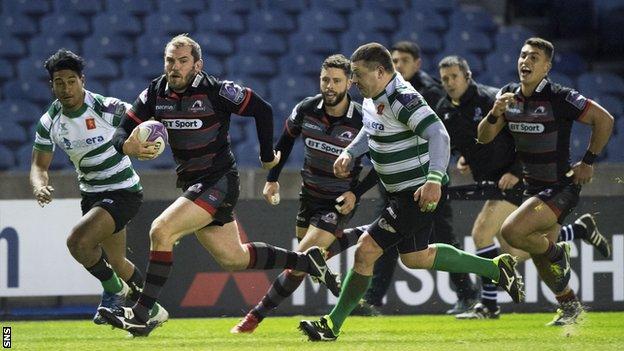 The seventh try came via a cheeky Neil Cochrane dummy that threw what constituted the Krasny Yar defence. That was just before the break. Just after, Graham scampered away to bring up the half-century before Sam Hidalgo-Clyne's grubber put Damien Hoyland through for try number nine.
Off a five-metre scrum, Hidalgo-Clyne hit Junior Rasolea who made it 10 tries and 33 for the tournament. It was a cruel spectacle for the beleaguered Russians who must have felt every yard of the 8,000km from home at that point.
Edinburgh coasted past the 70-point mark when Cammy Fenton, the replacement hooker, did a Cochrane with a show-and-go to crash over. Hidalgo-Clyne made it 71-0. Van der Merwe got another one three minutes before the end. A dozen tries. Simple, simple stuff.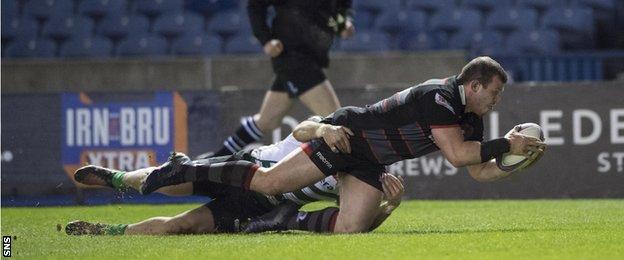 For Krasny Yar, it was rugby's equivalent of pulling the legs off a spider. Pure torture. For Edinburgh, no century, not that they cared. This annihilation only served to highlight the giant weaknesses of the Challenge Cup, but Edinburgh won't bother about that either. They had a job to do and they did it. A home quarter-final is as good as theirs.
Edinburgh assistant coach Roddy Grant: "It's quite difficult at half-time to be that far up and it was just pleasing the guys came out and played in the second half like they did in the first.
"Probably the most pleasing thing is nilling them. We conceded two tries [to Krasny Yar] in Russia which was frustrating.
"The big focus really was getting a result in terms of the points out of the game - getting five points hugely helps us going forward.
"We've tried to attack when we can and with the amount of tries we've scored it has been good or better. The style [Cockerill] is driving seems to have been working for us, but we're really happy with where it's going."
Edinburgh: Graham; Hoyland, Johnstone, Dean, Van der Merwe; Kinghorn, Kennedy; Sutherland, Cochrane, McCallum, McKenzie (capt), Carmichael, Bradbury, Ritchie, Du Preez.
Replacements: Fenton (for Cochrane, 41), K Bryce, Shields (McCallum, 59), Mata, Crosbie (for Du Preez, 41), Fowles (for Kennedy, 56), Hidalgo-Clyne (for Kinghorn, 45), Rasolea (for Johnstone, 41).
Krasny Yar: Vas Artemyev (capt); Sunia Latu, Giorgi Pruidze, Kirill Golosnitskii, Evgenii Kolomiitcev; Lasha Malaguradze, Vasilii Dorofeev; Sione Fukofuka, Andrei Kondakov, Azamat Bitiev, Andrei Mahu, Andrei Garbuzov, Viktor Gresev, Viktor Arhip, Oleg Prepelitse.
Replacements: Valeriy Tsnobiladze (for Fukokuka, 62), Grigory Tsnobiladze (Kondakov, 54), Mikheil Tsiklauri (for Bitiev, 62), Aleksandr Khudiakov (for Arhip, 41), Egor Zykov, Anton Riabov (for Dorofeev, 64), Igor Galinovskiy (for Golosnitskiy, 51), Fangatapu Apikotoa.