Marvellous Darryl Marfo's moving climb to Scotland prominence

By Tom English
BBC Scotland
Last updated on .From the section Scottish Rugby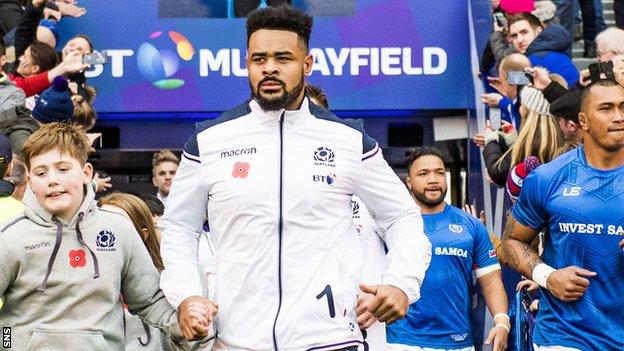 Autumn internationals: Scotland v Australia
Venue:
Murrayfield Stadium, Edinburgh
Date:
Saturday, 25 November
Kick-off:
14:30 GMT
Coverage:
Live on BBC One Scotland, BBC Radio Scotland and BBC Sport website
Darryl Marfo was in the barber's chair on the day Gregor Townsend called to tell him he was in the Scotland squad for the autumn internationals.
The phone was in the pocket of his jacket, which was hanging from a hook near the door, out of sight and out of mind.
"I've come out after my haircut and I'm feeling pretty fresh. I'm looking good. I take out my mobile and it says I've missed a call, but my voicemail is bust, so I get the number, stick it into WhatsApp to see who it is and up pops a picture of Gregor. I thought, 'I better ring this man back'."
What happened next was pure fairytale for the 27-year-old loose-head. Marfo had been out of work only a few months before. He'd been close to chucking the game entirely.
Eventually he got a one-year deal at Edinburgh amid an injury crisis that had laid low Alasdair Dickinson, Allan Dell and Rory Sutherland. He was to be back-up to another new signing, Michele Rizzo. Fifth choice, in other words.
"When Gregor said, 'I'd like to include you in the Scotland squad', it was happiness, pure happiness. The first thing I thought of was how proud I was going to be to tell my mum [Cheryl, from Ayr].
"Secondly, I thought about all the times I'd trained in the local park by myself with my stopwatch, all the times I did my fitness drills on my own, all the years of waiting for a chance and it never really coming.
"It's been a long road for me, mentally and physically. When Gregor called, it was just a huge feeling of satisfaction that I stuck at it."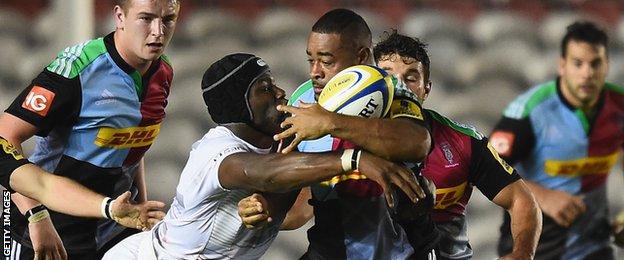 Marfo has been under the radar his entire career, a bit-part player for Harlequins, London Scottish, Ealing Trailfinders, London Welsh and Bath. His story is an epic one, a feel-good yarn about a guy who refused to give up.
It started in Pimlico, on the Churchill Gardens estate in central London. Put Churchill Gardens into your search engine and you'll find a few stories of gang crime and street violence. For Marfo, it wasn't like that.
"I lived in what people perceive to be a rough area, but I was lucky in that I had a mum who was very conscious of the environment we were in, so she made extra efforts to take me and my brother to see a different, other side of life. On Saturdays, she'd take us to art galleries and museums and exhibitions and palaces.
"There were kids on my estate who might never have left it for 10 years. That's not a joke. They'd have gone to school, gone home and that's all they would have known.
"My mum, a Cuthbert from Ayr, moved to London when she was 18 or 19 to become a nurse, so that shows you what type of person she is. She's always wanted to look after people.
"She was a single parent. Her and my dad split up when I was about six or seven. He was a good weekend father, but the bulk of it was left to my mum.
"As a child, you don't understand the magnitude of what is happening, but I always knew that I felt loved and looked after. When I look back now, I get quite emotional thinking about it.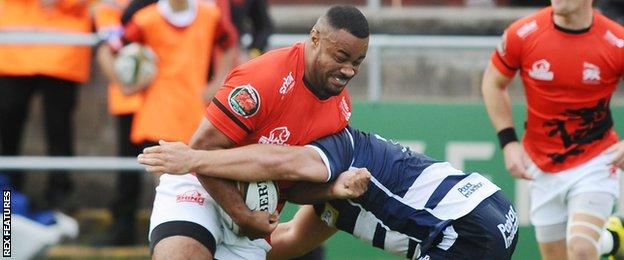 "I've been so busy with my rugby lately, I haven't had a chance to take a step back and fully appreciate what is happening in my life. Mum came to the function after the Samoa game, when I was presented with my first cap on stage. I think she got a bit teary. It meant so much to her.
"I'm not going to lie, I caused her a lot of problems, I was a naughty kid. She'd always get called to the school. I remember there were times when she was in tears because of my bad behaviour, so to finally see tears of joy was one of the happiest things in my life."
Marfo takes you back to those days in Churchill Gardens. Yeah, he saw some nasty things, but nothing that left a scar.
He got some racial abuse along the way, but he dealt with that too. He said he felt sorry for those people who had that much "hate in their heart".
Mammoth was the turning point. Mammoth was his mate's dad, an old-school prop forward out of Battersea Ironsides.
He invited young Darryl along for a training session and immediately the boy knew that he'd found his sport. On the estate, he'd played some football and a little basketball, but this was different.
For most of his young life, he was getting into trouble for being boisterous and loud. Now he was getting praise. He loved it from the start.
In his final years in secondary school, he got a scholarship at the exclusive Pangbourne College in Berkshire. He became the first black head boy in their history - or chief cadet captain as they called it.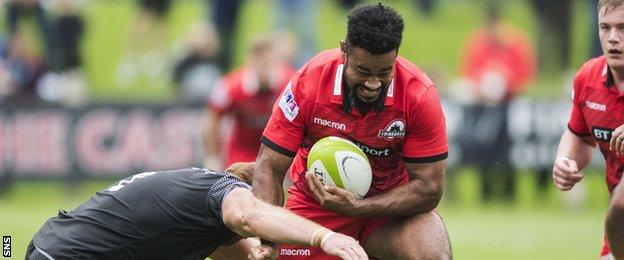 If that gives the impression of a model student then he's the first one to alter the record. "I'm not sitting here and saying I'm perfect. I've made mistakes. It's what you learn from them along the way that counts, isn't it?"
Marfo joined Harlequins, worked his way through the ranks and then hit a wall. He couldn't make the breakthrough to the first team. Too many good players ahead of him, too few opportunities.
He moved to London Scottish and Ealing Trailfinders. Still it wasn't happening. He kicked on for London Welsh, but they went bust. Onwards to Bath - and into another dead end.
"I'm not going to lie to you, the past few years have been very difficult. I maintained a belief that if I stuck at it then something good would happen, but there were points last year when it was tough. I'd almost accepted that it wasn't going to happen for me.
"When I left Bath, it was a pretty stressful time. I didn't have a club. I went back home to my mum's to be around my family.
"That was when I really started to get tested. I was thinking of moving down to part-time and just playing for fun."
He gave it one more shot. He'd heard that Edinburgh were in need of an emergency loose-head, so he got in touch with Jon Petrie, the club's managing director.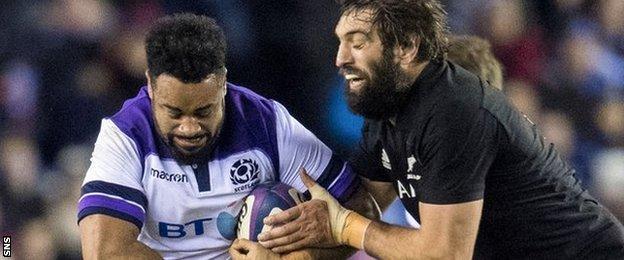 "I emailed him. That's unusual in this day and age because agents normally do that stuff, but I was reading a business book at the time about how to stand out from the crowd. This guy flew halfway across America to turn up in person for a job interview when it was supposed to be a telephone interview.
"I wasn't quite ready to fly up to Scotland from London, but what's the next best thing? I'll send him an email. He replied really promptly. That was great of him because I sent a few other emails and I didn't get any replies."
Opportunity opened up in front of Marfo. Dickinson, Dell and Sutherland were all injured and then Rizzo got red-carded. His chance had arrived - and boy, how he took it.
In naming Marfo in the starting line-up against Australia, Townsend said how impressive it was that the prop has produced his very best rugby against the very best opposition, that the higher a level he goes, the better he gets.
Marfo has surprised - and, perhaps, shocked - many people with his rapid rise to Test rugby and his stellar performances on the biggest stage. He's got one more to go before he returns to action with Edinburgh.
"Last week, we played against the best team in the world and on Saturday we play against the team that just beat the best team in the world. This is very special. I'm loving every second."
The smile, as wide as the training ground behind him, said it all.