How England's next rugby union stars are being developed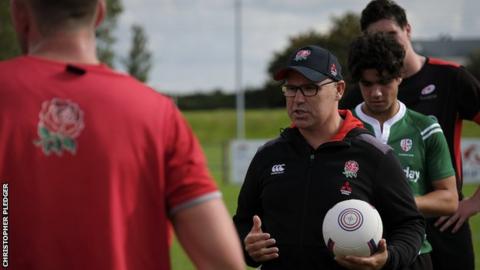 "I'm really fortunate that in the early part of my career I didn't have a lot of input from coaches."
This is not exactly what you would expect to hear from the man helping to mould the next generation of England rugby union internationals.
But it quickly dawns on you that head coach John Fletcher, speaking on day two of an England Under-18 development camp, is not everything you would expect of a man charged with stacking the conveyor belt of talent with the newest breed.
"This is the most exciting part of my job - spending time with young, enthusiastic, motivated, skilful players and trying to support them to get better," Fletcher told BBC Sport.
It is hardly a surprise that Fletcher's number two, Peter Walton, is the son of a farmer, with the duo having helped cultivate and harvest the nation's finest prospects for almost a decade - from the midfield pairing of George Ford and Owen Farrell to prodigious forward Maro Itoje and barnstorming brothers Mako and Billy Vunipola.
"It is our role to identify those players who have the best chance of going through. We have a lot of experience in it. Peter and I know what it looks like at different stages of development," said Fletcher.
"We have got people in this part of the performance pathway who are incredibly driven to create an environment where kids can be the best versions of themselves."
'Playground behaviour'
This programme is where the gifted are encouraged, the ambitious unleashed and the competitive challenged.
Fletcher, who worked as director of rugby at Newcastle Falcons before taking on the job with the Rugby Football Union in 2008, wants players under his tutelage to play and act as if he was not there.
This is a man who has to be part-coach, part-child psychologist. He talks about creating a loving, playful, accepting and empathetic environment to ultimately foster the production of adaptable players.
What anchors the team's ethos is the acronym 'CARDS' - creativity, awareness, resilience, decision-making and self-awareness.
It is an ideology which former England boss Stuart Lancaster helped define while he was in charge of elite player development, and his national team successor Eddie Jones is well aware of the approach.
"The best environment I've ever seen is the playground," said Fletcher. "There is never a 60-0 because teams would have been swapped around before that, rules would be changed. There is a lot of inclusion.
"Playground behaviour is what we, as adults, need to bring a bit more into practice.
"When I was young, I just played. I'd say 95% of the time it was just with mates with no adults around at all. And even the other 5% with adults around organising stuff, I'd say they were rocking up saying 'sort yourselves out'.
"Now I'm a coach and I've adopted that. I do think it is the best approach - I coach kids and you have to be comfortable with kids actually sorting things out themselves and you want it often to be chaotic."
"Chaos" is what Fletcher, Walton and fellow England Under-18 coach Russell Earnshaw aim for in their sessions and they will throw up the unpredictable to get it. In return they expect the unlikely, brazen and daring.
"We don't have a real strong structure or framework to how we play, we play towards principles," said Fletcher.
"Our principles of defence are around assessing threats, cutting down options, getting the ball back. That allows players a lot of freedom to go out and explore different ways of bringing that to life.
"The biggest difference in our environment is that we are really comfortable with exploration and we understand that a lot of good learning comes from stuff not going well."
Highs and lows
A session with the squad makes for captivating viewing and there are a host of coaches from academies, schools and clubs to observe.
For the first 10 minutes there is not a rugby ball in play. Instead, players get their hands on footballs and even odd-shaped and odd-sized balls - because you never know just how the next pass or kick will land in your hands.
Forwards and backs are referred to as "low numbers" and "high numbers", because forwards and backs are terms "adults use" and which limit players positionally.
Here, "low numbers" are encouraged to develop a kicking game - another reason to use the more forgiving footballs - as they try to shape a player capable of succeeding in the game of the future, rather than cloning the next Itoje.
Tackle bags are nowhere to be seen, while headbands of every colour of the rainbow are used instead of bibs, because... well, why not? As Earnshaw, the Heineken Cup-winning former Bath player, put it: "You feel like you are on a stag do."
Earnshaw, who previously worked as England Sevens coach and taught economics for two years before joining Fletcher and Walton, is a big believer in fostering an encouraging environment.
He was not a fan of the shirt and tie as a teacher, and feels for his 12-year-old son who goes to school dressed as "a little businessman", but his approach is only partly about dress sense.
The battle for the number 35 shirt
"You don't want them to always think it is rugby," he continued. "It can be monotonous if you do the same thing all the time.
"A headband is cool and you would probably want one over a bib, but it does also mean you are searching for more information when looking for a team-mate.
"The way the game of the future is going, for them to play the international game they have to make decisions under pressure - it will be chaotic.
"Already it is getting harder and harder to tell who is a low and high number, and that is a good measure of where the game is going."
Those players who showcased those all-round skills, as Northampton Saints junior academy hooker Samson Ma'asi did, earned themselves the number 35 shirt.
Why? Because he dared to play like a hooker, a number eight, a fly-half and a full-back.
"The jersey is two + eight + 10 + 15," explained Earnshaw. "It is given to whoever is doing best on both sides of the ball, running, kicking, passing, making decisions, organising, deception and anticipation.
"They wear 35 because they have shown in the session that they are closest to the player of the future."
Target man
There are plenty of elements of the training session that are aimed at "stretching" and "agitating" players.
Sale centre Cameron Redpath is one who thrives on being "made to feel uncomfortable" on the pitch.
So much so, in fact, that when shirts with targets drawn on them come out, the son of former Scotland captain Bryan is among the first to come forward to wear it.
Every tackle on the 17-year-old, who is in his second year with the under-18s, was worth two points.
So, in slippery, cold morning conditions on the second day of the camp in Leeds, Redpath was one of two running, passing, side-stepping targets. By the end of the session, his shirt was in tatters.
It was a situation he relished as he scrambled for ways to avoid the next hit.
"Fletch, Walts and Rusty do a good job of keeping you on your toes," he said.
"I personally felt like I made the most mistakes in training because I was trying stuff. You learn from your mistakes and if you don't make mistakes you won't get any better.
"It does help that you can come here and make as many mistakes as you want and not be told you are rubbish or you are doing something wrong.
"It all helps when going into a more structured environment because if you have a chance to take, a hole that you have noticed because you have grown up playing this sort of rugby, you will then pick it off. That is where it links massively.
"They push you here to learn as much as you can so when you go to that next level you know how to learn even more."
Education, education, education
This is a coaching team that is dealing with trying to make stars of tomorrow, and none of them shy away from the fact that it means helping provide players capable of one day winning a World Cup.
Within a year, Harlequins fly-half Marcus Smith has gone from making his under-18 debut to being named as a development player in Jones' England squad for the autumn internationals.
As each coach points out, they are dealing with children - teenagers with international-sized ambitions who are juggling schoolwork with trying to break through for their first professional deal or make that first senior appearance at club level.
These are players with the world seemingly at their feet, who also carry with them the weight of the world on their shoulders.
It is the first camp that players are introduced to a sports psychologist, with everything from dealing with sporting challenges to discussions about mental illness on the morning agenda.
Also among the typical support staff is a school tutor.
Walton, a former Scotland international who also played at junior level for England, says "education is promoted first" and stresses to players that there "are no guarantees in life" as injuries can end the most promising of careers early.
"We will stop players coming to camps if they are behind on school stuff," he said.
"There is no point if they are letting themselves down at school, they will just do the same with us and we would rather they weren't here. It is a balance."
Keeping these teenagers grounded in the reality of the sport and putting their aspirations in perspective is part of what they do.
Walton says they will "plant seeds" and often talk about life after rugby - even though some "would rather not".
'A World Cup-winning influence'
Much of England's senior squad have come through playing age-group international rugby for their country at some level.
Of the starting XV against Scotland in the 2017 Six Nations, a match England won to retain the title, only Wasps back-row forward Nathan Hughes had not worn the Red Rose as a junior.
Richard Hill, a 2003 World Cup winner with England, says having players such as Nick Isiekwe, Tom Curry and Jack Maunder make their England debuts in the summer, while they were still eligible to play for the World Rugby Under-20 Championships, is "testament to the pathway".
Hill, at the under-18s camp in Leeds in a coaching support role for three days before linking up with the seniors as team manager, is a conduit between the pathway and Jones' squad.
"Any way we can enhance a player fitting into the system when they come in, be it an element of familiarity or preparation, the better," said Hill.
"Eddie wants to talk about players who could potentially cope and wants to know about them as a person and player."
Former British and Irish Lions flanker Hill works as a mentor to players in both senior and age-group set ups. He has plenty of experiences to share, from the triumphant to turbulent.
"Sometimes in that role you have to make yourself a little vulnerable and show players what they are going through is normal," he said.
"As an under-16 player I sat on the bench, at under-18s I wasn't first choice - there were five games and I wasn't picked for the first and last, so it started and ended in disappointment.
"But I enjoyed the process of being involved, it gave me a taste and I wanted more. The only way to get it was to work hard."