Brian 'Stack' Stevens: Former England & Lions prop dies aged 77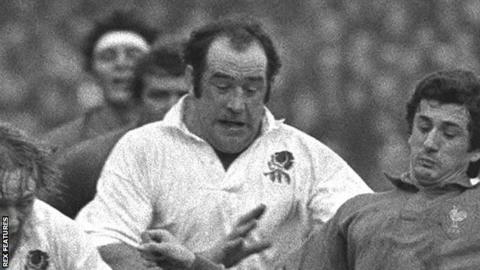 Former England and British and Irish Lions prop Brian "Stack" Stevens has died at the age of 77.
He captained England once in 1971 but played mainly in his native Cornwall for Penzance and Newlyn and Hayle.
His performances for the Cornwall county side finally got him an England call-up in 1969 at the age of 28.
"The pride he brought to all of us in Cornwall from the time he was a player for England was great," former team-mate Phil Westren told BBC Sport.
"When you consider the period when he played, to get the recognition he did from the far west of Cornwall, to play for England and still play for Penzance, it was fantastic.
"He was a fantastic competitor, a marvellous rugby player and well ahead of his time."
Stevens, who toured Australia and New Zealand with the Lions in 1971, was renowned for his mobility and athleticism at a time when prop forwards were regarded mainly as scrummagers and lineout men.
He scored a try in the 1973 victory against New Zealand at Eden Park as England became the first of the four home nations to beat the All Blacks at home following a 16-10 triumph.
"He was just terrific and the pride and fame he brought to Cornwall, having been a farmer, was just fantastic," added Westren.
"You couldn't speak too highly of him as a player. He was way ahead of his time. In the modern day, he'd be just wonderful.
"If you see clips of him playing for England, it's incredible that a prop forward could get to the positions he did."